Up until the end of March, shareholders of The Buckle, Inc. (NYSE: BKE) were no doubt very happy with the performance of the stock. The share price had climbed 12.5% since the start of the year, but that all got wiped out with the space of just a few days after some less than impressive numbers so far in 2016. We feel the sell-off has been overdone, leaving the shares undervalued and paying a good dividend.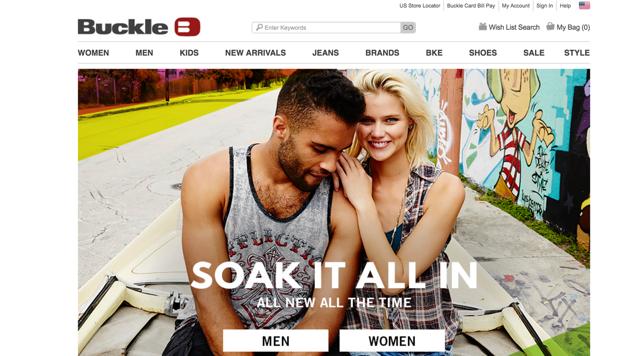 Source: Buckle.com
The Buckle is a leading retailer of casual apparel, footwear, and accessories for fashion-conscious young men and women. It currently has 468 stores in operation across the United States, under the names Buckle and The Buckle.
So far in 2016 things have not looked good for Buckle by any stretch of the imagination. January's comparable stores sales slid 11.3%, February's were down by 8.9%, and finally March was down by a worrying 11.8%. Retail has been a tough place to be this year, but Buckle has been hit so much harder than many of its competitors.
The market was not impressed by this and the share price has been punished. As you can see below it has dropped down by almost 17% since the March figures were released.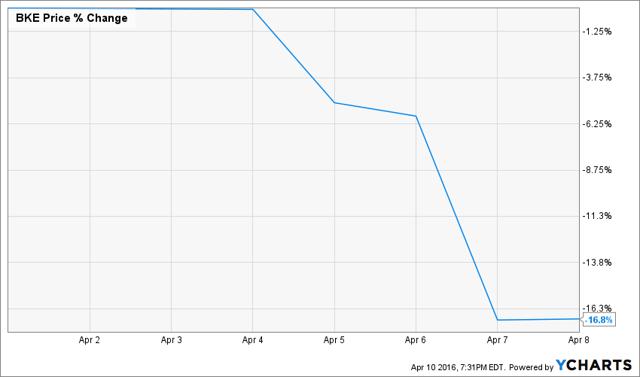 Management has not been forthcoming with an explanation for the sales declines which is disappointing, but we presume it is low traffic. The industry as a whole seems to have been struggling, with The Gap (NYSE:GPS) posting some very disappointing figures as well.
This could all be related to the changing habits of younger consumers who are believed to be choosing to spend their money on dining and technology instead of apparel. This was the reason that Pacific Sunwear (NASDAQ:PSUN) gave in its recent bankruptcy filing. With Buckle targeting similar demographics, we are sure that the thought of bankruptcy has crossed the minds of shareholders.
But we don't feel there is any threat of that happening here. For starters, Pacific Sunwear is a bit more niche in our opinion which could help explain its failings a little. The other big difference is that Pacific Sunwear has barely produced any positive free cash flow in the last five years. Whereas Buckle is producing ample levels whilst at the same time operating debt-free.
It is not a question of consumers not having money to spend, it is a question of where they choose to spend it. At present they are choosing food and technology, but clothing is finite. This winter was quite a mild one and we expect that consumers resisted purchasing winter clothing because of it. But we are in a new season now and we expect to see things pick up now .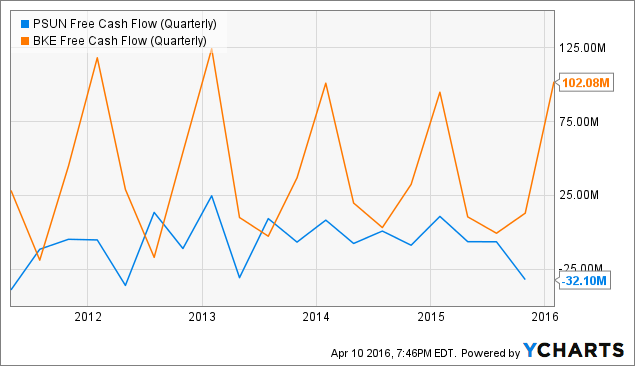 With the lower same store sales there is a big danger that inventory levels could be building up. This could mean that the company will have to resort to discounting stock which will most likely negatively impact margins. For this reason, we think it is very likely that the company will produce a big drop in full-year earnings. At the current rate we have forecast for earnings per share come in at $2.80. This would be a drop of 8.5% year-over-year from fiscal 2015's $3.06.
Priced at just 9.4 times earnings makes the shares very cheap right now in our opinion, even with a predicted decline in earnings. In the last ten years the shares have had a tendency to trade at a price to earnings ratio of 13.5, which puts it in line with a competitor such as American Eagle Outfitters (NYSE:AEO).
But until there have been a few solid quarters of same store sales increases we don't expect to see the shares trading at that level again. 11.5 seems to be about fair and was where the shares were trading at until the sell off. Based on this ratio and our forecast for $2.80 earnings per share, we have a target price of $32.20. This is a return of 11.7% from the last close price.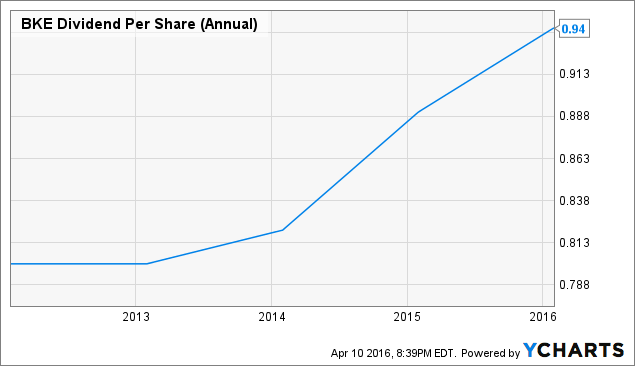 Finally, the company has been growing its dividend at a good rate in the last few years. At the current share price the yield is just over 3%, which is another reason we are attracted to the stock and think it is a great buy right now.
We feel that the sell-off of Buckle was overdone and goes far beyond even our extremely conservative view on its full-year earnings. There is a lot of doom and gloom surrounding the retail industry, especially in the apparel sector, that could hold the shares down for some time. But ultimately, we expect the share price to rally up beyond $32.00 in the next few months.
Disclosure: I am/we are long BKE.
I wrote this article myself, and it expresses my own opinions. I am not receiving compensation for it (other than from Seeking Alpha). I have no business relationship with any company whose stock is mentioned in this article.