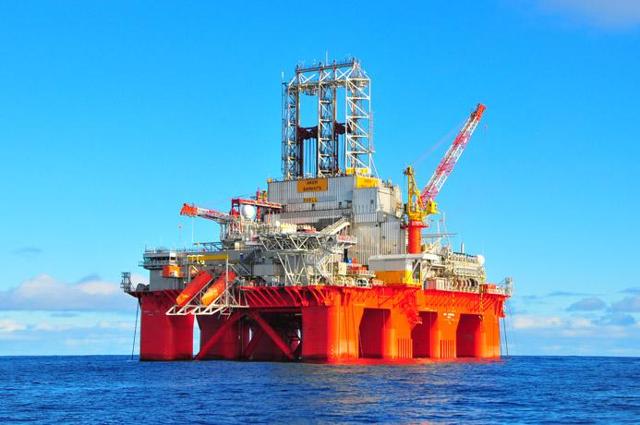 Source: Offshoreenergytoday - The Semisubmersible Transocean Barents.
Introduction:
Drilling for oil and natural gas Worldwide is an important and growing business despite a slowdown due to the recent oil crash.
The Offshore drilling is a type of oil extraction in which wellbores are drilled through the seabed, either by shallow water drilling (25m-150m of water depth) or deep water drilling (500m-3,650m of water depth). The total drilling depth depends on the location of the reservoirs and the type of drilling facilities being used.
Different types of drilling rigs used for offshore drilling are jackup rigs, barges, platform rigs, submersible rigs, semi-submersible rigs, and drillships.
However, the most common types are the Jackups and the floaters, which comprised the semi-submersibles and the drillships.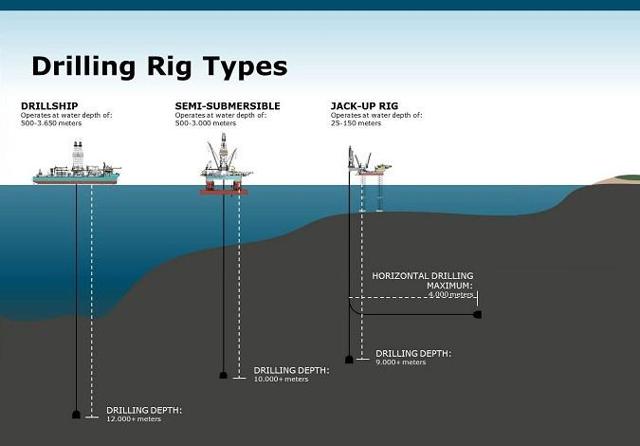 Source: Maersk drilling.
Exploration and Production Companies (like BP (NYSE:BP), Chevron (NYSE:CVX) or Statoil (NYSE:STO) and National oil companies such as ONGC or Pretrobras (NYSE:PBR)) usually contract specialised drilling companies such as Transocean (NYSE:RIG) or Seadrill (NYSE:SDRL) to drill wells.
To show the size of the investment that has been already done Worldwide by E & P companies, I will show a large sample of Offshore companies that are mostly trading in the NYSE or NASDAQ exchange in the USA. I decided to compare backlog for 15 public companies, 2 subsidiaries and one private company, listed below. A total of 18 companies:
| | | | |
| --- | --- | --- | --- |
| Company name | Ticker | Exchange | 2015 Revenue $B |
| Transocean Ltd. | "RIG" | NYSE | 6,950 |
| Noble Corp. Plc. (NYSE:NE) | "NE" | NYSE | 3,260 |
| Ensco Plc. (NYSE:ESV) | "ESV" | NYSE | 4,060 |
| Songa Offshore | "SONG" | OSLO | 0,513 |
| Seadrill Ltd. | "SDRL" | NYSE | 4,220 |
| Diamond Offshore Inc.(NYSE:DO) | "DO" | NYSE | 2,360 |
| Maersk Drilling Subsidiary of A.P. Möller-Maersk A/S ("1") | Private | Private | 2,520 |
| Seadrill Partners LLC (NYSE:SDLP) | "SDLP" | NYSE | 1,690 |
| Rowan Companies Plc. (NYSE:RDC) | "RDC" | NYSE | 2,140 |
| Ocean Rig UDW Inc. (NASDAQ:ORIG) | "ORIG" | NasdaqGM | 1,770 |
| Transocean Partners LLC (NYSE:RIGP) | "RIGP" | NYSE | 1,690 |
| Pacific Drilling S.A. (NYSE:PACD) | "PACD" | NYSE | 1,090 |
| Atwood Oceanics Inc. (NYSE:ATW) | "ATW" | NYSE | 1,300 |
| Paragon Offshore Plc. (OTCQX:PGNPQ) | "PGNPQ" | Other OTC/ Bankruptcy | 1,590 |
| Hercules Offshore Inc. (NASDAQ:HERO) | "HERO" | NasdaqGM | 0,454 |
| North Atlantic Drilling Ltd. (NYSE:NADL) | "NADL" | NYSE | 0,730 |
| Vantage Drilling International ("2") | Private | Private | 0,772 |
| China Oilfield Services - Subsidiary drilling ("3") | "COSL" | China | 1,863 |
("1") Maersk Drilling is a subsidiary of A.P. Möller-Maersk A/S (The Maersk Group)
("2") Vantage Drilling International is a private company after Vantage Drilling Co. went bankrupt. VTGDF is still in liquidation and owns 13.1% of Vantage Drilling International shares outstanding.
("3") China Oilfield Services Ltd. - COSL.
As of the end of June 2015, the Group operated and managed a total of 44 drilling rigs (including 33 jack-up drilling rigs and 11 semi-submersible drilling rigs). 19 of those were operating in the China Sea, and 10 were operating in international regions such as the North Sea of Norway, Mexico and Indonesia, 14 rigs were on standby, and 1 was under repair and maintenance. In addition, the Group also owned 2 accommodation rigs and 5 module rigs. COSL drilling Europe AS has 8 Jackups and 4 Semi-Submersibles.
The backlog for the company's drilling segment has been estimated from $1.5 billion revenue in 2015 (I was not able to find out about the offshore drilling backlog from the company filings.)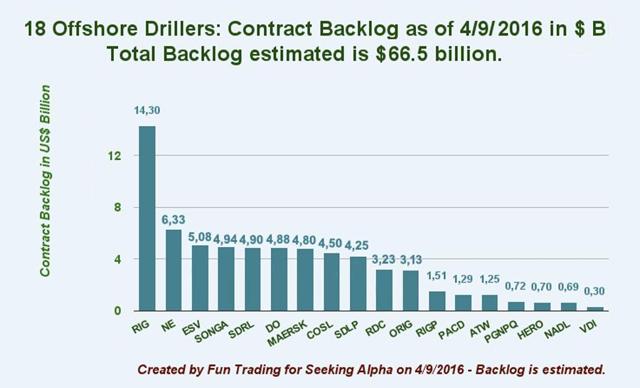 Commentary:
The offshore drilling Industry is a very large industry with an impressive backlog of approximately $80 billion worldwide stretching well over 2022.
This statement is contrasting totally with the idea that the industry is not economical, obsolete and will soon disappear.
Many scholars have described a dystopian future due to our inability to get rid of our dependency on fossil fuel and they urge us to reduce oil consumption and increase the use of more friendly and renewable energy sources such as wind, sun and water.
Yes, it makes sense, and I believe it is important to change our habits to protect our species from extinction. However, If you live in Los Angeles and want to use the freeway (5, 405 or 10) you will be confronted with the harsh reality. A sea of cars burning fuel used by an increasingly fat population that rely on machine to fulfill their basic needs... Who will be willing to give away his or her car and use a bicycle instead?
The fact of the matter is that we are consuming more and more oil, and we are now approaching 95 MBOPD. Yes, we can say that stopping offshore and onshore drilling is good for the environment; however, without oil and gas our Western civilization cannot survive very long.
Offshore drilling companies were the first to feel the blow of dropping oil prices that started in 2014. However, I believe that offshore drillers that are able to adapt to low oil prices by maximizing efficiency will survive the downturn.
Since 2014, big oils have invested only 20% of the CapEx needed to replace reserves, and despite a large stockpile, this situation will create the next oil boom in 2020.
The question of paramount importance is, how long will this downturn last?
A month ago, I read an article claiming oil prices might have bottomed out. It is a little early to be certain; however, the recent move is technically encouraging.
There is evidence that oil prices are stabilising and could even begin to rise again, the International Energy Agency ("IEA") has said.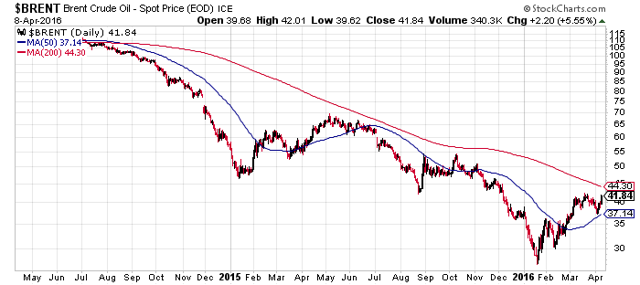 Technically, a bullish sign would be to see the 50-day moving average crossing the 200-day moving average. This is called the "golden cross" and is often considered as very bullish. It will be the first time since September 2014.
This is what we were all expecting in July 2015, but it failed to realize. The situation is quite similar now, and the positive momentum may continue if oil producers such as Saudi Arabia and Russia, are willing to show the world that they agree to freeze production. Time will tell.
In this eventuality, I believe oil prices will trade between $45 to $50 a barrel in the coming weeks, which is sufficient to trigger some offshore tendering activity again.
Conclusion:
Offshore drillers are here to stay and the companies that can survive this downturn (Backlog - Revenue) will be thriving again. This ratio compared to the net debt should be an excellent indicator of strength and survival.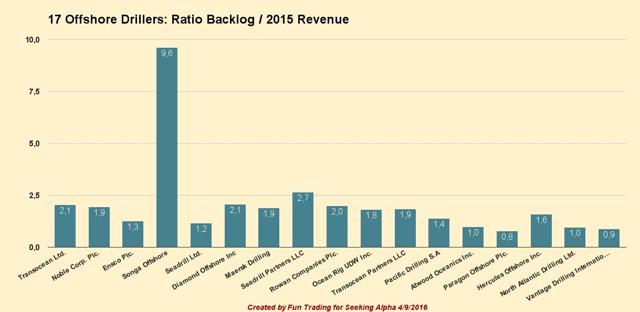 Note: COSL is excluded.
Disclosure: I/we have no positions in any stocks mentioned, and no plans to initiate any positions within the next 72 hours.
I wrote this article myself, and it expresses my own opinions. I am not receiving compensation for it (other than from Seeking Alpha). I have no business relationship with any company whose stock is mentioned in this article.
Additional disclosure: I own already several companies indicated here.
Editor's Note: This article covers one or more stocks trading at less than $1 per share and/or with less than a $100 million market cap. Please be aware of the risks associated with these stocks.