United Continental Holdings (NYSE: UAL) has faced a long list of operational and strategic challenges since United and Continental Airlines merged five and one-half years ago. Information Technology issues led to repeated operational disruptions which have tested customer loyalty and contributed to revenue underperformance. Integration of UAL's labor groups has been slower than at other carriers.
The appointment of Oscar Munoz just months ago has accelerated resolution of a number of lingering issues but two more strategic challenges have been added to Mr. Munoz' to-do list over the past two weeks.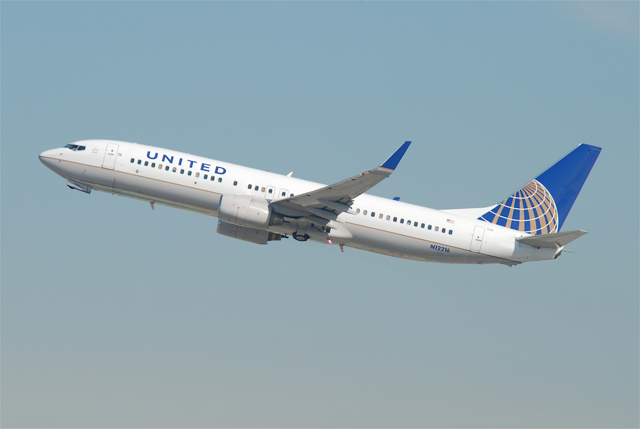 UAL's financial underperformance can be seen in this chart which shows two key financial metrics for the US big 3 (global) carriers American (NYSE: AAL), Delta (NYSE: DAL), and UAL for the year 2015. PRASM, passenger revenue per available seat mile, is an airline industry measure of revenue production efficiency.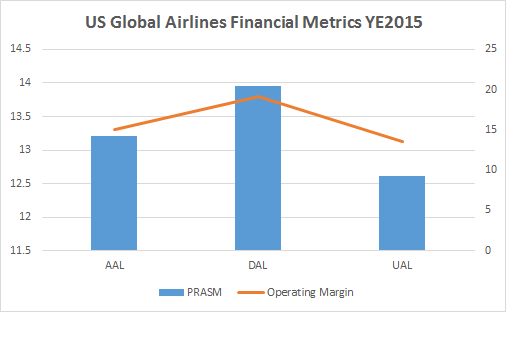 source: 2015 10Ks for AAL DAL UAL
As a result of consolidation, the big 3 have similar networks and face similar challenges, which are different from other carriers which are more focused on N. America. UAL carried $32.8 billion in system passenger revenues in 2015 compared to $35.5 billion for AAL and $34.8 billion for DAL.
Newark Slot Rule Changes
The first challenge for Mr. Munoz involves UAL's hub at Newark airport which is the company's primary gateway to New York City. Newark was never considered a serious airport to serve NYC until Continental built Newark into the largest hub in the Northeast U.S. at a time when air service to the largest NE cities was divided between multiple carriers. Most passenger trips to the NE ended or began there with relatively few connections compared to in other large cities.
With little interest from other carriers, Continental was free to grow its Newark hub to become one of the largest international gateways and one which was dependent on connections from throughout the U.S. Continental became the largest airline in NYC and grew its revenues and profits using its outsized presence in NYC, a major strategic coup for UAL at the time of the merger.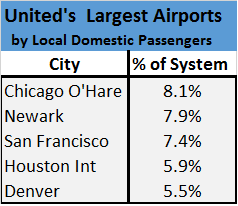 source: US DOT O&D survey
During the decade of the 2000s, all three major New York City airports saw rapid growth as JetBlue (NASDAQ: JBLU) used the ample unused space at JFK airport to add low cost carrier service throughout the US. During its restructuring in the mid-2000s, Delta Air Lines made creating hubs at LaGuardia and JFK airports a priority, building on its historic presence and its Pan Am asset acquisition in the 1990s.
Although the Federal Aviation Administration has required slot restrictions at various points in time at all three New York City airports, its desire is to eliminate slot controls where possible since slot restrictions inherently restrict the ability for airlines to add new flights and limit competition. Because of rapid growth at NYC's three major airports and some of the worst delays in the U.S., beginning in 2006, the FAA implemented another round of slot controls at all three large NYC airports. The ability of competitors to grow in New York City was limited outside of acquisition of slots from existing slot holders. Some carriers succeeded at obtaining slots at NYC airports through merger divestitures from the big three legacy carriers who hold most of the slots at NYC's airports.
The FAA has been studying slot usage at the three NYC airports for several years with the intent of proposing new rules but UAL's decision to end service to JFK airport in late 2015 accelerated a policy review. UAL only served Los Angeles and San Francisco from JFK and its share of the market and its revenues shrank as other carriers grew their NYC operations and upgraded their products. UAL entered into an agreement with DAL to swap the slots at JFK that UAL would no longer need for some of DAL's slots at Newark. Although DAL has the largest number of slots and is the largest carrier by passengers carried at both LaGuardia and JFK airports, it does not have a majority of either slots or passengers carried at either airport but yet offers the most seats at the three New York City airports combined. The Dept. of Justice did not object to the part of the transaction that allowed DAL to gain additional slots at JFK but did file suit against UAL to block it from acquiring additional slots at Newark. UAL controls more than 70% of the slots at Newark and carries 60% of the domestic passengers that are flying to or from Newark and not making a connection.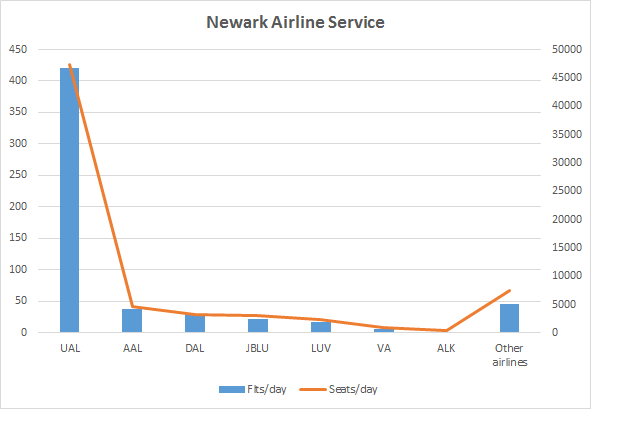 source: published airline schedules
Based on improving on-time performance at Newark, the FAA decided last week to relax slot restrictions at Newark, allowing airlines to add flights under the FAA's supervision to minimize operational disruption but removing a cap on the number of flights. The FAA also noted that UAL was allowing as much as 20% of its slots to go unused which does fall within the FAA's slot usage requirements but, if better used, could allow the addition of dozens of new competitive flights. The DOJ dropped its suit against UAL; DAL and UAL terminated their slot transfer agreement for Newark airport slots.
Because the slot rules at JFK and LaGuardia airports are not changing, UAL could face significantly increased competition at its Newark hub, which will be the only one of the big three New York airports where airlines can add service. When slot restrictions have been relaxed at NYC airports in the past, new flights were added, competition increased, and on-time performance at that airport fell. While low cost carriers carry approximately 40% of the local domestic passengers at LaGuardia and JFK on a combined basis, the percentage is half of that at Newark.
West Coast Market Share Challenges
UAL's strategic challenges are not limited to the Northeast. While Newark is UAL's second largest airport local domestic passengers, San Francisco takes the #3 spot for UAL. (see chart above) UAL's challenges increased at San Francisco with the announcement that Alaska Airlines (NYSE: ALK) will buy Virgin America which competes with UAL in a number of high profile domestic markets. The ALK-Virgin America merger will bring together ALK's predominantly north-south route system in the western US with Virgin America's primarily east-west network whih includes a high percentage of flights to the east coast. While ALK's strategic plans for its acquisition are not publicly known, it is certain that ALK will be a stronger competitor in UAL's top market in the western US. The merged ALK will surpass the big three US megacarriers as the largest carrier connecting the west coast with the rest of the US and become the number two carrier behind Southwest Airlines (NYSE: LUV).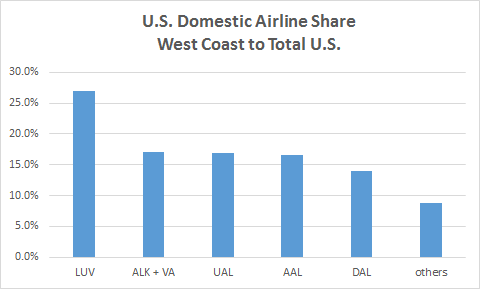 Source: US DOT
While the big three legacy carriers carry more revenue to and from the west coast thanks to their global route systems, in terms of passengers carried, ALK will jump above each of them and notably UAL which has been the largest legacy/global carrier on the west coast for decades.
Conclusion
Even though UAL has made progress in addressing several key strategic issues, FAA changes to slot rules at Newark and the Alaska Airlines - Virgin America merger promises to inject new competition into two of UAL's top markets even as UAL tries to improve its revenue performance.
Disclosure: I/we have no positions in any stocks mentioned, and no plans to initiate any positions within the next 72 hours.
I wrote this article myself, and it expresses my own opinions. I am not receiving compensation for it (other than from Seeking Alpha). I have no business relationship with any company whose stock is mentioned in this article.