46% of all spending on "IT infrastructure" (referred to as servers, storage, and switches) will go towards cloud infrastructures by 2020, predicts IDC. A lot of that growth will come at the expense of traditional data center infrastructure gear, whose spending share is expected to drop to 54% from 69.8% in 2015.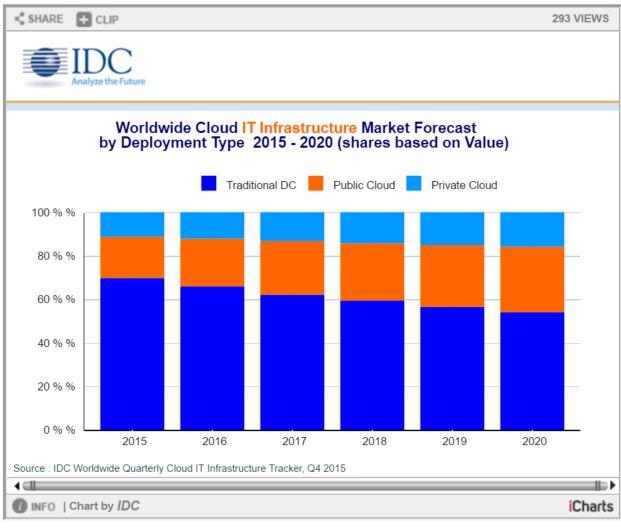 IDC sees spending on traditional gear declining at a 1.3% CAGR from 2015-2020. That estimate might be conservative, given a 4% drop is expected in 2016. Forex is admittedly a 2016 headwind. Gartner has forecast total 2016 IT spend (whether on-premise or cloud) will drop 0.5% in 2016, with forex and international macro pressures weighing on sales.
Meanwhile, spending on cloud infrastructure gear is expected to see a 12.5% CAGR, with public and private cloud spending respectively growing at 13.8% and 10.2% compound annual rates. 30.2% of 2020 server/storage/switch spend is expected to go towards public clouds, and 15.8% towards private clouds. A lot of that spending will go to contract manufacturers of white-box hardware, such as Quanta, Wistron, and Compal. They've been doing brisk business selling to the likes of Google (NASDAQ:GOOG) (NASDAQ:GOOGL), Amazon (NASDAQ:AMZN), and Facebook (NASDAQ:FB).
IT giants at risk
Looking at the list of publicly-traded enterprise hardware firms at risk from a long-term decline in traditional enterprise data center spending, HP Enterprise (NYSE:HPE), EMC (EMC), and NetApp (NASDAQ:NTAP) stand out. The business units that became HPE following the old HP's Nov. 2015 breakup received 51% of their FY15 (ended Oct. 2015) revenue from the Enterprise Group, which provides IT hardware and related services. HPE's IT outsourcing business (25% of FY15 revenue, has been seeing declining sales) is also exposed to on-premise hardware spend. The company has partnered with Taiwanese contract manufacturers Foxconn and Accton to provide the kind of cheap white-box hardware many cloud service providers are partial to.
EMC, meanwhile, received 66% of its 2015 revenue from its Information Storage business, and another 27% from VMware (NYSE:VMW), whose server virtualization software sales are being pressured by the migration of workloads previously running on VMware's software to public clouds. However, with Dell set to acquire EMC (and the payout consisting of cash and a VMware tracking stock), EMC investors only need to concern themselves with VMware's exposure, assuming the acquisition closes. VMware is trying to lower its exposure to standalone server virtualization sales by growing sales of cloud/data center management, network virtualization/SDN, and storage virtualization software.
NetApp's business consists almost entirely of selling storage systems and related software/services. The company is hoping its $870M purchase of flash storage array vendor SolidFire will help it better target cloud service providers. SolidFire's systems have won praise for their scalability, as well as their clustering and high-endurance features.
IBM (NYSE:IBM) and Cisco (NASDAQ:CSCO) are also vulnerable, but their direct exposure to on-premise data center hardware is lower than that of the aforementioned companies. IBM received 9% of its revenue from its Systems Hardware unit, and 37% from a Global Technology Services unit that partly depends on outsourcing deals featuring IT hardware. Some of Big Blue's software sales (for example, database sales) are also tied to on-premise hardware deployments.
Excluding its divested set-top unit, Cisco received 31% of its revenue for the six months ending Jan. 23 from switching, and 7% from its Data Center (UCS server) unit. And some of Cisco's services revenue (23% of total revenue) was tied to services related to its switching and server ops. However, a decent portion of the switching business involves campus switches, which (unlike data center switches) have limited cloud risk.
IT hardware giants could compensate for lower traditional data center sales by growing private cloud-related sales. However, a lot depends on how much these private clouds are run by enterprises, or by managed service providers such as Rackspace (NYSE:RAX) - the latter group is often willing to use white-box hardware. The IT giants also have to deal with upstarts such as converged infrastructure (integrated server/storage) provider Nutanix (NASDAQ:NTNX), which is targeting enterprises who want Google/Facebook-like infrastructures but lack the IT resources to manage white-box gear, and companies releasing cheap hardware based on the open-source designs provided by the Facebook-led Open Compute Project ("OCP").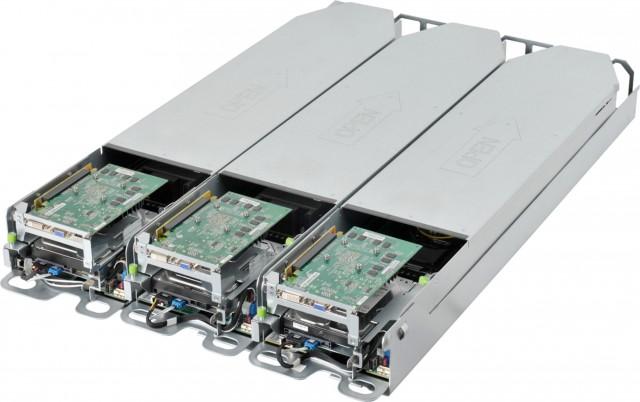 A low-power server design created by Facebook's Open Compute Project.
Companies that stand to gain
Cisco rival Arista (NYSE:ANET), meanwhile, could have much to gain as public cloud-related IT hardware spending continues growing rapidly. Facebook and Microsoft are believed to be large buyers of Arista's high-speed data center switches, and there's speculation Google is one as well. IDC estimates cloud-related spending on Ethernet switches will rise 26.8% this year.
Cisco is trying to counter Arista and win over cloud giants via switches based on its just-launched Cloud Scale ASICs, which the company claims gives it a 2-year lead on rivals thanks to advantages over merchant switching chips in fields such as throughput, buffering, and latency. Arista, meanwhile, is hoping to grab a chunk of Cisco's router sales for the first time via switches based on Broadcom's (NASDAQ:AVGO) next-gen Jericho switching chip, which supports routing features.
Other potential winners as cloud-related spending keeps growing:
Server/storage OEM Super Micro (NASDAQ:SMCI), which received 30% of its calendar Q4 revenue from its "cloud and Internet data center" vertical. Like Taiwanese contract manufacturers, Super Micro provides cheap, modular, servers based on Intel Xeon CPUs.

Optical networking hardware firm Infinera (NASDAQ:INFN), which is seeing rapid growth for its Cloud Xpress data center interconnect ("DCI") solution. Infinera reported having 20 Cloud Xpress invoice customers at the end of 2015, including "a number" of major Internet companies. Of note: Infinera recently sold off on concerns about efforts by Microsoft and others to build DCI modules directly into Ethernet switches.

Optical component vendor Oclaro (NASDAQ:OCLR), which has a strong position in the budding market for 100G optical transceivers for data center hardware. Major cloud service providers are expected to aggressively deploy 100G-capable hardware.
Disclosure: I/we have no positions in any stocks mentioned, and no plans to initiate any positions within the next 72 hours.
I wrote this article myself, and it expresses my own opinions. I am not receiving compensation for it. I have no business relationship with any company whose stock is mentioned in this article.