This article focuses on the NDA1V ticker in NASDAQ OMX Helsinki as it is one of the main marketplaces for the Nordea (OTCPK:NRDEF) (OTCPK:NRBAY) stock.
Nordea (comes from Nordic & Ideas) is the largest financial services provider in northern Europe. Nordea has leading positions in corporate, institutional, retail and private banking. Its customer base includes over 10 million households and 0.6 million corporate customers. Nordea's home markets are Sweden, Finland, Norway and Denmark as well as Estonia, Latvia, Lithuania and Russia. It also operates in 16 countries throughout the world including Germany, UK, China and the US.
Based on Q4/2015 numbers, Nordea's market cap is EUR 40Bn (45.6B US$), total assets of EUR 647Bn (737B US$), and common equity tier 1 capital ratio of 16.5.

Source: Google Finance, Helsinki listed ticker NDA1V
Europe's banking sector has had a rough start to the year. Almost every bank is lower year to date. There are worries about banks' profitability in the negative interest rate environment. Another negative impact was felt when the leaks from Mossack Fonseca, also known as the Panama Papers, revealed that some European banks have helped corporate and private customers to start offshore companies for a variety of reasons.
There haven't been any indications that Nordea had done anything illegal, however, some damage to its reputation will likely follow. There was some customer outrage since Nordea was linked to Panama Papers.
Long-term investors should appreciate oversold situations like this and lock in a highly efficient bank with an 8% yield.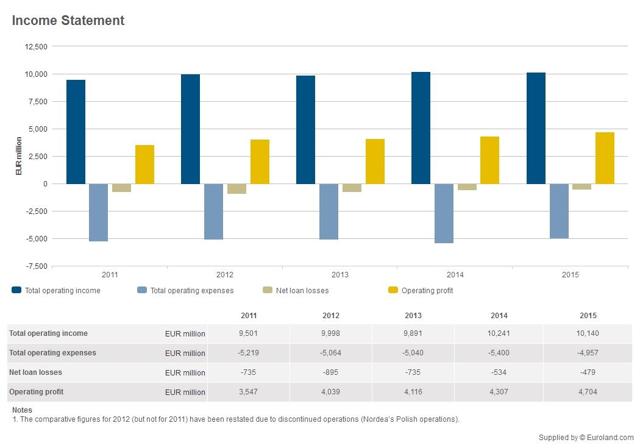 Source: Nordea IR
Nordea's main business segments are retail & wholesale banking and wealth management. Since 2011, there has been positive profit growth in retail banking while wholesale has decreased slightly. Trying to offset the decreased demand in wholesale, there have been large efforts in wealth management, resulting in profits to double in five years. The other important figure is the decline in loan losses, from -735MEUR in 2011 to -479MEUR in 2015.

Source: Nordea IR
Cost/income ratio being 47% shows that management has done a great job streamlining the business. There have been numerous closings of unprofitable locations, and every day, banking is moving more and more into mobile and Internet platforms. I expect more locations to be closed and consolidation in non-urban area.

Source: Nordea IR
Valuation and Dividend
Currently, financials are priced throughout the developed world with little or any growth prospects. In the past few years, most of the profit growth was due to cost cuts. However, when a 40 billion market-cap bank records earnings and operates at an extremely efficient way, it seems like a bargain not to miss. The recent pullback regarding Panama Papers and worries about banks' profitability in the low interest rate environment have really put pressure on Nordea's stock price, propelling the yield to almost 8%.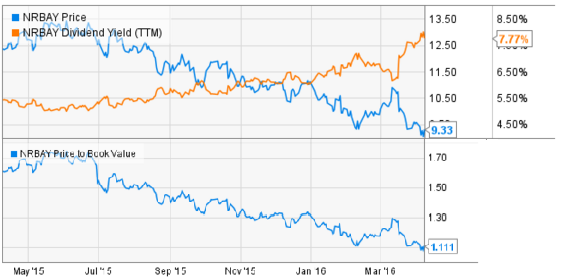 Source: YCharts
Nordea's target is to increase its dividend yearly. The current yield is historically high since it is used to be in a range of 3.1% to 5.4%, so today's 8% looks tempting. The payout ratio has been around 70% for the last two years.
Analysts expect a slight decline in income and EPS for 2016, but nowhere near to jeopardize the dividend increase. Growth is expected to pick up in 2017 with a higher corporate activity and an increased loan demand.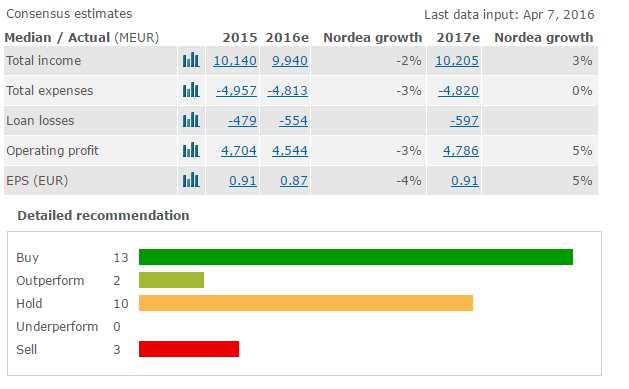 Source: Nordea IR
2016 EPS estimates vary from 0.76€ (0.86 US$) to 0.94€ (1.07 US$) (25 estimates), resulting in a consensus of 0.87€ (0.99 US$) and a forward P/E of 9.4 using the current stock price of 8.22€ (9.37 US$). The price-to-book ratio at 1.1 and ROE of 12.2% really put Nordea with a SALE price tag.
Nordea also holds Visa Europe's shares and receivables, and since it was sold to Visa, Inc. (NYSE:V), there will be some one-time profits in Q2/2016. I expect the fears about the banking sector's profitability will end in the coming quarters, and that there's at least 20% upside potential for Nordea in the next 12 months.
The downside risk is fairly limited unless there is a high erosion of earnings in the future. Some of these risks are extreme interest rate cuts that move rates to deeper into the negative, recession, high customer loss (Panama Papers related) or legal costs.
Conclusions
I believe that Nordea is currently an attractive entry point. Record earnings, low earnings volatility compared to peers, efficiently run, and increasing dividend. Nordea will be a great add for dividend seekers, locking in an 8% dividend yield with a great upside potential.
Disclosure: I am/we are long NRDEF, NRBAY. I wrote this article myself, and it expresses my own opinions. I am not receiving compensation for it (other than from Seeking Alpha). I have no business relationship with any company whose stock is mentioned in this article.
Editor's Note: This article discusses one or more securities that do not trade on a major U.S. exchange. Please be aware of the risks associated with these stocks.