In this article we will explore some of the financials of Manitowoc Foodservice (NYSE: MFS). Also, we will use Manitowoc Foodservice as an example of a company whose management team is pushing questionable financial metrics. Financial metrics have become a hot topic recently. There has been some discussion within the financial press, that the SEC is looking into clamping down on the use of non-GAAP financial metrics by companies.
We were first attracted to Manitowoc Foodservice as a possible investment because it was going to be spun-out of The Manitowoc Company (NYSE: MTW). Spinoffs can be attractive investment opportunities for two primary reasons: 1) the price of either the parent company or the spun-off unit can move without respect to the value of the business, and 2) the ongoing normalized financials of the businesses can be harder to determine. Because of these two issues spinoffs offer possible opportunities to capture great investment returns.
The rationale for the spinoff was simple: The company was comprised of two distinct businesses. One, The Manitowoc Company manufacturers cranes, and boom trucks. And the other, Manitowoc Foodservice manufacturers machinery used in the food industry. Hence their name. Manitowoc was thought to be a slow growth low margin business, while Foodservice was thought to be a higher margin business with growth opportunities. We didn't have a preference, and started looking at Manitowoc Foodservice first.
The picture below allows you to see some of the machines that Manitowoc Foodservice manufactures.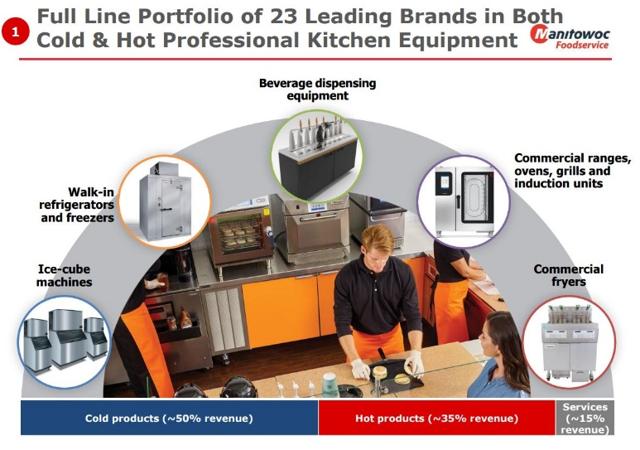 Source: Company Investor Presentation Feb 2016
It should be noted that we started the research before the company released its separate financials on March 30. But it isn't that important. Of course as we always do, we started to read the financials of the company. Eventually we pulled the investor presentation which can be found here. The presentation does a great job of laying out the business, and management's objectives. Well, until you get to the Key Financial Highlights section.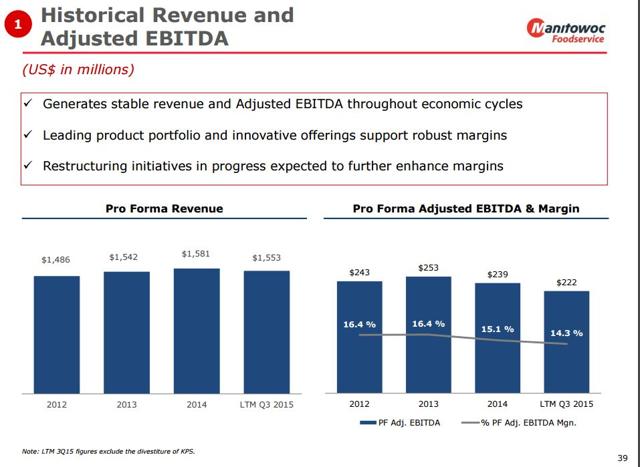 This slide presents the historical adjusted EBITDA for Manitowoc Foodservice. The business looks fairly decent. In some of the previous slides in the presentation management highlights that intend to increase the Adjusted EBITDA margin overtime closer to the industry norm. Moving onto the next slide we see the following.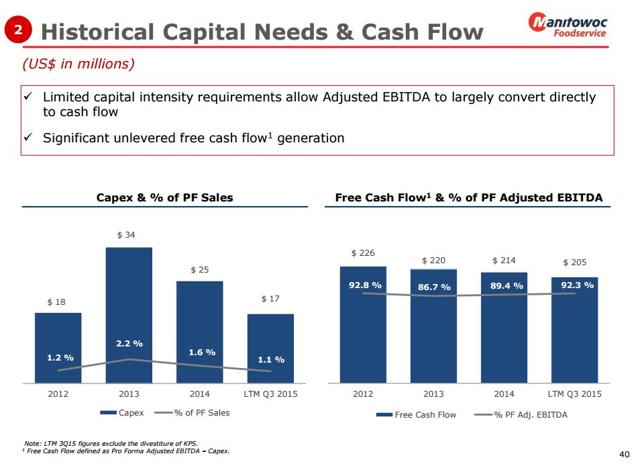 In this slide management is showing that their business is able to generate significant amount of Free Cash Flow. At the time of our research we knew that Manitowoc Foodservice would have the same number of shares outstanding as The Manitowoc Company because the spin-off was done on a 1 for 1 basis. This meant there was going to be around 136 million shares outstanding. Now if we apply that to the 2014 Free Cash Flow, this would equate to $1.57 per share. The company's shares have been trading publicly for a handful of weeks, and the share price has been around $13.00 - $15.00 implying a free cash flow yield of 10%-12%. So this seemed very interesting.
But if you kept reading the slide show than you might have a different opinion. While actually to be clear you would have had to read into the Appendix to have a full understanding of the business. Now, placing a reconciliation of Adjusted EBITDA to GAAP in the Appendix is standard operating procedure for most companies. But just because most companies do something, doesn't make it right. Investors should demand that the true financials of the company be presented with all the substantive material in the presentation. The financials are one of the few concrete items we have in any company, and thus, they are more reliable than the qualitative factors provided in the presentation. In fact, the majority of the presentation is comprised of managements qualitative opinions of the business. As investors, the numbers are IMPORTANT. They aren't everything, but they are sure close to being the most important thing. So, turning to this reconciliation we can see how Manitowoc Foodservice is determining Adj. EBITDA.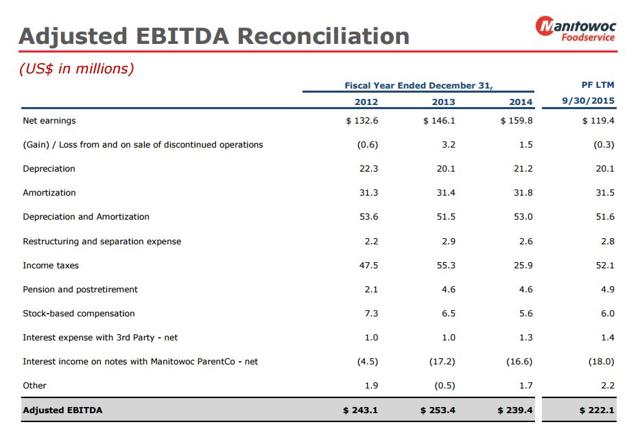 You can see that management is adding many non-cash charges to the business. Again this is isn't something specific to Manitowoc Foodservice, but unfortunately has become standard operating procedure for most companies. At Dylan Street, we don't like adding non-cash charges because most of them are in fact real. For example, management is adding back the full depreciation amount. But on the previous free cash flow chart the company has spent anywhere between $18 million and $34 million on capital expenditures, and revenue has only gone up marginally. So, should the capital expenditures be viewed as maintenance cap ex or growth cap ex? Also, we would want to know how much the company spent on acquisitions to see where the gains in revenues are coming from. Restructuring charges are added back, but in the slide show management tells you they are going to continue to refine the needs of the business and try and gain savings. Thus, it would seem restructuring charges will be ongoing for the foreseeable future.
Each investor can decide on his or her own what they want to add back. But in this case let's say we just use the net income number. This would show $.97-$1.20 in free cash flow per share in 2012 and 2014 respectively. Let's say we average those numbers then we would get $1.08 resulting in a free cash flow yield of 8%-7%. We are no longer in double digit free cash flow yield. If we used the $1.20 per share number than we would get 9%-8%.
Hopefully, if you are still reading this article you have noticed one glaring issue. These numbers aren't pro forma numbers. Once you get to the pro forma numbers; hopefully, you will see why we never use EBITDA numbers in our work. EBITDA by definition excludes interest payments. This has never made any sense to us. What we haven't told you is that in the spin-off Manitowoc Foodservice is going to take on debt to pay a dividend to the parent company, The Manitowoc Company. You would have seen that the company was going to do this if you had read the offering documents. In fact, there is only one brief sentence in the presentation referencing this fact.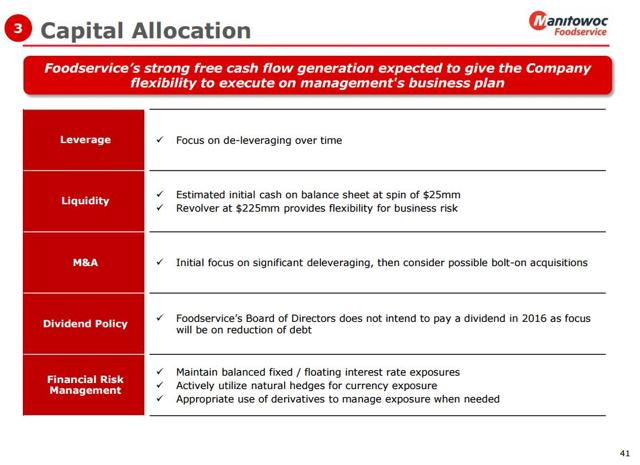 So here we read that the company plans on focusing on de-leveraging over time. That is all the reference to the debt the company provides. Maybe this debt isn't very large, and won't impact the analysis. On March 3, 2016, the company borrowed $975 million on a term loan with floating debt, and another $425 million of senior notes due 2024, for total of $1.4 billion of debt. Of that $1.4 billion, $1.362 billion was given to The Manitowoc Company as a dividend. So, what does this all mean?
Well in the offering documents which can be found here you would see on page 39 the company provides you a pro forma adjustment for the expected interest expense. For the year 2014 it would have been $97.4 million. Now remember we mentioned that the 2014 free cash flow presented by management was $214 million or $1.57 per share. Well in our world Manitowoc will have to pay that $97.4 million because debt investors don't want imaginary interest as payment. This would reduce your free cash flow to $.85 and your yield would drop to 6.5%-5.6%. This cuts the free cash flow yield articulated by management almost in half. If we used the net income number from 2014, then our free cash flow per share would be $.45 per share and your yield would be 3.5%-3%. [Note: we are ignoring the tax shield the interest payments provide, but you can easily figure those numbers.]
We have no issue with you believing that net income is too conservative, and you can add back the charges you think are relevant. The actual potential free cash flow number probably lies somewhere in the middle. But for us, this approach presents a completely different financial picture of the business than the one management has provided. But we believe these financial numbers are more realistic. And we would prefer management teams present conservative financials as opposed to irrelevant optimistic ones.
Someone will inevitable ask us to explain why does everyone use EBITDA or they will tell us that EBITDA isn't meant to capture everything. So, we will address some of the philosophical issues we have with EBITDA. But first, it should be noted that the company chose to explain their business this way. One way EBITDA is traditionally used is when an investor wants to compare companies who have different balance sheets. It removes the impact of debt. But for us this presents several issues. The use of debt is important because interest payments are real. Next there are other operating metrics one could use to compare the operating businesses to one another. The only time we would begin to change the interest payments is if we were in a position to acquire the entirety of the business and could change the balance sheet of the business. For example, a private equity firm might look at EBITDA metrics to determine how much debt the business could service. Or if we were acquiring a business and had a lower borrowing costs, we would flow through the savings on the interest payments in our analysis. But for the majority of small investors and small funds, they can't change the balance sheet. They are merely passive owners.
As passive owners of Manitowoc Foodservice, our return would be the one that accounts for the fact that the company has taken on a large quantity of debt. And to be frank, we don't really like to compare companies to one another for valuation purposes. Buying the cheapest of five companies could be very dangerous if overall valuations are too high. Relative valuations violate our thesis that any valuation worth doing should not include market prices. We determine valuations irrespective of market prices. Only when we go to transact do we compare our value to the market price. In fact, the market could be closed and we could still be able to do our valuation work.
We would like to reiterate that this type of presentation and adjusted EBITDA use exists at a majority of companies. This isn't a Manitowoc Foodservice issue. But our approach as we have mentioned before in other articles is to try to determine what the business is going to earn in the future. We start at the topline and begin to work our way down. We adjust any of those expenses that we think are truly one time in nature or truly non-cash. More often than not we error on the side of being conservative. Unfortunately, we are in the minority on this issue. We believe that instead of passing on investments, many investors begin to rationalize away real costs as non-cash items in order to justify a particular investment purchase. This can be a dangerous investment philosophy.
Disclosure: I/we have no positions in any stocks mentioned, and no plans to initiate any positions within the next 72 hours.
I wrote this article myself, and it expresses my own opinions. I am not receiving compensation for it (other than from Seeking Alpha). I have no business relationship with any company whose stock is mentioned in this article.