Since our last article on Real Industry (NASDAQ:RELY), the company has released its Q4 and FY2015 earnings. Annual report and CEO Letter are out too. In the weeks that followed, we had a chance to have an insightful conversation with the CEO.
Real Industry

Real Industry is a holding company with significant net operating loss carryforwards (NOLs). Management is focused on building a portfolio of well-managed and profitable companies capable of burning off approximately $872M in NOLs.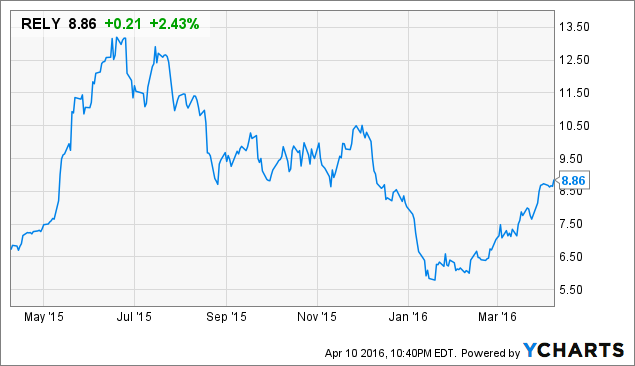 RELY data by YCharts
Its primary subsidiary Real Alloy is engaged in recycling of aluminum and was acquired in 2015.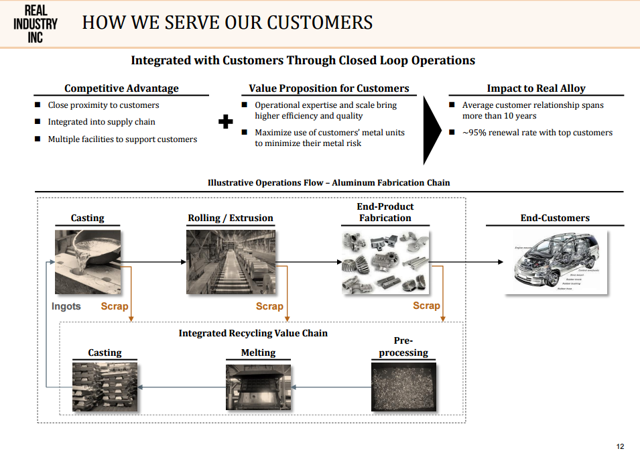 Source: Investor presentation
Earnings Update
Aluminum prices were weak in 2015. Despite this weakness, RELY's subsidiary Real Alloy performed well by reducing COGS by 1% and deleveraging the balance sheet by $50M. Here are the highlights from the press release.
FY 2015 Highlights
Segment adjusted EBITDA of $70.3 million on $1.1 billion in revenues (ten months' performance)
Real Alloy exceeded annual productivity target of $13.4 million in cost reductions/margin enhancement (full year)
Strong free cash flow at Real Alloy provided for $50 million in debt reduction since acquisition date
Ended the year with more than $100 million in consolidated liquidity
We are happy with the performance so far. We didn't buy the stock only for its aluminum business, we bought it because of the NOLs, and the management's disciplined capital allocation.
CEO Call update
We recently had an hour long insightful conversation with the CEO. We left the meeting feeling positive about the management and the company's future.
Five-year plan
When asked about what the five-year plan looks like for RELY, CEO Bouchard expressed his intent to make at least one acquisition per year possibly reaching $10B in revenue in five years. Assuming a 15% EBITDA margin, management wishes to be around $1.5B in EBITDA. These are lofty goals but not impossible. As of today, RELY has acquired one subsidiary in aluminum recycling with segment revenue around $1.5B and segment EBITDA around $80M (5% EBITDA range). If RELY can double revenues with each acquisition, we will be at $10B in revenue before we know it. And each of those acquisitions need to have higher margins than what Real Alloy has right now. Additionally, if RELY is successful in implementing Lean Six Sigma and improve performance of each acquired entity, the margins should expand. We are already noticing the improvements at Real Alloy, RELY's primary subsidiary. Real Alloy's gross margins are expanding and the company is gaining productivity. Assuming a 6-7x EBITDA multiple, RELY needs additional $9B-$10B in capital to make those acquisitions. Raising the needed capital may appear hard at this point, but it's not impossible. Remember where RELY was couple of years ago. The real question for current shareholders is how many more shares need to be issued to raise capital. We are optimistic that incremental acquisitions will be accretive to current shareholders' earnings despite additional share issuance. In the past, RELY has used a combination of Stapled Rights offering, Debt and Preferred stock to finance the acquisition.
New Auditor
RELY has decided to be a grown-up, so management hired Ernst & Young as their auditor. As a result, NOL number got revised. It is to be said that the NOL is just a reasonable estimate provided by the accounting firm, but is not confirmed or validated by IRS. So an exact number doesn't add value to our analysis. If RELY is able to use up NOLs before they expire, shareholders would have realized significant value in the process. As of Dec. 31, 2015, RELY had $871.8M in NOLs ($934M in 2014 10-K). The change in total NOL accounts for the gain on sale of NABCO and revisions from accounting firm. At 34% tax rate, $871.8M in NOLs has a tax benefit of $296M when realized.
Capital Allocation
RELY management's primary focus appears to be acquisitions and deleveraging the balance sheet. In the absence of a deal, we can expect RELY to continue deleveraging the balance sheet.
Conclusion
Despite the weakness in aluminum prices, RELY's subsidiary Real Alloy continues to perform well. We like the expanding gross margins, productivity improvements coming from Lean Six Sigma driven transition from Aleris (seller) and continued deleverage. We feel confident that management will be disciplined in its acquisitions and we are looking forward to the next acquisition from RELY.
Disclaimer: This article is for educational and informational purposes only. Nothing contained here should be construed by anyone as an invitation or solicitation to buy or sell any security. This article does not contain personalized legal, tax, investment, or financial advice. Readers of this article should consult with a qualified adviser to obtain advice suited to their personal circumstances.
Disclosure: I am/we are long RELY.
I wrote this article myself, and it expresses my own opinions. I am not receiving compensation for it (other than from Seeking Alpha). I have no business relationship with any company whose stock is mentioned in this article.