Kodak's (NYSE:KODK) operational performance since emerging from bankruptcy has been underwhelming to say the least. After initially surging post-bankruptcy in late 2013 the stock has been on a mostly downward trajectory, hitting an intra-day low of $7.56 in January before rebounding a bit of late.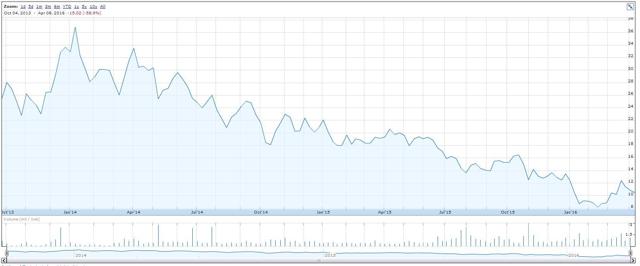 The strong dollar and a rapidly declining yet highly profitable legacy business have really weighed on the stock. There has not been much to like about the "New Kodak." However all throughout the past two and a half years the company has been making progress on right sizing its operations, cutting costs, and investing in new growth opportunities. That progress, however, has largely been masked by the headwinds mentioned above.
But when the company reported Q4 results in March, investors finally had something to be cheer about. First, the company ended the cash burn that had seen its cash balance fall by $318M since emerging from bankruptcy. For the first time, Kodak generated positive free-cash-flow to the tune of $30M in the fourth quarter.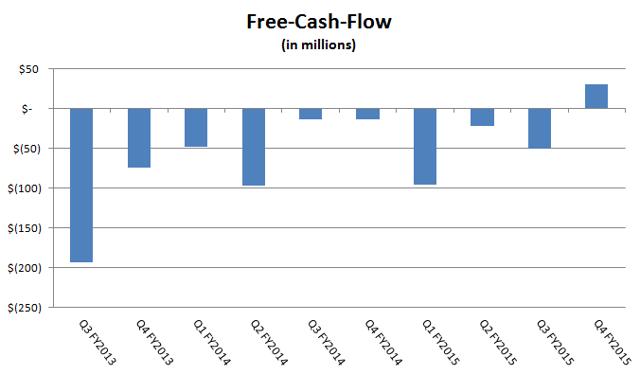 Though it was later than expected, it was good to finally see the bleeding stop. The company expects to generate positive free-cash-flow in 2016 as well. Here is the CFO's commentary regarding cash from the Q4 earnings call.

That was the first piece of good. The second had to do with the announced sales process for the company's PROSPER enterprise inkjet systems business. While Kodak has made great strides with PROSPER over the past several years, it really needs greater scale to reach its full potential. So after receiving unsolicited interest in its PROSPER business, Kodak has hired Sagent Advisors to run a sales process for the business. That's great one might say, but how much can Kodak get for the business? Well we know that Kodak has invested "several hundred million dollars" in PROSPER since its inception. Here is some of the Q&A from the Q4 earnings call, where the recent investment in PROSPER is discussed.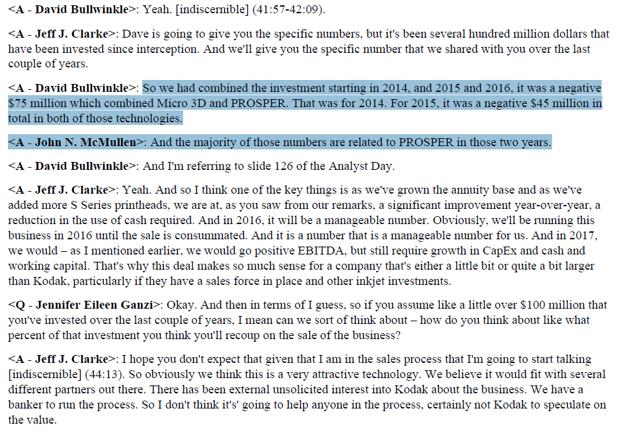 So while I don't expect Kodak to recoup everything it has invested in PROSPER over the years, I do believe they would not be running this sales process if they did not think they could get at least $100M for the business. The business is expected to do ~$120M in revenue in 2016. Given the scale benefits a larger player could achieve in short order, 1x revenue seems reasonable. The business would have a minimal EBITDA drag in 2016 if Kodak were to run the business the entire year. If more resources were allocated to sales and distribution (Kodak has only 40 sales people for PROSPER while a larger competitor could have hundreds or even thousands around the globe for similar systems) the installed units could grow at a much quicker pace, which would accelerate a move to positive EBITDA. As a reminder, the systems are typically sold at a loss knowing the annuity parts and servicing will generate a profit over time. A price tag of $100M-$120M would be a win for Kodak shareholders and go a long way toward validating Kodak's printing technology. Kodak has stated that it intends to pay down debt with the proceeds, likely the first lien debt.
Reducing the gross debt at Kodak is very important. The first lien term loan carries a 7.25% coupon currently. So the $400M principal balance costs $29M annually in interest expense. The second lien debt has $270M outstanding and carries with it a 10.25% coupon, which also costs $29M annually in interest expense. Together the first and second lien term loans make it very difficult for Kodak to generate positive free-cash-flow. The company has too much gross leverage. Given the expected proceeds from the PROSPER sale as well as the potential for working capital and capital expenditures to be freed up with a sale of the business, Kodak should take this opportunity to reset its entire capital structure. If you assume $120M in total proceeds for PROSPER (including working capital), Kodak should take another $130M-$150M of its cash and reduce its gross debt by $250M-$270M. It can likely refinance the remainder into a new first lien, senior secured term loan at a similar rate of interest as the current first lien loan, possibly lower. This could free up nearly $30M in cash flow as a result of reduced interest expense. If the other lines of business perform as expected in 2016, Kodak could easily exit the year at a free-cash-flow run-rate of $50M or higher. For a company with a market cap of only $435M, that is an excellent cash yield.
In conclusion, the best way for Kodak to create value for shareholders at this juncture is to reduce its gross debt. Selling the PROSPER business and relieving the company of those necessary investment dollars will be a major step forward for the company. It should also facilitate a refinancing of the company's debt, which would put Kodak's stock on much firmer ground. I would expect an announcement on a conclusion to the sale process possibly by the time the company reports Q1 results or at the latest we should have an announcement during drupa, the print industry's largest trade show, taking place May 31 - June 10. If the sale price is north of $100M, the stock should react positively, as the market will come to realize Kodak's commercial printing technology does have significant value. If the purchase price is only, say, $75M, or worse the sales process fails to generate a credible buyer, the stock will likely get punished in the near-term. I'm of the belief that the total sales proceeds will surprise the market to the upside. I believe that in the right hands Kodak's PROSPER technology can be very valuable, and the right strategic buyer will be willing to pay a fair price for it. A successful PROSPER sale could be the start of great things for Kodak shareholders this year. It is worth nothing that Kodak's largest shareholders and financiers, Blackstone/GSO and BlueMountain, have not sold shares; GSO has recently added shares. Both also sit on the board. They have done their homework and see the value in Kodak's technology. 2016 could be quite lucrative for Kodak shareholders with a PROSPER sale setting the wheels in motion.
Disclosure: I am/we are long KODK.
I wrote this article myself, and it expresses my own opinions. I am not receiving compensation for it (other than from Seeking Alpha). I have no business relationship with any company whose stock is mentioned in this article.