The Japanese yen (NYSEARCA:FXY) rang in the new year with loud alarm bells. At the time, I wrote about the implications for the surge of strength in "The Japanese Yen Flashes Red for 2016." The S&P 500 (NYSEARCA:SPY) continued a steep sell-off from there that did not end until the last oversold period bottomed out in mid-February. The whole episode was another reminder of the inverse relationship between the yen and the stock market. However, the yen is now even stronger than it was to start the year while the S&P 500 has managed an impressive rally off its February lows. The index is now essentially flat for the year while FXY has gained an impressive 11% year to date.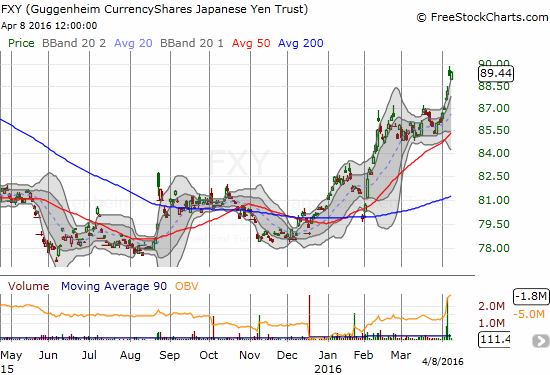 CurrencyShares Japanese Yen ETF has soared in 2016…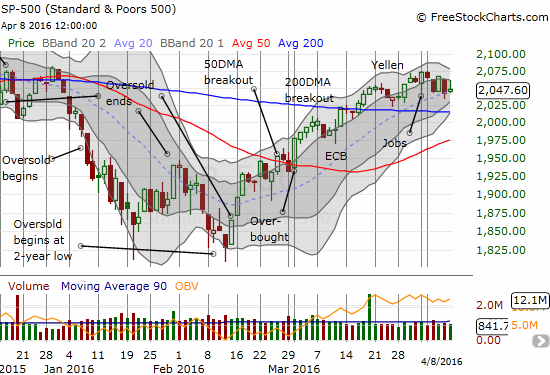 … yet the S&P 500 has managed to fight through the yen's weight and now trades around flat year to date.
Source: FreeStockCharts.com
Yet, even with the presumed inverse correlation failing over a longer time frame, Bloomberg was able to note a significant inverse relationship in a recent one-paragraph article:
"The yen's strength may be tripping up U.S. stocks. In the last 10 instances the yen rallied at least 1 percent against the dollar, the Standard & Poor's 500 Index lost 0.8 percent on average, the most since at least 2008, data compiled by Bloomberg show. That could be due to a breakdown in what's known as a carry trade, in which investors borrow money in a low interest-rate environment such as Japan's to fund investments in higher-yielding assets, says Andrew Brenner, head of international fixed income at National Alliance Capital Markets."
So what gives?
Well, basically both the time frame and the cross-section of data matter when understanding the yen's relationship with U.S. stocks.
Bloomberg's observation definitely holds in the data (uploaded here for those who want to review for themselves). I used the CurrencyShares Japanese Yen ETF to represent the Japanese yen and SPDR S&P 500 ETF so that I can neatly match opens and closes. The use of the last 10 instances of FXY gaining at least 1% on the day fortuitously includes the August 24th flash crash. On that day, FXY gained 3.0% while SPY tanked 4.2%. Take that day out and the average performance of SPY over the last 9 days increases from -1.2% to -0.9%. The percentages are different since I am using FXY instead of USD/JPY and SPY instead of the S&P 500.
Regardless, note the rarity of 1%+ gains for FXY. In over 7 months, such gains have occurred only 10 times. Since February 13, 2007, the earliest date available for FXY, FXY has gained at least 1% only 143 times over 2304 trading days. When FXY DOES gain big, it definitely accompanies strong downdrafts in the S&P 500. The following table tallies the 1%+ days for FXY over selected time periods and calculates the associated average performance of SPY over those days:
Since Feb 13, 2007: -1.5%
Since 2010: -0.8%
Since 2015: -1.0%
Given the rarity of big FXY up days, one can imagine how the S&P 500 can still manage to rally enough over time to work off the otherwise inverse relationship. The inverse relationship is most powerful when FXY makes big moves - and of course, THOSE are the days that get more media and psychological attention.
Correlations on the daily percentage changes of FXY vs. SPY make plain the weakness of the inverse relationship (correlations go from -1 to 1 where 0 represents absolutely no correlation):
Since Feb 13, 2007: -0.43
Since 2010: -0.29
Since 2015: -0.49
One of the reasons the inverse correlation is not as strong as we would like is that the relationship between FXY and SPY on big moves is asymmetric. Here is a chart showing the average FXY performance whenever SPY rallies for at least 1%. FXY does not perform as badly as SPY when the situation is reversed…
Since Feb 13, 2007: -0.4%
Since 2010: -0.3%
Since 2015: -0.3%
One more way to try to tease out the inverse relationship is to look at the percentage of trading days where FXY trades above its average daily percentage change while the S&P 500 trades below its average daily percentage change or vice versa for the given time range. The majority of the time, FXY and SPY trade on opposite sides of their daily averages, but it is not an overwhelming majority of the time.
Since Feb 13, 2007: 63%
Since 2010: 61%
Since 2015: 62%
So, as it's often the case with relationships in financial markets, timing is everything.
With the Japanese yen capturing so much attention, I expected speculators to accumulate larger and larger bullish positions in favor of the yen. However, for most of this year, net longs have pivoted tightly around the 50,000 mark. In fact, current levels could represent maximum bullishness if recent historical patterns remain meaningful.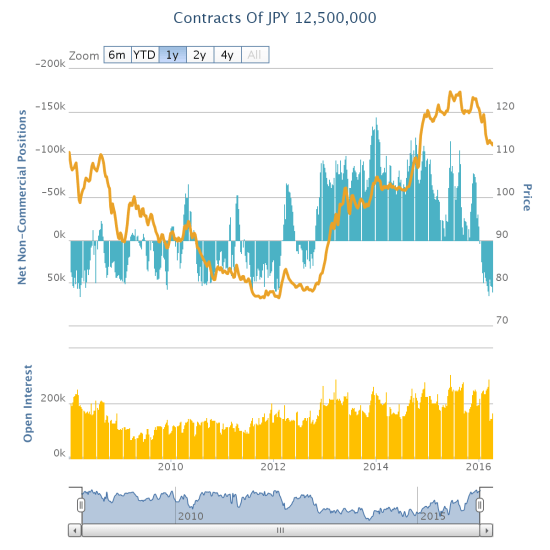 Recent history suggests that speculators are now at maximum bullishness on the Japanese yen. Will they eventually push their bets even higher or have they simply scrambled to get well ahead of a big catalyst that will drive the yen to fresh levels of strength?
Source: Oanda's CFTC's Commitments of Traders
USD/JPY currently trades around 108 and calls are increasing for a 100 target. In late December 2015, JPMorgan analysts seemed crazy calling for SUB-100 on USD/JPY with the pair trading around 120. That prediction seemed all but dead when the Bank of Japan rolled out negative interest rates and FXY gapped down 1.8%. The impact of that incrementally aggressive monetary policy are a distant memory and have cost the Bank of Japan (BoJ) a lot of credibility with markets. The current strengthening in the yen is almost like a dare for the BoJ to try intervention or some other similarly desperate measure. Meanwhile analysts are jumping on the 100 bandwagon: Bank of America Merrill Lynch joined the chorus with a (late?) projection of 100 to 105 sometime this year on USD/JPY.
While speculators are not scooping up ever-increasing bullish positions, Japanese citizens are apparently hoarding cash. This activity presumably makes the yen even more attractive to the extent that it's currency that would have otherwise exited the country for investments, loans, etc… The Japan Times recently reported the following:
"The Finance Ministry plans to increase the number of ¥10,000 bills in circulation, amid signs that more people are hoarding cash.

It will print 1.23 billion such notes in fiscal 2016, 180 million more than a year earlier…

The total amount of cash stashed at home is estimated to have surged by nearly ¥5 trillion to some ¥40 trillion in the past year, Hideo Kumano, chief economist at Dai-ichi Life Research Institute, said.

He attributed the sharp increase to people not wanting their wealth to become known to authorities following the introduction of the My Number common identification system for tax and social security.

In addition, the BOJ's negative rate policy 'may have fueled concerns among the public about depositing their money in banks,' Kumano said."
Cash hoarding is one way in which negative interest rates can backfire on a central bank trying to use the policy to ENCOURAGE more consumption. One reason central banks are starting to murmur about the (now far-fetched) possibility of forcing everyone to use centrally-controlled digital currencies. Monetary authorities can then ensure currency stays working within the official financial system. For example, the Bank of England has discussed how such a scheme might work as a way of eliminating the lower bound on monetary policy.
Overall, the trend is definitely upward for FXY. However, the currency ETF has had an extremely sharp run-up since its last breakout that started trading in April. A similarly strong start to February quickly transformed into a period of consolidation. I am expecting another such consolidation period to unfold going into May. For trading in forex, I have decided to accumulate a growing long position in USD/JPY in anticipation of the day when the forces behind the yen's strength inevitably weaken and reverse. In the meantime, I am aggressively fading rallies (whether intraday or weekly) in GBP/JPY and AUD/JPY and taking profits whenever the next sell-off occurs. The chart of GBP/JPY shows how well such a strategy has worked… so far.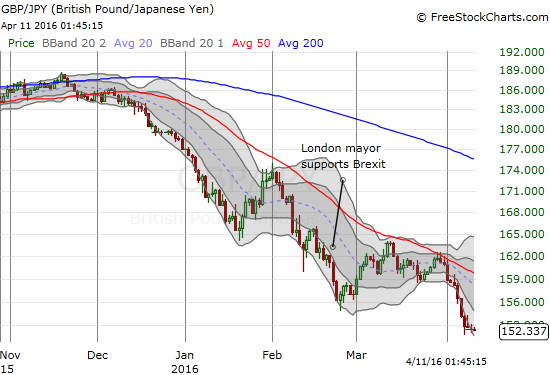 The British pound (NYSEARCA:FXB) has fared even worse against the Japanese yen than the U.S. dollar (NYSEARCA:UUP) mainly thanks to Brexit fears.
Source: FreeStockCharts.com
Be careful out there!
Disclosure: I/we have no positions in any stocks mentioned, and no plans to initiate any positions within the next 72 hours.
I wrote this article myself, and it expresses my own opinions. I am not receiving compensation for it (other than from Seeking Alpha). I have no business relationship with any company whose stock is mentioned in this article.
Additional disclosure: In forex, I am long USD/JPY and short GBP/JPY and AUD/JPY