Facebook's (NASDAQ:FB) share price has mimicked its rapid growth in monthly active users and daily active users. Most bullish individual investors cite these statistics. I have done the same in my articles about any of the social media companies. From an investor relations standpoint, these stats are excellent because they post a very rosy picture of the business. Who wouldn't want to invest in a company with the chart below? There's nothing like uniform constant growth without any blips.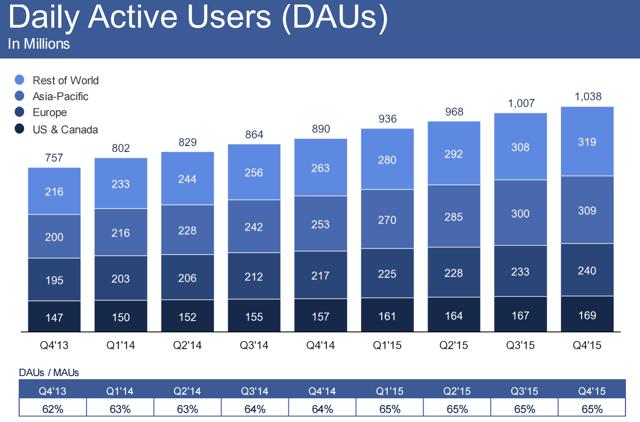 Even Twitter's (NYSE:TWTR) chart of its monthly active users doesn't look that bad. If you were looking at this chart, you would have missed the stock's peak in early 2014. From Q3 2013 to Q4 2013 Twitter's monthly active users grew 4%. This was the latest report going into the stock's peak. Facebook's monthly active user growth last quarter over quarter was about 3%. This isn't to say that Facebook's stock is guaranteed to peak this quarter just because of similar monthly active user growth metrics. My original point is to argue against this stat which the founder of Seeking Alpha, David Jackson, described as a vanity metric. The point is merely that Facebook has been better received than Twitter ever was besides the IPO time period.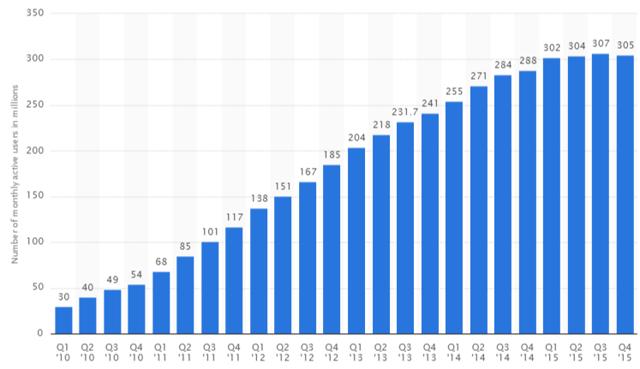 The reason for this article is the recent news reported by The Information which said Facebook was meeting in London to combat the original sharing problem. 57% of Facebook users accessing the app every week posted and 39% shared original content. Original broadcast sharing was down 21% as of mid-2015 and down 15% as of earlier this year. Total sharing was down 5.5% because of the outperformance of third-party sharing.
These data points are a better way to measure social media websites than the number of users. They can be considered a leading indicator to the total daily active users. The ratio of daily active users to monthly active users basically tells investors how many of the monthly active users are real users, as someone who checks Facebook once per month for 15 minutes is almost worthless to the firm. Facebook should do a better job of reporting the amount of time spent on its properties and the quality of content shared.
As you can see from the chart below, mobile users spend the most amount of time on Facebook. The problem with this statistic is that it means there is a dramatic difference between what is categorized as a user and the amount of time the average user spends on its site. Another way of saying this is that the total time spent on Facebook could go down from 30 minutes to 20 minutes while the number of monthly and daily active users increases. While it is great that Facebook is popular currently, investors care about the rate of change. Twitter stock went down as its monthly active user count increased, so the same thing can happen at Facebook. In a sense Facebook has more to lose than Twitter ever did because it already has a huge percentage of time spent on its app out of the total time users spend online. It is important to measure these stats more than even profitability and revenue because like Twitter, Facebook can increase the advertisement load per user even while users spend less time on the property. This would mask weakness.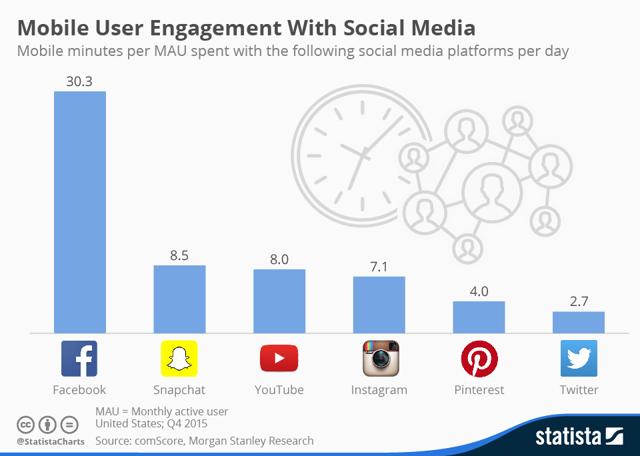 Losses in original content for sharing is most likely due to the growth in Snapchat (Private:CHAT). Snapchat's users skew younger. Younger users are the most likely to use social media apps heavily. Snapchat has the inherent advantage in original content sharing because almost all of the content on the app is original. Snapchat only allows users to use photos and videos from their camera roll in the messaging part of the app. It doesn't allow users to post previously taken content onto their stories. There are third-party apps which allow you to upload previously taken pictures like the one below, but they don't work well.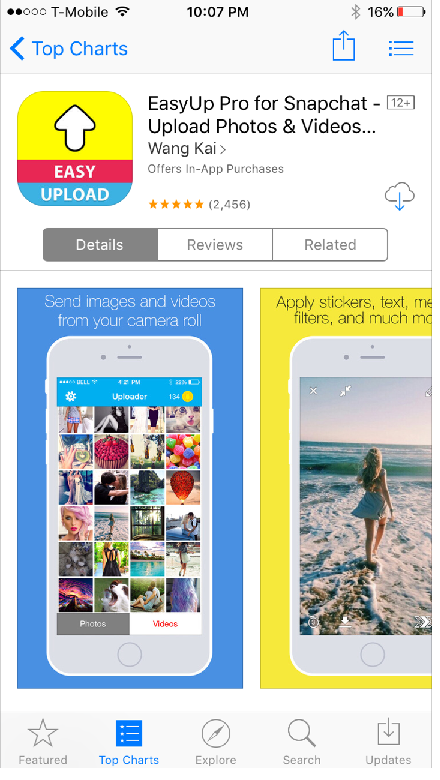 As you can see from the review below, the app doesn't work. The only reason why it has five stars is because users are given coins on the app if they rate it highly. It costs money to use the app. In my anecdotal evidence from using Snapchat, I have never seen any of my friends use this app.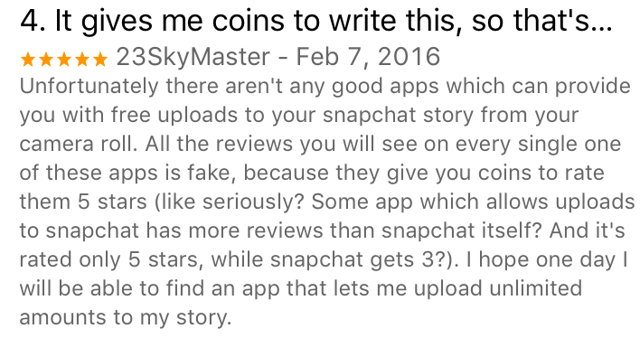 The knowledge that Snapchat needs live content has changed users' behavior as they become more likely to open Snapchat than any other app to capture a moment to share on social media. This is why you can see pictures taken on Snapchat on other apps such as Instagram. You can tell pictures are from Snapchat because of the format such as the filters or the captions. Snapchat's lack of functionality actually works to its advantage. Another example of this is the 24-hour window for viewing stories. It encourages users to watch their friend's content as it will soon be deleted. It also encourages users to upload more since Snapchat gets rid of the content. No one wants to have an empty story.
This is a virtuous cycle because as more friends upload content to the app, the more time you will spend on the app. A more cynical observer of social media may say that teenagers and other web savvy social media users are simply trying to evade advertisements and parents/bosses which are more prevalent on more mature social media apps such as Facebook and Twitter. In my perspective as a millennial who observes what his friends use, I would say people are flocking to Snapchat because it is more fun to use. It isn't about trying appear a certain way like other social apps tend to be. There is no judgment because there are no likes or follower counts. You get to see who is viewing your content. This feature is something Facebook users clamor for in the way Twitter users clamor for an edit function. The filters are also unique - they bring me back to the app the check for new ones
Facebook doesn't want to become the next LinkedIn which has plenty of users but little original content outside of someone automatically alerting you of their work anniversary which as a function always seemed pointless to me. Facebook also doesn't want to become Reddit. Reddit is a great website for sharing third-party content on the internet, but Facebook's competitive advantage is the connections users have on the platform. If the prevalence of third party content and photos taken originally on another app such as Snapchat begin to outweigh original content, it diminishes the reason to use the app.
One of the ways Facebook is planning to improve this declining original content creation is by advancing live video features. The reality is this is the moment in time where live video is taking off, meaning Facebook is merely advancing along with the current trends more than actually responding to its declines. Facebook faces competition from Periscope in this venue. Facebook shows top celebrities getting millions of views on its live platform, but is it really surprising a celebrity with millions of fans would get a lot views on the most popular social network in the world? I think Facebook would have released stats on the usage if it were doing excellently. My theory is that Periscope is flatter than Facebook, meaning the average Periscope user does better than on Facebook. The difference between the top Periscopers and the average user is likely smaller than on Facebook live.
Periscope is the best app when it comes to releasing relevant stats. Periscope reports watch time per day which is much better than the number of downloads, number of accounts created, or total number of daily active users. As of March 28th, 110 years of content is consumed on Periscope daily which means it has nearly tripled from August 10 when it said 40 years of content was consumed daily. I called Periscope one of the top apps of 2016 even before it was named the "App of the Year" in 2015 by the App Store, so I remain positive on its momentum as new features roll out and it maintains its low latency.
Getting back to Snapchat, the app has 8 billion daily video views which was the same amount reported by Facebook in November. Since Snapchat has 1/15 th the total monthly active users, it is reasonable to say Snapchat has around 15 times the engagement level than Facebook has. Facebook also counts videos in a way which inflates its numbers since a view is counted after it auto-plays in news feed for 3 seconds while Snapchat videos have to be tapped to count as a view.
Snapchat has yet to unveil a live video feature to stories. I would expect it to provide the best experience out of any other apps because its core product closely relates to what Periscope offers. Because Periscope is more public than Snapchat most broadcasters should obtain more viewers, but Snapchat would be more likely to get friends and family to watch. This is the exact category Facebook live is attempting to service.
On a final note, YouTube (NASDAQ:GOOG) (NASDAQ:GOOGL) is about to unveil a new app called YouTube Connect which will have live streaming. YouTube's live capabilities aren't up to par. From what I have observed, only YouTubers with a high number of subscribers use YouTube live. YouTube Connect would directly compete with Periscope. The jury is out on which app will prevail as Periscope has had a one-year head start. That being said, Twitch had a head start on YouTube Gaming and YouTube Gaming caught up in terms of features. When it comes to Facebook, any time YouTube gains viewers it competes with Facebook's video initiative even if their live products aren't in direct competition.
How I'm Trading
I'm sure some commenters will see a negative article on Facebook and recant that I'm just a stubborn short who has lost money. This would not be true. The last time I wrote about Facebook I was short at $97. I was able to cover up that mistake by doubling down on my short at $115. I had an average short price of $105.70. I covered this short position profitably at $99.77. I then recently shorted Facebook again with the average price of $113.40 which is higher than the stock is at currently.
My short on Facebook has to do with my Q2 or Q3 recession call which I made in January. Facebook is an advertising company meaning it is cyclical even though those daily active and monthly active user charts may lead some investors to believe it will grow forever. My negativity on the economy has been reinforced by the GDP Now forecast which predicts 0.1% growth for Q1.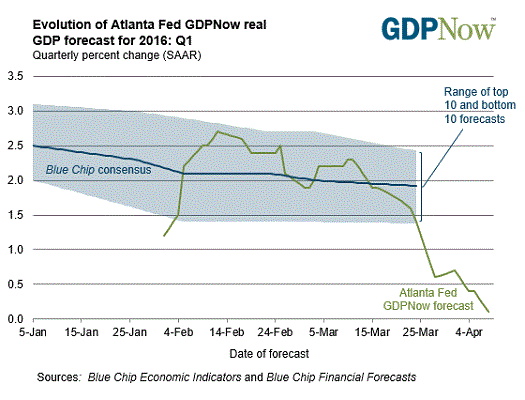 Disclosure: I am/we are short FB.
I wrote this article myself, and it expresses my own opinions. I am not receiving compensation for it (other than from Seeking Alpha). I have no business relationship with any company whose stock is mentioned in this article.