I have been following Neuberger Berman Real Estate Securities Income Fund (NYSEMKT:NRO) for several years because I own the fund as well as having placed it in several other portfolios I manage. My prior articles on this fund can be viewed here and here. This issue is currently selling at about $5.00 per share and offers a 7.2% yield or $0.03 each month. For a $5000.00 investment, one can receive $30.00 per month or $360.00 annually.
On September 16, REITs are going to have their own sub-sector with the S&P Dow Jones Indices. This will likely bring about a surge in demand as well as reduced volatility in the sector since U.S. equity funds are significantly underweight in REITs and will need to buy about $1 billion worth of them to achieve a market neutral position. Before this happens, it might be a good idea to do some REIT buying since this upcoming change will likely cause a rise in share prices.
NRO has the freedom to leverage its portfolio, and as of January 31, 2016, NRO was invested at 141% of capital. Total investments in the fund were $424,701,878, while net assets applicable to common stockholders was $299,653,320 (Source: NRO Form N-Q filed with SEC 3/29/16). Cost for these investments was $396,326,452, which indicated there has been a $24 million increase over the purchase price. Leverage is a two-edged sword when it comes to gains and losses in the value of the holdings. It will increase the value or NAV of the fund more quickly when REIT prices go up and it will decrease the value of the fund more quickly when prices go down.
The fund invests in all types of REITs including their preferred shares and one can see how NRO distributes its investments in the charts presented below: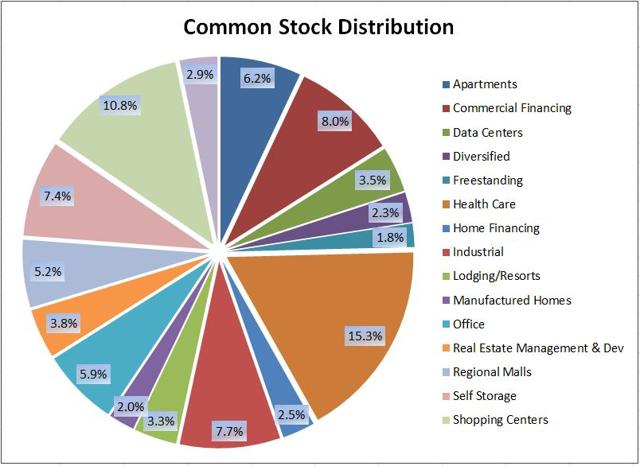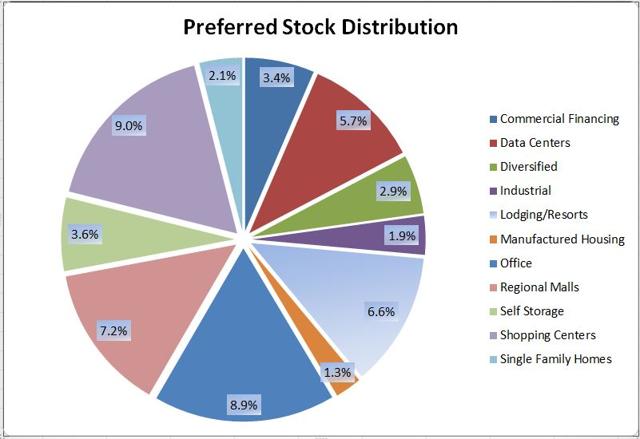 Source: My own work from latest Form N-Q
The graphs demonstrate that NRO is adequately diversified over various types of REITs and is not too heavily weighted in any one area. Currently, the top 5 investments by dollar amount of this fund when common and preferred investments are added together are:
Public Storage
CBL & Associates Properties, Inc.
Highwoods Properties, Inc.
Digital Realty Trust, Inc.
Kimco Realty Corp.
NRO has been paying $0.03 a month since 11/13/2014. Prior to that, it was paying $0.02 per share monthly, which started when the crash of 2009 hit. So the fund was able to continue monthly payments even during the crash although payments were reduced at that time. The annual expense ratio is reasonable for an actively managed CEF at 1.65%. In regards to dividend payments, leverage more than makes up for the management fees of the fund. The fund is currently selling below its NAV of $5.88 per share or at a 14% discount to the value of shares the fund currently holds. This discount from NAV has been typical over the past several years. The annualized return for this fund has been 9.1% for 3 years and 10.8% for 5 years, while the 10-year figure only showed a 1.6% return because of the big hit NRO took in the real estate crash of 2009. So, if you expect a big decline in real estate values, it would be best to get out of this fund.
Conclusion:
NRO is a good CEF for several types of investors. It is a good fund for the novice investor who wants to participate in the REIT sector, but does not have the funds to diversify one's portfolio with several REITs to balance out the risk. The fund offers a good yield that will help the small investor grow his portfolio in a rather safe manner. The second type of investor who can benefit from this fund is the retiree who wants a relatively safe 6%-7% return that pays one monthly and is not able or willing to spend the time investigating individual REITs. This fund coupled with dividend funds from other areas of the economy would be a big help providing the retiree a monthly income on which to live. Finally, this is a CEF exclusively invested in REITs with about 30% leverage, which should add a kicker if REIT prices surge as predicted in the fall when the new index is inaugurated.
Disclosure: I am/we are long NRO.
I wrote this article myself, and it expresses my own opinions. I am not receiving compensation for it (other than from Seeking Alpha). I have no business relationship with any company whose stock is mentioned in this article.