For all the goodwill Tesla Motors (NASDAQ:TSLA) has made with investors in recent weeks thanks to the Model 3 deposit news, the company has continued to have an equal amount of bad news. The latest nugget came on Monday, when the company announced it would be recalling the earliest Model X vehicles due to a seat issue. If Tesla wants to convert a high percentage of those Model 3 deposits to actual sales, the company better get its reliability issues fixed soon.
There are actually two pieces of good news involved with the recall. First, Tesla doesn't believe it will have any financial impact from the recall, given the seat supplier Futuris will be covering any expenses. The second item is that Tesla found this issue early on, as production is expected to significantly ramp up during the current quarter. If we assume Tesla has 30,000 Model X reservations currently, it's good that this was discovered in the first roughly 10% of units produced.
Hopefully, for those who believe in Tesla, there aren't too many more problems with the Model X. Volume production has taken a lot longer than expected given the company's hubris involved with putting too much into the vehicle. The complexity of the Model X led to parts shortages earlier this year, which have since been resolved, but forced the company to miss its Q1 delivery target.
Reliability could be a key factor in determining how many of those Model 3 deposits are converted into actual orders. If more problems pop up with the Model S or X, reservation holders might think twice about ordering. Hopefully, Tesla won't need to decrease the quality of the Model 3 to meet such large production volumes, as that might also impact reliability. While Consumer Reports has not been able to test the Model X yet, the magazine has given a lot of color regarding the Model S. Unfortunately, the image below shows how CR sees the 2016 Model S being much worse than average when it comes to reliability. CR subscribers can log in to see the full report.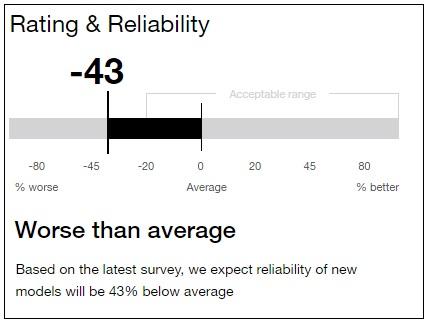 (Source: Consumer Reports)
On Monday, Tesla recalled about 2,700 Model X vehicles due to a seat issue with the third row, the latest bad news for Tesla's newest vehicle. The good news is that there will be no financial impact and the problem was found early before production really ramps up. Unfortunately, it's the latest hit to the automaker's reliability issue, which is much worse than average for the Model S. Tesla will need to work on these issues before the Model 3 launch or it risks losing a larger percentage of reservations. Tesla analysts have already used the Q1 delivery numbers as another reason to reduce non-GAAP profitability forecasts for this year and next, as seen below.

(Source: Yahoo Finance analyst estimates page)
Disclosure: I/we have no positions in any stocks mentioned, and no plans to initiate any positions within the next 72 hours.
I wrote this article myself, and it expresses my own opinions. I am not receiving compensation for it (other than from Seeking Alpha). I have no business relationship with any company whose stock is mentioned in this article.
Additional disclosure: Investors are always reminded that before making any investment, you should do your own proper due diligence on any name directly or indirectly mentioned in this article. Investors should also consider seeking advice from a broker or financial adviser before making any investment decisions. Any material in this article should be considered general information, and not relied on as a formal investment recommendation.