With interest rates at historically low levels, it's become extremely difficult to be an income investor. And, frankly, extremely risky. But that's part of what central bankers are hoping to achieve as they lower rates. The only problem is that rates have gotten so low that income investors are in Bizarro Land. Now is the time to resist the urge to invest.
A little background
For anyone who doesn't know, Bizarro is a character from the Superman comic series. He comes from a world where the heroes we know as good are bad. It's called Bizarro Land. Basically, it's our world, but upside down. In my opinion, that's pretty much what's going on right now in the investing world. And that scares me.
Growth in many countries has been anemic at best since the deep 2007 to 2009 recession. That's particularly true in developed nations and most notably within the United States. One of the key ways that central bankers have attempted to spur growth is by lowering interest rates. The idea being that low interest rates will spur spending and investment.
But with interest rates basically hovering around zero, there's only so much good that can be done. However, there's a whole lot of bad. Cash that earns nothing is pushing investors into other areas as they try to find yields worth owning. As investors pile into these higher yielding assets, prices go up and, as you'd expect, yields go down. Once again, investors are forced to look to other areas for yield, but that usually means moving to even higher risk assets. The process just repeats again.
The end result is that investors desperate for yield are pushed into assets that are far more dangerous than they should probably own. And it appears to me that it's just getting worse.
Shell goes negative
If you follow the markets at all, you know that oil went into free fall in the middle of 2014. It's been devastating to the energy patch, with many smaller oil companies either entering bankruptcy or on the verge of it. The integrated oil majors, meanwhile, have weathered the pain better, but are still feeling the sting of low oil prices on their top and bottom lines.
To give you a quick example, Royal Dutch Shell (NYSE:RDS.B) (NYSE:RDS.A) has seen its share price fall by a third over the past five years (nearly 50% from its highs in the period), its top line cut in half, and its full-year earnings fall by 90%. No wonder the stock yields around 7.5%! That's a reasonable assessment by the market of exactly what's been going on.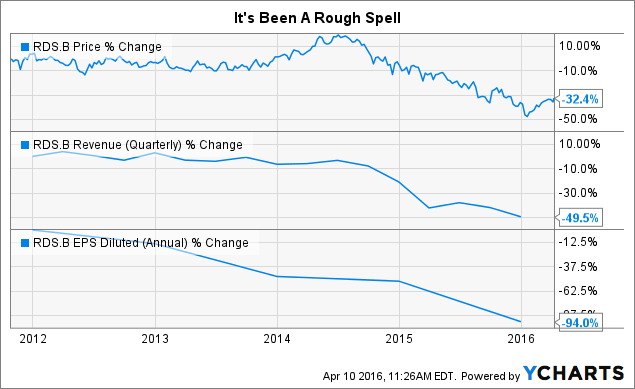 RDS.B data by YCharts
To be fair, you can argue that integrated oil companies are a bargain today, and Royal Dutch Shell's fat yield is an income investor's dream. A harder argument to make is that the risk of taking this position is small. There's a very real possibility that Royal Dutch Shell's commitment to its dividend will go the way of the dodo, just like similar commitments at commodity players like BHP Billiton (NYSE:BHP) and Rio Tinto (NYSE:RIO), both of which have cut their payments.
So far, the oil major and a number of its competitors have pledged to maintain their dividends. But that's often required debt to fund the business, capital expenditures, and the dividend. Royal Dutch Shell is no different. And keep in mind that Shell happens to be in the midst of digesting natural gas focused BG Group - a $50 billion deal (it was $70 billion when the deal was inked, but the oil stock price collapse changed that). The bigger takeaway for income investors, however, is that with no end in sight to the oil glut, supporting the dividend is likely to get harder and harder over the near term, not easier.
So, that 7.5% dividend yield comes with a lot of uncertainty. But here's an interesting twist, according to Bloomberg - the interest rates on some of Shell's bonds recently dipped into negative territory. To be fair, it's far more likely that Shell will cut its dividend than miss a debt payment. So the chance of Shell defaulting seems pretty low. But step back a second and think about what negative interest rates mean.
From a big picture perspective, investors are paying Shell for the right to own Shell's debt. Reread that, because it's the exact opposite of what should be going on - where companies pay interest to debt holders so that the debt holders are compensated for lending the company money. And while Shell remains a highly rated company, S&P recently downgraded its debt to reflect the increased risks it's facing from low oil prices. Clearly, owning Shell's stock is not risk free, but neither is owning its debt.
What's caused this move into Bizarro land? Governments pushing interest rates to historically low levels, the U.S. included. To be fair, I think there are opportunities to be found in the oil majors. I bought Exxon Mobil (NYSE:XOM) when the stock yield popped over 4%. But I certainly wouldn't buy a corporate bond with a negative yield.
And I'd be loathe to invest in an income stock with a yield that's at historically low levels. I'd put many of the best real estate investment trusts, or REITs, in this space, including Realty Income (NYSE:O). Realty is a great company, but far too expensive today. When it comes to REITs, the best place to find yield is in far riskier fare - another area where you need to tread carefully.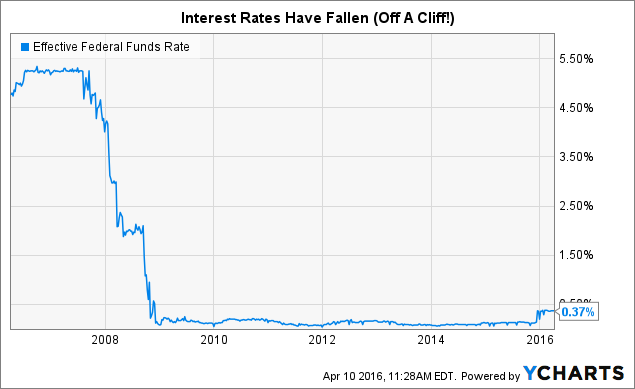 Effective Federal Funds Rate data by YCharts
Time for caution
I haven't stopped investing, but I have become a lot more cautious and selective. I noted that I bought Exxon with a 4% or so yield. Exxon happens to be one of the best run oil majors with a long history behind it, including, but certainly not limited to, the dividend front. What I didn't do was buy the integrated oil major with the highest yield. I bought what I felt was the best company at a depressed valuation.
The takeaway here is that investing for income today is a lot harder than it has been historically because low interest rates have changed the equation. That isn't to say that bargains can't be found. But you need to be careful about what you choose to own. A corporate bond with a negative interest rate? That doesn't sound like a good deal. Nor does a REIT trading at an historically low yield. On the flip side, a high yield from a company facing very real business risks wouldn't be any better unless you are very confident in its survival and the sustainability of that dividend. In other words, be extra (EXTRA) picky.
Disclosure: I am/we are long XOM.
I wrote this article myself, and it expresses my own opinions. I am not receiving compensation for it (other than from Seeking Alpha). I have no business relationship with any company whose stock is mentioned in this article.