This article focuses on the KNEBV ticker in NASDAQ OMX Helsinki as it is the main marketplace for KONE stock. (Listed here in Seeking Alpha as KNYJF AND KNYJY)

Source: Google Finance. KONE stock chart 2006-2016.
Introduction
For over a year, China has dominated the financial news regarding slowing growth and the potential threat to world's economy. The same story has surrounded KONE. In this article, I will go through key factors that affect KONE's growth prospects in China.
KONE is a great pick for long-term growth and yield, however there might be trouble ahead in the next 12 months. At current price, KONE has little or no upside potential, unless they over deliver once again. After Q1 report there will be a comprehensive valuation analysis. KONE coverage started with a hold rating.
KONE briefly
KONE Oyj is one of the top three suppliers in the elevator and escalator business worldwide and the number one in the world's largest E&E market in China. KONE has three business segments: new equipment sales, modernization and maintenance.
In 2015, KONE had annual net sales of EUR 8.6 billion ($9.8 billion) and at the end of the year close to 50,000 employees. Currently (4/1/2016) KONE's market capitalization is EUR 18.4 billion ($25.7 billion).
There is a Finnish saying "KONE is a kone" meaning KONE is a machine that keeps on improving over and over again. 10 years of consistent growth resulted in KONE becoming one of the largest companies in Finland. During this growth period, KONE's stock has surged from EUR 8 ($9) to EUR 41($47), including two stock splits (2008 and 2013), both 2 for 1.
Addition to the capital appreciation, shareholders have been rewarded for their investment in the company with dividend being raised from EUR 0.25 ($0.285) in 2006 to EUR 1.4 ($1.6) in 2016. They even distributed special dividends in 2012 and 2013. KONE's strong balance sheet and "conservative" payout ratio from 2015 profits could suggest a potentially larger acquisition is in the making.
KONE's highlighted key figures 2011-2015
| | | | | | |
| --- | --- | --- | --- | --- | --- |
| Income statement | 2015 | 2014 | 2013 | 2012 | 2011 |
| Sales | 8647 | 7334 | 6933 | 6277 | 5225 |
| Operating income | 1241 | 1036 | 953 | 791 | 725 |
| Net Income | 1053 | 774 | 713 | 611 | 644 |
| EPS, excluding one-time items | 1.79 | 1.47 | 1.36 | 1.23 | 1.15 |
| Dividend per share | 1.4 | 1.2 | 1 | 0.875 | 0.7 |
Orders
| | | | | | |
| --- | --- | --- | --- | --- | --- |
| Orders | 2015 | 2014 | 2013 | 2012 | 2011 |
| Orders received | 7959 | 6813 | 6151 | 5496 | 4465 |
| Order book | 8210 | 6952 | 5587 | 5050 | 4348 |
Balance Sheet
| | | | | | |
| --- | --- | --- | --- | --- | --- |
| Balance sheet | 2015 | 2014 | 2013 | 2012 | 2011 |
| Net debt | -1513 | -912 | -622 | -574 | -829 |
| Net working capital | -983 | -750 | -612 | -439 | -361 |
Source: KONE IR, financial information 4/6/2016. All figures in MEUR except per share numbers.
KONE in China
KONE has had a phenomenal success in the past two decades; some of the main reasons were China's robust investments in real estate and the increasing migration from the rural areas to cities. KONE has consistently grown faster than the market, with an incredible 44% compound annual growth rate from 2006 to 2012. They even managed to grow last year when overall market declined. KONE supplies both high-end solutions and normal volume business. However, there is a clear slowing down seen in the new equipment orders. This is the main threat to the KONE's growth story.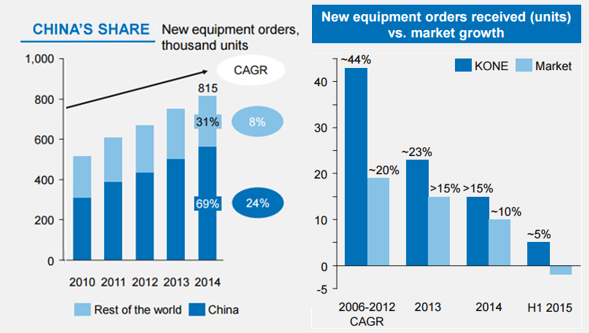 Source: KONE capital markets day 9/25/2015
China accounts close to 70% of the global new equipment orders as seen on the graph above. Current transformation to consumer-driven economy has affected real estate investments and new large projects are built in a slower pace.
Source: KONE capital markets day 9/25/2015, National Bureau of Statistics of China
Currently KONE relies 44% of their sales from Asia-Pacific and 57% from new equipment business. So the dependency is obvious, any sudden drop of demand would hurt the company's performance. In KONE's latest financial statement, they forecasted 5%-10% decline in sales with comparable currencies in China. Approximately 75% of KONE's revenues are in other currencies than the euro, meaning currency fluctuations have a translation impact. If the macroeconomic situation in China keeps softening it will put more pressure for the currency to depreciate. So another headwind is the depreciation of the Chinese renminbi compared to the reporting currency euro.
Growth drivers in China
It's not all doom and gloom, there is still growth to be seen in China in the long term. Every single day people migrate from rural areas to the cities and there will be need for high-rise buildings when cities are as condense as they are in China. This will be one of the key growth drivers for any elevator and escalator company.

Source: KONE capital markets day 9/25/2015
China's rapid economic growth started only a few decades ago, meaning the equipment installed are fairly new compared to Europe or North America. In the future the world's largest E&E market will require increasing maintenance and modernization. Positioning early on to the aging installment base will be a great way to get recurring revenue from yearly inspections, maintenance and modernization of the older equipment.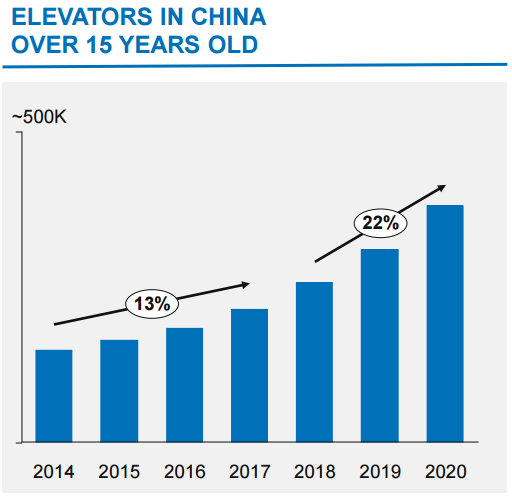 Source: KONE capital markets day 9/25/2015
Shifting focus
With slower demand for elevators and escalators in the APAC area, KONE will find growth in services. KONE has decided to put more effort to the service business. It doesn't mean they stop selling new equipment or innovating, but simply they will increase the defensive maintenance and modernization business over the cyclical new equipment business.
Every unit sold and every competitor's unit sold will require maintenance. Currently KONE has around 1.1 million elevators and escalators in their maintenance base, however there are more than 12.5 million E&E globally. So there is room to grow, but can the maintenance business be as profitable as the new equipment business? KONE doesn't reveal specific margins, however with the increased focus amongst investors, they might disclose it as a more transparent reporting. KONE's operating margin was 14.4% in FY2015, comprised of new equipment sales, modernization and maintenance.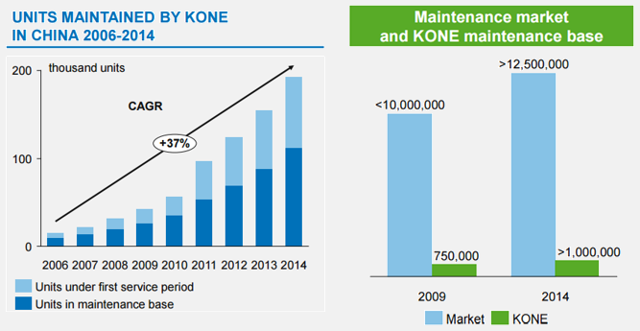 Source: KONE capital markets day 9/25/2015
Conclusion
There have been efforts to boost the Chinese economy and the real estate market over the last year. Some positive signs can be seen already, however it's still quite unclear how China's transition to consumer-driven economy will go through.
KONE is also in a transition from a cyclical business to a more defensive and stable business. Decreased demand in the near future for new equipment in APAC area will be hard to compensate by other revenue streams. Until there emerges another market as robust as China for new equipment, KONE will most likely grow at a more moderate but steady pace compared to the past decade. Helping to offset some decreased demand are acquisitions and the record high order book.
This article has been a short introduction to KONE's situation in China's changing E&E market. This being the part one of the series there weren't comparisons between competitors, global operations or valuation analysis. These will be featured later on after Q1 report. Stay tuned.
Supporting Documents
Disclosure: I am/we are long KNYJF, KNYJY.
I wrote this article myself, and it expresses my own opinions. I am not receiving compensation for it (other than from Seeking Alpha). I have no business relationship with any company whose stock is mentioned in this article.
Editor's Note: This article discusses one or more securities that do not trade on a major U.S. exchange. Please be aware of the risks associated with these stocks.