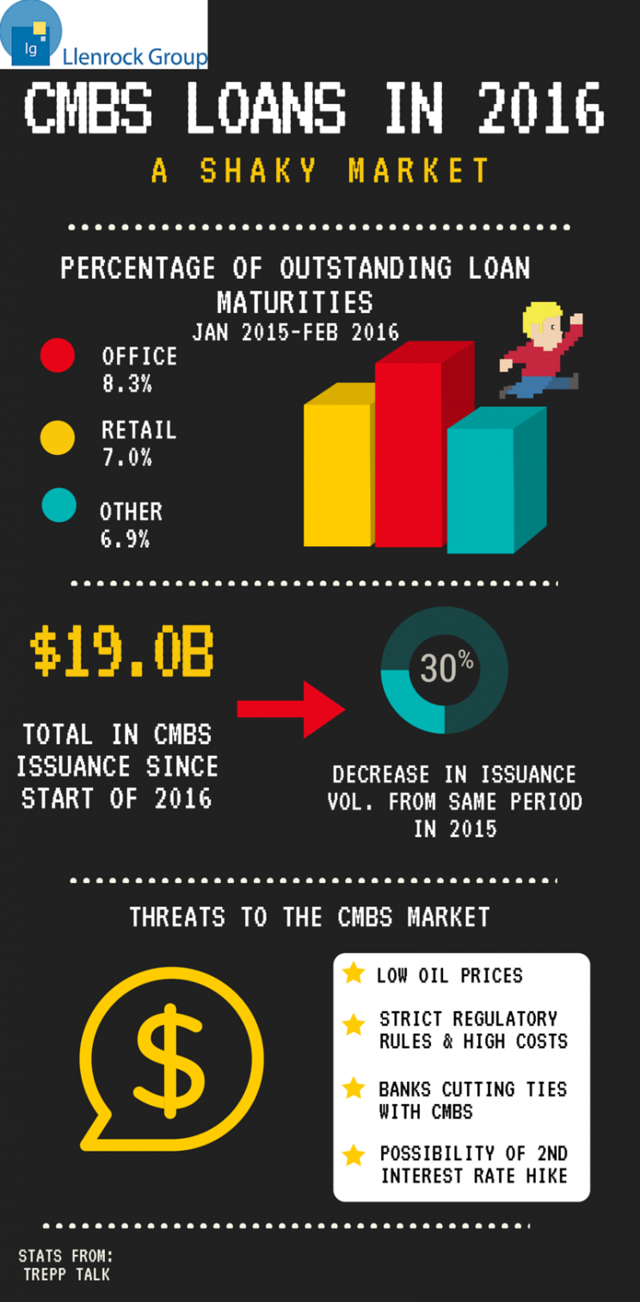 According to Commercial Mortgage Alert, U.S. CMBS issuance has totaled up to $19.0B since the beginning of 2016, which is a 30% decrease from issuance volume reported for the same period in 2015. What gives? Well, due terms for around $211B in loans are scheduled between now and the end of next year, according to Trepp LLC.
According to Trepp LLC, the U.S. CMBS delinquency rate hit a record high in the summer of 2012 as five-year loans granted during the rocky economic downturn of 2007 came due. The same wasn't said for a prosperous 2015, as overall CRE fundamentals and values were strong. Trepp LLC also notes that:
"Of the $80.9B in non-defeased, non-delinquent loans that were outstanding at the end of 2015 and due to mature from January 2015 through February 2016, 94.02% by balance has paid off with 0.29% in losses. The remaining loans account for $4.84 billion outstanding as of this February, and 68.74% of those are marked as delinquent (including those marked as "Performing Beyond Maturity").
During the time period mentioned above, the office sector had the highest percentage of outstanding CMBS conduit, non-defeased, non-delinquent loan maturities at 8.3%, followed by retail at 7.0%. This should come as no surprise, as the office and retail sectors haven't been performing nearly as well as, say, lodging or multi-family.
We were fooled into thinking 2016 and 2017 would bring positive maturities. It seems that new issuance in the CMBS market may not be strong enough to fight off threatening macro-economic factors, such as:
Low oil prices
Increasingly strict regulatory rules and high costs
Banks cutting ties with CMBS to reduce risk
Possibility of a second interest rate hike
"The outlook becomes slightly dubious for the more-than-$200 billion in non-defeased, non-deliquent loans coming due between now and the end of 2017," notes Trepp, LLC. It seems that uncertainties about the overall economy are hitting CMBS harder than some may have thought.
While the delinquency rate is at a seven-year low, Morningstar notes that "new issuance of commercial mortgage-backed securities in 2016 is poised to fall well short of 2015 issuance," due to the "widening gap between the yields that investors demand and the yields that issuers can pay."
Morningstar also notes that, out of the numerous Chapter 11 bankruptcy filings so far this year, Sports Authority will have the greatest impact on CMBS, as they will reject their stores' leases.
Despite the balance of delinquent CMBS loans trending lower and CRE fundamentals remaining strong, commercial real estate may need to search for alternative financing as the year progresses. As National Real Estate Investor notes, the end of this year may bring a liquidity crunch if deals take on a pending loan maturity. As always: stay aware, stay cautious and stay up-to-date!