Four months after it initially filed for IPO, the data center infrastructure vendor Nutanix (NASDAQ:NTNX) updated its S-1 with the SEC and re-ignited its IPO plans. Like many other startups considering an IPO, Nutanix decided to halt its IPO plans amidst the increased stock market volatility and wait for a better timing that would allow it to maximize returns and offer an optimized exit opportunity for shareholders. This strategy drove the IPO market in Q1 2016 to its lowest level since 2009 with only 8 IPOs when none of them were a technology company. For growth startups that raised money in high valuations under the assumption that investors could materialize their investments later, the quiet IPO market increased investors' illiquidity risk (the risk to hold illiquid stocks of a private company that could not be sold) and pressure companies to come up with alternatives. Furthermore, startups need to raise increasing amounts of money to finance their activity, and startups that maxed out any private market alternative will face a real operating problem.
Some companies like Spotify (MUSIC) can raise debt with a clear path to IPO to satisfy both the operational needs and the investors' needs. Other companies like Nutanix prefer to go public and take the risk that the timing might be difficult but probably better than the alternatives. Nutanix raised so far more than $300M in five funding rounds since April 2011 and reached an incredible valuation of $2B in its latest series E as shown in the chart below.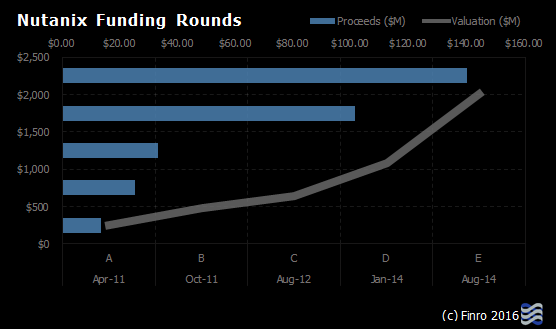 Nutanix raised funds from an extensive list of leading VCs like Riverwood, Sapphire, Khosla, and more that identified the growth opportunity in this small data center vendor. With the incredible rise in mobile devices and the need for cloud computing, data center infrastructure has become a very important component of the emerging industries like data analytics, APM, IoT, cyber security, and much more. The exponential growth opportunity attracts many investors to this niche of technology, and when a small San Jose-based startup is competing fearlessly and successfully with giants like EMC (EMC), Dell, NetApp (NASDAQ:NTAP), VMWare (NYSE:VMW), and others, it catches the eye of institutional investors.
Nutanix provides a converged data center solution that includes computing, storage, and virtualization that allows enterprises to save on data center machines, reduce their IT spending, and save space and power. Nutanix operates in a highly competitive market where customers look for a mix of price, cost-saving potential, and performance, and when IDC reports that customers can deploy Nutanix technology in up to 85% less time than traditional infrastructure and that it can reduce the time required for infrastructure management by up to 71%, it is an attractive alternative to the data center giants. According to IDC, using a Nutanix solution can bring a 30.6% cost saving in IT infrastructure spending as shown in the chart below.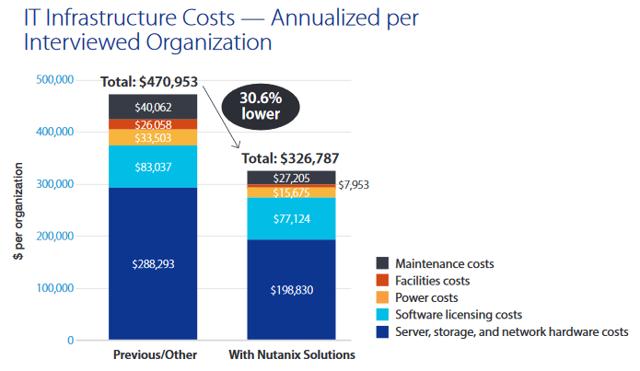 Nutanix translates its converged computing solution into sales and generates an increasing amount of revenue each quarter at an amazing pace of 21% quarter over quarter and 91% year over year as shown in the chart below.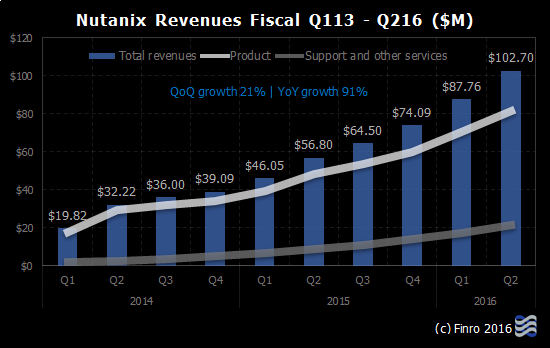 Nutanix increases its revenue at an impressive pace that we often see from multi-billion dollars' worth of tech unicorns; however, unlike many unicorns, the company continuously improves its margins while narrowing its GAAP net and operating profit as shown in the chart below.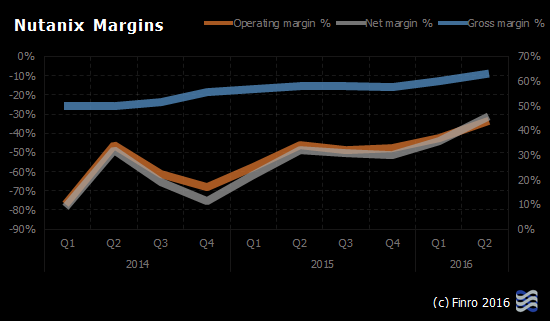 Comparing Nutanix to its peers, it has slightly higher multiples that might be above the market average; however, they are extremely below the common multiples we often see in unicorns or other growth tech companies. Nutanix' higher multiples reflect the fact that it is the smallest and youngest company of the pack, and it incorporates the largest growth potential of its peers along with larger risk accompanied with investing in Nutanix (under a $2B valuation) versus investing in EMC or NetApp.
| | | | | | |
| --- | --- | --- | --- | --- | --- |
| | NTNX | EMC | NTAP | VMW | HPE |
| EV/Revenue | 6.42 | 2.04 | 0.73 | 2.37 | 0.75 |
| P/S | 6.53 | 2.1 | 1.42 | 3.31 | 0.83 |
I believe that Nutanix IPO offers an attractive entry point into a rapidly growing industry and a piece of a company that presents attractive multiples, narrowing losses, growing gross margin, and impressive top-line revenue growth. Looking for the long haul, Nutanix offers an optimized solution that fits its customers' requirements and translates into sales. With a 91% YoY top-line revenue growth, 60% gross margin, and a 6.5 P/S ratio, Nutanix stands out from most unicorns and represent an attractive investment opportunity. Once the company prices the IPO, I will revisit my thesis.
Disclosure: I am/we are long EMC.
I wrote this article myself, and it expresses my own opinions. I am not receiving compensation for it (other than from Seeking Alpha). I have no business relationship with any company whose stock is mentioned in this article.
Additional disclosure: The information provided in this article is for informational purposes only and should not be regarded as investment advice or a recommendation regarding any particular security or course of action. This information is the writer's opinion about the companies mentioned in the article. Investors should conduct their due diligence and consult with a registered financial adviser before making any investment decision. Lior Ronen and Finro are not registered financial advisers and shall not have any liability for any damages of any kind whatsoever relating to this material. By accepting this material, you acknowledge, understand and accept the foregoing.