Last week, in BlackBerry Smartphones: Pretty Much Dead, I analyzed the weak performance of BlackBerry's (BBRY) hardware in the recent quarter, and included my view on the long-term sustainability of the business. In a follow-up article, I briefly look back at the post-earnings reaction from the market and analysts, and discuss the latest steps that BlackBerry management is taking with regards to saving the underperforming smartphone unit.
Market has low expectations
Even before the Q4 FY 2016 earnings report was released, the market's expectations of the company's performance were low. Those expectations were lowered again after the quarterly revenue declined sequentially, and as it became clear that even with the help of Google's (NASDAQ:GOOG) (NASDAQ:GOOGL) mighty Android OS, BlackBerry's hardware still cannot turn around.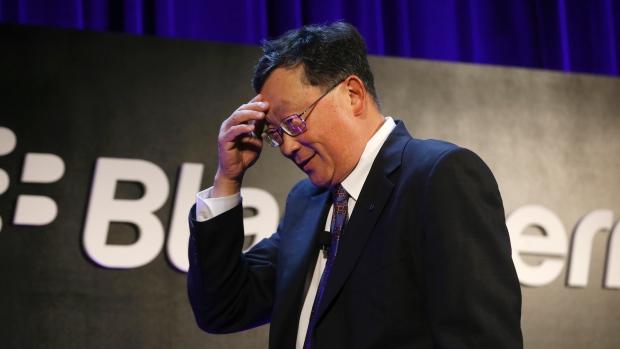 Since the report, the stock has fallen almost 13%, currently hovering around the $7 mark. Analysts' estimates of FY 2017 revenue have been further cut to $1.8B. And while there have been no downgrades at Wall Street, price targets were lowered at JPMorgan and Deutsche Bank, to $8 from $9, and to $6.50 from $7, respectively. These developments reinforce the negative narrative regarding the BBRY stock and I wouldn't be surprised if shares retest their 52-week low at $6 during a market weakness.
Management is, however, still in a fighting mood with several noteworthy business updates for the struggling hardware unit and its flagship smartphone, the Priv. Can investors expect any sales improvement and material change to BBRY's financials as a result?
Fixing Priv's marketing mix
Management is addressing several problems found in the Priv's marketing mix, specifically in pricing, product, and distribution.
Pricing. BlackBerry has now officially lowered Priv's price from $699 to $649. Unfortunately, this is a mere 7% discount and still a highly uncompetitive price. Samsung's (OTC:SSNLF) recently released Galaxy S7 flagship is a much superior device, but sold at around the same price as the aging, comparably underpowered Priv. The S7 has received universally great reviews and surprised financial analysts with estimated 10M shipped units in its first month on the market, driving a 10% year-on-year growth in Samsung's profits.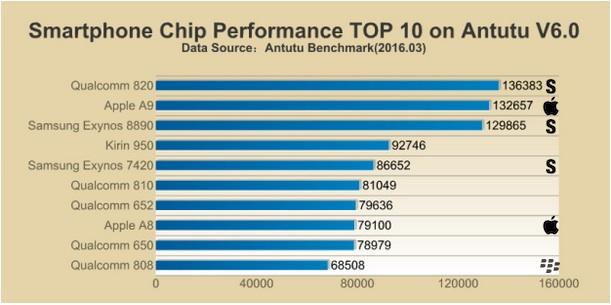 The above chart shows just how much underpowered Priv with its Qualcomm (NASDAQ:QCOM) Snapdragon 808 CPU is compared to the latest flagships from Apple (NASDAQ:AAPL) and Samsung, which run the A9 and Qualcomm 820 processors, respectively. In fact, even iPhone 6 (from $549) with its year-and-a-half-old A8 SoC is more powerful than Priv.
Priv's new pricing is now matching pre-existing discounts from major retailers like Amazon (NASDAQ:AMZN) and Wal-Mart (NYSE:WMT). BlackBerry has their sales data available and is aware these single-digit discounts fail to move stock. Unfortunately, for BBRY, Priv's very low sales volume (my estimate is low tens of thousands of units per month) and consequent high cost per device do not allow the company to cut the price as much as the company needs to compensate for falling hardware sales, aging hardware, and superior competitor products.
In this light, it is interesting how BlackBerry's decision to equip the smartphone with a physical keyboard is causing the company double pain. First, the outdated keyboard paradigm limits the device's total addressable market. Then, when management needs to respond to the consequent low sales with a lower price, the keyboard is hurting the company again with an added cost for the complex slider design, physical keyboard, and its capacitive-touch module.
Product. While BlackBerry cannot reduce Priv's price by as much as it needs, it can still improve the product and increase its value in terms of better software and OS. In May, BlackBerry is finally shipping Marshmallow, the last version of Android (launched in late 2015). This is certainly a positive development which adds more security features and more value to the device. However, this also highlights the company's problems with execution (notorious software delays) and the fact that competing Android smartphones like Samsung Galaxy S6 and S7 with proprietary Knox security already offer both secured mobility and the latest Android version. If Priv was the most secure Android device on the market, its outdated Android Lollipop could be a reasonable trade-off. But as per CEO John Chen's comments on the level of the device's security, this is not the case:
"We're probably the same level as Samsung's Knox. The only other commercial phone that can say they have the same or better than us is maybe the BlackPhone."
Distribution. Since the start of BBRY's Q1 FY 2017, the Priv has been available on the largest wireless carrier in the US, Verizon. BlackBerry also announced plans to tap into the carriers' corporate sales arms and to further expand distribution to Japan and Western European markets. This looks like good news, but given typical post-launch sales trends (Priv already launched last November), as well as the latest subdued management comments, these additions to distribution coverage are still not expected to compensate for the waning interest in the device. This is further suggested by BlackBerry's purchase order commitments with contract manufacturers. As of the end of February 2016, their value fell from $298M in Q3 FY 2016 to just $162M in Q4 FY 2016.
Two new mid-range smartphones planned
BlackBerry further plans to launch two new mid-tier Android handsets later this year, one with a physical keyboard and one all-touch.
I remain skeptical of such a strategy. First, launching two new products will only spread the company too thin and will unnecessarily weigh on its focus and limited resources. Furthermore, introducing yet another smartphone with a keyboard does not make any sense. The market for such a device is in a free fall and has no relevance left. When John Chen first took the company reins, he spoke about innovation and leapfrogging the competition. This is their complete antithesis. Second, BlackBerry will still face a very challenging market environment in the mid-level Android segment, addressing a comparably-sized market as Android's high-end, yet with more intense competition and lower margins. If the Priv is facing Galaxy S7 in the high-end, a mid-range BlackBerry will compete with even more Knox-secured Samsung devices plus discounted Galaxy S models from previous years. Last, BlackBerry is highly disadvantaged by its limited resources and competencies which continuously result in product failures.
John Chen says that his enterprise customers tell him they want a $400 device. But will they eventually BUY a $400 BlackBerry device when they can choose from quality and secure products from Apple (the company is now present in the mid-range with the iPhone SE) and Samsung?
Investor takeaway
BlackBerry's efforts to revive weak hardware sales with improvements in the marketing mix of its flagship smartphone could be summed up as too little too late. The company is also planning to launch two new mid-tier devices but I remain skeptical of BlackBerry's ability to build, market, and distribute competitive products which would turn around negative sales and brand momentum, and positively impact company's financials.
I reiterate my view that BlackBerry's hardware will be eventually shut down and this would be for the benefit of the company and its shareholders.
Disclosure: I/we have no positions in any stocks mentioned, and no plans to initiate any positions within the next 72 hours.
I wrote this article myself, and it expresses my own opinions. I am not receiving compensation for it (other than from Seeking Alpha). I have no business relationship with any company whose stock is mentioned in this article.
Additional disclosure: This is no recommendation to buy or sell securities as that carries with it very high risks. The information contained in this article is for informational purposes only and subject to change at any time. Do your own due diligence and consult with a licensed professional before making any investment decision.