The first-quarter earnings season is about to get underway. And while it is certain that a vast majority of companies will beat consensus analyst expectations once again this quarter, investors are best served to look past the headlines. For once again, the latest quarterly earnings season could be ugly. And another round of poor earnings, coupled with a stock market that is determined to climb higher is a recipe for ever-increasing downside risk as we progress toward the middle of the year.
Where Do We Stand With Corporate Earnings Today
So, where do we stand today as we are about to enter into reporting season for the just completed first quarter of 2016? Overall, it has already been a fairly bleak profits picture that has been forming for the benchmark S&P 500 Index (NYSEARCA:SPY) for several quarters already. For the past four quarters since 2015Q1, annual corporate earnings on an as-reported basis have declined at an increasingly accelerating rate.
For the most recently completed quarter, 2015Q4, the preliminary final number showed an annual earnings decline of more than -15% versus the year-ago period. Moreover, quarter-over-quarter earnings growth has also been declining for five consecutive quarters and counting, from $105.96 per share on the S&P 500 in 2014Q3 to $86.53 per share in 2015Q4. This represents a more than -18% decline in corporate earnings, with as-reported earnings falling to their lowest levels since 2012Q4 on an annual basis and 2010Q1 on a quarterly basis. Put simply, these are ugly numbers and hardly the backdrop one would expect of a stock market that remains determined to push higher and is trading within percentage points of its all-time highs.
The Recent Track Record Does Not Bode Well
Unfortunately, things are only setting up to get even uglier for corporate earnings as the 2016Q1 numbers start rolling in. At present, analysts are projecting a -10% decline in annual as-reported earnings for 2016Q1 at $89.28 per share. But what would be a promising reversal in trend, this would result in a +3% improvement on a quarter-over-quarter basis versus the $86.53 per share number reported in 2015Q4. In addition, while still a decline, a -10% drop at least represents a slowing in the rate of decline versus the -15% decline experienced in 2015Q4. And quarterly earnings in 2016Q1 are projected to jump by an impressive +31% versus the just completed quarter in 2015Q4. So at first glance, while the numbers look bad heading into the latest quarterly earnings season, investors still have some cause for optimism.
But here is the problem with such conclusions. Corporate earnings forecasts are notoriously optimistic and almost never meet up to lofty expectations. A reflection back on recent history highlights this point.
Let's go back two quarters to the start of earnings season for 2015Q3. Corporate earnings had just posted a drop of -8% in the prior quarter for 2015Q2. And heading into reporting season, annual earnings were projected to drop by over -11% versus a year ago. But the promise heading into the season was the expected improvement over the previous quarter, as the quarter-over-quarter change in annual earnings was projected to come in at just over -1%, thanks to a robust +15% increase in quarterly earnings. But by the time the numbers were in for the quarter at the end of December, the results were notably worse than originally projected. Annual earnings had fallen by more than -14% versus a year ago and more than -4% versus the previous quarter. In addition, the increase in quarterly earnings versus the prior quarter ended up coming in far less muted at less than +2%.
Moving on to 2015Q4, we saw a similar story play out. Heading into the reporting season in early January, the rate of decline in annual earnings was expected to improve meaningfully on a year-over-year basis, with a projected drop of less than -7%. Annual earnings were projected to improve by a solid +5% versus the previous quarter, and quarterly earnings were slated to rise once again by a vigorous +19%. But looking back today at 2015Q4, with the reporting season for the quarter having just recently drawn to a close, we see that once again the numbers came in far worse than expected. The decline in annual earnings actually accelerated instead of improving, with a drop of more than -15%. Annual earnings also ended up posting their fourth consecutive quarter of declines by falling, instead of rising, by -5%. And the negative sign also replaced the positive sign for quarterly earnings, which fell by -19% instead of rising by as much as originally forecasted.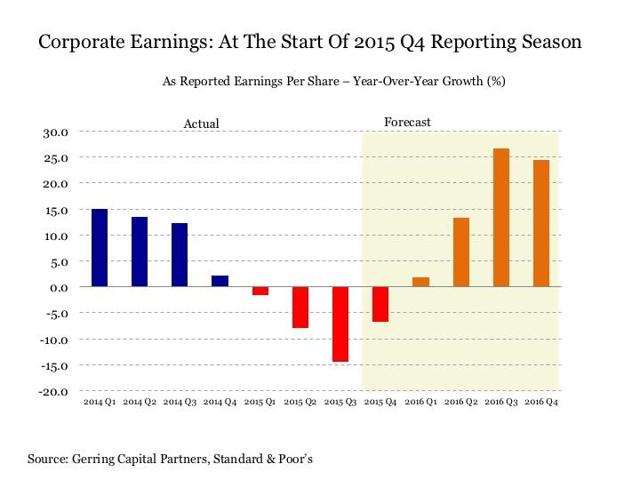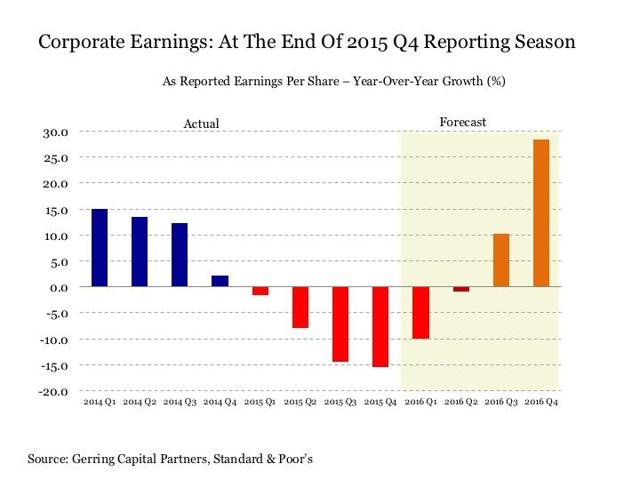 Looking Ahead To The Upcoming Earnings Season
So, applying these typical trends to the future, what can we reasonably expect from the upcoming earnings season? The answer - more pain.
If the recent trend of downward adjustments from original forecasts heading into earnings season versus final results at the end of earnings season repeats itself in 2016Q1, we would expect to see as-reported annual earnings per share on the S&P 500 not at $89.28 as currently forecast, but instead, lower toward the $82.60 range. This would result in a decline in annual earnings of not -10%, but -16% versus year-ago levels. And it would imply that quarterly earnings would decline marginally versus the prior quarter, instead of rising by more than +30%.
A Troubled Condition
But regardless of whether stocks hit the warm fantasy number of $89.28 heading into the quarter or end up with a cold reality number in the $82.60 range if recent trends continue, the U.S. stock market has an increasing problem. Even if it continues to stand still and does not go up a single point in price, it is becoming increasingly expensive at an accelerating rate. And this does not bode well for either future returns or protecting against downside risk going forward.
Suppose the S&P 500 actually hits the fantasy forecast number of $89.28. Even if stocks go nowhere over the next three months, they will still be trading at a dizzying 23 times trailing 12-month earnings.
Now suppose the S&P 500 continues its trend of declining earnings and ends up in the range of $82.60. Even if the S&P 500 traded flat for the next three months, the market would be trading at roughly 25 times trailing 12-month as-reported earnings. My nose bleeds from these valuations as I write this report.
Of course, it would be one thing if we could reasonably expect the magical profit reversal that the current forecasts project for 2017. But it is extremely unlikely that anything even close to the +20% profit growth projections will end up coming to pass by the time we are well into next year. For if this were the case, we would be seeing +20% profit increases taking place right now instead of the -15% profit declines that we are actually experiencing, for the +20% growth rates are what the forecasts were predicting for 2016 right around this time last year.
Instead, we have a market where corporate earnings are steadily declining back to levels from several years ago in a global economic backdrop that is sluggish at best and treacherous at worst. And gone are the days of boundless Fed liquidity injections and rampant borrowing at historically low interest rates to conduct record share buybacks in juicing the earnings per share number. The Fed is no longer easing, and is actually trying gingerly to raise interest rates and tighten policy in an effort to eventually normalize interest rates. All of these are hardly the conditions that lead to a sudden reversal in S&P 500 earnings per share from their steady downtrend into the mid-$80s all the way up to record highs north of $120 in a little over a year from now. Realizing such projections is about as likely as finding a unicorn, and know that whenever you hear an analyst on television or radio state that the stock market is reasonably priced at 16 times earnings, it is not current reality, but instead, these fantastic projections for more than 18 months from now on which they are basing this number. In short, take such projections as a basis for investment decision-making with a sizeable block of salt and at your own risk.
Bottom Line
Stocks are becoming increasingly overvalued as the "P" in the price-to-earnings ratio continues to fight relentlessly higher, while the "E" continues to shrink. This is a bad combination for future expected returns, and corporate earnings are only likely to get worse before they start getting better. Stock valuations are already at historical extremes, and the risks are increasingly mounting to the downside the more stock prices rise at the same time that corporate earnings fall.
It promises to be another interesting earnings season in the coming weeks.
Disclosure: This article is for information purposes only. There are risks involved with investing including loss of principal. Gerring Capital Partners makes no explicit or implicit guarantee with respect to performance or the outcome of any investment or projections made. There is no guarantee that the goals of the strategies discussed by Gerring Capital Partners will be met.
Disclosure: I/we have no positions in any stocks mentioned, and no plans to initiate any positions within the next 72 hours.
I wrote this article myself, and it expresses my own opinions. I am not receiving compensation for it (other than from Seeking Alpha). I have no business relationship with any company whose stock is mentioned in this article.