Monday brought a very similar performance to Friday. The markets opened to big gains. The Dow (NYSEARCA:DIA) jumped 150 points to start the day. The S&P 500 (NYSEARCA:SPY) was up 15 points.
But like Friday, the gains were short-lived. A morning sell-off took much of the push out of the rally, and a final-hour drop dragged the indices well into the red.
Again, it wasn't crude oil (NYSEARCA:USO) that was to blame. Oil advanced 2.5% on the day, but the market was unimpressed by that. Similarly, the Japanese yen (NYSEARCA:FXY), a recent bearer of bad news for the market, was subdued.
So what was to blame for Monday's reversal? Arguably, the arrival of the earnings season was the culprit. As I warned in a recent article, it appears that we are about to experience an especially bad quarter for corporate earnings. Coming into 2016, analysts had been much too optimistic. The rapidly falling outlook for Q1 and Q2 will probably extend into the back-end of the year as this quarter's results filter in.
Kicking things off was Alcoa (NYSE:AA), which was up strongly during regular trading on Monday. However, the earnings report disappointed, with headline revenues down 15% and the announcement of more job cuts on the way. A weakened outlook for the aerospace market was among the factors blamed. If Alcoa - up before earnings, down on the actual report - is representative, it's going to be a long couple of weeks.
Gold Stocks Flying
Gold (NYSEARCA:GLD) retook the $1,250/oz level on Monday. While it is still $20/oz under the recent highs, excitement is building again. With a strong gain on the day, silver (NYSEARCA:SLV) is also approaching its recent highs.
Gold stocks (NYSEARCA:GDX), however, have decoupled and are now zooming well ahead of the metal itself: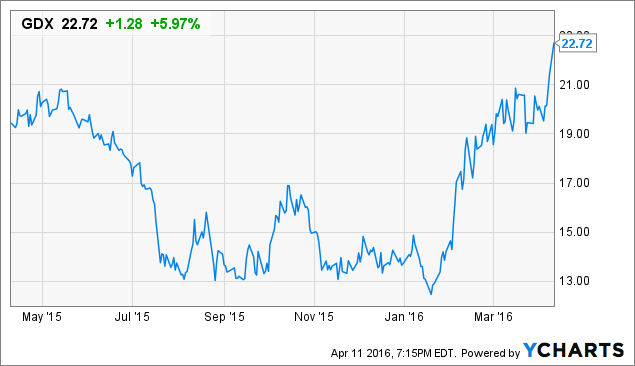 GDX data by YCharts
Compare this to gold, which is still well within the recent trading range: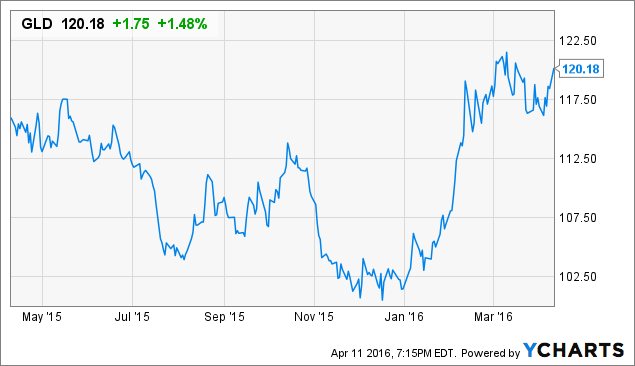 GLD data by YCharts
Particularly of note, many of the smaller and more speculative gold mining juniors or prospectors are emphatically hitting new 52-week highs. Stocks like International Tower Hill Mines (NYSEMKT:THM), NovaGold (NYSEMKT:NG) and Seabridge Gold (NYSEMKT:SA), which have large gold deposits in remote areas, are leading the way. Here's the Seabridge Gold chart, to give one example: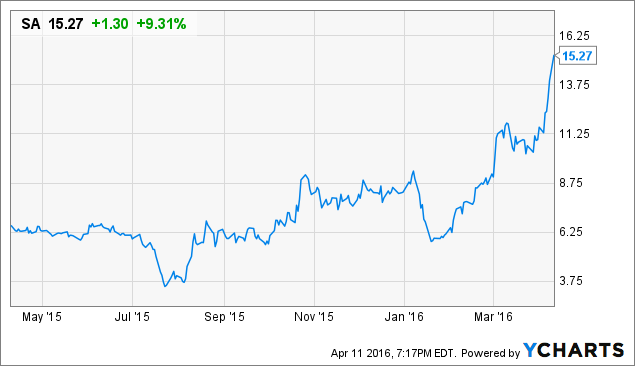 SA data by YCharts
These stocks have great "optionality" to them, since each share represents an ownership stake in a large quantity of gold in the ground. These sorts of companies can exist for many years without building their mines to exploit the in-ground resources. The actual building would be extremely expensive and of low or no profitability unless gold prices rose substantially. Thus, value comes from the knowledge that the gold is in the ground, rather than the prospect of earnings or dividends anytime soon.
I don't like this type of stock, since I don't think the underlying properties will turn into working mines in the near future. But for investors who view them as a very long-dated call option on gold, there's an investment appeal.
Regardless of when these stocks start really heating up, you can use it as a great indicator that non-specialist money is moving back into the metals space. In the early stages of a gold rebound, people generally stick to buying the big fish, such as Barrick Gold (ABX).
When the likes of Seabridge Gold start ripping 150% in a month or two, you can tell gold enthusiasm is starting to spread to the masses.
I've been skeptical about the longevity of the gold rally. The macroeconomic and geopolitical events that normally power gold rallies aren't really in play at the moment. Gold is benefiting from a somewhat weaker dollar (NYSEARCA:UUP), but beyond that, there's not a lot underneath this move.
Still, one must respect the market's prices. Gold is a small sector, and it doesn't take a ton of money to move prices around substantially. When this much momentum gets going, it often feeds on itself for a while. Stated otherwise, I'm cautious about shorting gold or (especially) the high-flying mining stocks for the time being.
A long-side trader could definitely hop on board the gold train. Just watch the dollar closely. A reversal there, and the party would end quickly in the speculative end of the precious metals pool.
Disclosure: I/we have no positions in any stocks mentioned, and no plans to initiate any positions within the next 72 hours. I wrote this article myself, and it expresses my own opinions. I am not receiving compensation for it (other than from Seeking Alpha). I have no business relationship with any company whose stock is mentioned in this article.
Editor's Note: This article covers one or more microcap stocks. Please be aware of the risks associated with these stocks.