The retail industry has had a lot of ups and downs this year. At the moment, it seems as though the downs are more prominent, but that may not last. One share that could be about to bounce is Macy's (NYSE:M). We feel the recent decline is a great buying opportunity, with sizable returns on offer at the current price.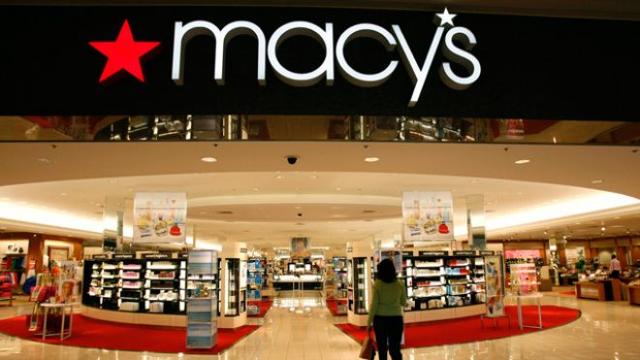 The Washington Post recently reported that the lower 48 states have just had their warmest winters in 121 years of record-keeping. This type of weather poses substantial headaches for retailers. Getting product assortments right can be a challenge, and this seems to be the case, with poor sales figures being reported across the industry.
Many people have argued that Macy's is doomed. Changes in consumer spending, low tourism, and the threat of Amazon (NASDAQ:AMZN) have all been listed as reasons to avoid it. But we are a little more optimistic, especially with the ace up its sleeve.
There has been a shift in consumer spending away from categories such as apparel and home furnishings to travel, entertainment and electronics. This is a big problem for a company like Macy's, which really feels the force of these changes in spending patterns, as it gets almost all of its revenue in the out-of-favor categories. The danger is that the company will be left with excess inventory on its hands.
But Macy's has known about these shifts for some time, and we feel management is starting to get to grips with things. It has opened up its T.J. Maxx (NYSE:TJX) competitor, Macy's Backstage, which could help the company on two fronts. We believe it could potentially address any excess inventory on Macy's floors, whilst also helping to attract Millennials who don't relate to the traditional department stores. We are looking forward to seeing how the segment performs over the next twelve months.
Tourism spending has been affected by the strong US dollar. But the fact that some believe the Fed won't raise rates at all this year should keep the US dollar at a reasonably weaker level. It is believed that tourists have been spending carefully due to the strong dollar. As Macy's gets an estimated 5% of its revenue from tourists, any slowdown in their spending is noticeable. The recent weakening of the US dollar should help the company over the next three quarters, if it remains at the same level.
The threat of Amazon is very real. There are very few, if any, retailers out there which will not have been impacted by the company's rise. But Macy's omnichannel strategy has been working well. It allows customers to shop seamlessly in stores, online, or on a mobile device. What we like best about the strategy is how if a customer wants an item that is out of stock, but is in stock somewhere within its store network, the product can be bought and delivered to the customer's door. This should allow Macy's to complete sales which were previously lost due to stock levels. Additionally, same-day delivery has been expanding and looks like a very positive step.
Looking to the future, we are excited to see Macy's expanding overseas. We feel certain it will be done slowly and methodically, but opening stores in places like the UAE and China with strong middle-classes makes a lot of sense. Tourism in the UAE is very strong, so we would expect the millions of tourists that flock there each year to be drawn to an iconic store such as Macy's. There is already a Bloomingdale's in Dubai, which management has clearly been pleased with enough to warrant opening a second store in the country. The geographical diversity is also very appealing to us. The United States will always be home, and we doubt Macy's international revenue will come close to matching it. But by having stores overseas, it can at least offset any potential declines in the United States if there were an economic slowdown.
Finally, the ace up the sleeve. We have been delighted to see Macy's finally looking into monetizing its real estate. The company has appointed Douglas Sesler as executive vice president of Real Estate. Mr. Sesler has held real estate management roles with True Square Capital and Bank of America (NYSE:BAC). It is estimated that the company's real estate is worth in the region of $21 billion, according to Chief Executive Jeffrey Smith.
Activist investor Starboard believes unlocking the value in the company's real estate will be the key to sending the share price up to $70.00. This represents a huge 76.4% of upside, should this be the case. We have a lower, but still attractive, price target on the stock. We feel a price-to-earnings ratio of 13.5 is fair. This is close to the average level which the shares have traded at in the last five years.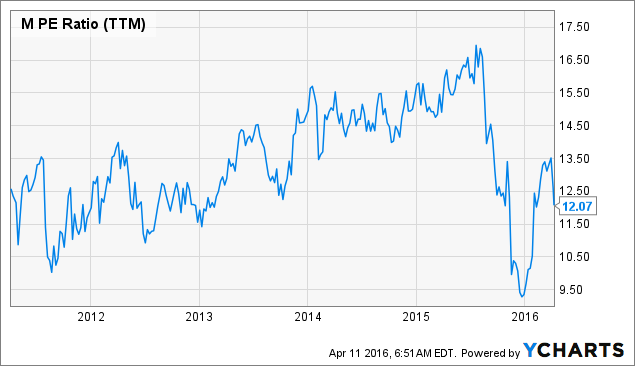 We have forecast earnings per share to come in slightly higher than last year at $3.80. This is a touch lower than the market consensus, but we would prefer to conservatively undervalue the company, rather than wildly overvalue it.
At $3.80 per share and 13.5 times earnings, we have a price target of $51.30. This is significantly less than Starboard's target, but still a massive 29% higher than the current share price.
We don't believe things are as bad for Macy's as many fear. If this is proven to be the case, then we would expect to see the share price rally strongly. Another catalyst will be news of the company's real estate plans. We expect Starboard has done enough to get the board to move ahead with things. This is a great time to be long Macy's, in our opinion.
Disclosure: I am/we are long M.
I wrote this article myself, and it expresses my own opinions. I am not receiving compensation for it (other than from Seeking Alpha). I have no business relationship with any company whose stock is mentioned in this article.