Skechers (NYSE:SKX) had a stellar year in 2015 with a record annual revenue of $3.16 billion, net earnings of $231.9 million, diluted EPS of $1.50 and gross margins of 45.2%. After 'disappointing' quarterly results, the stock has declined around 50% from its 52-week high. In Q3 it missed estimated EPS, which was largely the result of one-time charges ($13.5 million forex losses, $10 million legal fees). This decline has resulted in an attractive entry point as the company is firing on all cylinders. The past 3 years we have seen very strong performance with a revenue growth rate of 26.3%.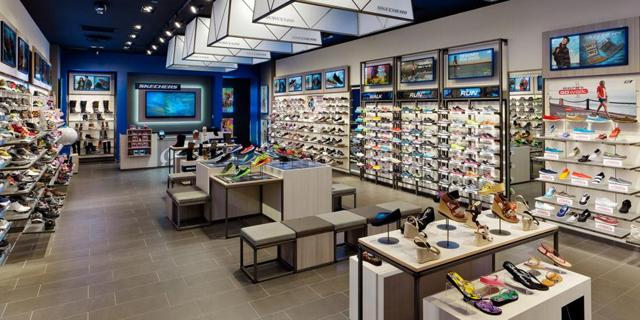 Worldwide, Skechers retail stores including third-party owned Skechers stores stood at more than 1300 locations, its target for 2016 is set at 1650 stores (27% increase). Skechers will benefit from the broad athleisure trend and the rise in health and fitness. Currently it is the number two footwear brand as well as the number one walking and work brand in the U.S. In 2015, it grew its international business to 40% of total sales, bringing it closer to its two-to three-year goal of international representing 50% of its total business.
SKX data by YCharts
Industry
Gains in the U.S. came despite a sluggish retail environment in the back half of 2015. Improving job markets, rising wages, cheaper fuel and increasing home values are giving the U.S. consumer more confidence. Despite these developments, soft goods continue to stumble as consumer preferences shift away toward services, experiences and improvements, such as housing upgrades, travel and restaurants and leisure. Despite uncertain economic conditions and the headwinds the sector is facing, the National Retail Federation believes that the strong labor market and U.S. economy will help retail sales.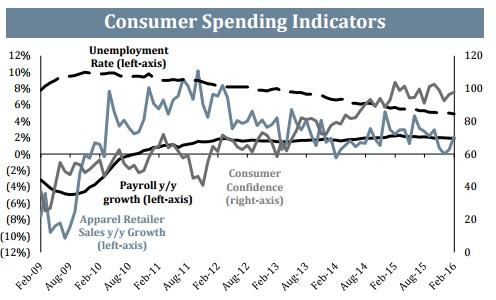 Source: Moss Adams Capital
It is expected that retail sales will increase by 3.1% this year, with non-store sales expected to increase by 6.0-9.0% in 2016. The most important trends in the sector are the ability to become a lifestyle brand, omni-channel retailing, international growth, a consumer focus on active/healthy lifestyles and strong margins. Skechers is one of the companies expected to gain from these trends.
Despite these challenges in the domestic market, domestic wholesale business increased 22.2% or $221.8 million. Growth in the quarter was the result of a 5.4% increase in pairs shipped, a 2.5% increase in average price per pair, double-digit increases in kids and single-digit gains in its men's and women's business.
Investment thesis
International wholesale achieved the highest percentage and dollar increase of its distribution channels. International sales grew by 58.8% or $405.2 million for the full year. This was achieved despite major currency issues in several key markets such as Brazil, Canada and Chile. Price increases were implemented which would help mitigate currency headwinds. Joint ventures in Asia grew by 113.7% for the full year, led by triple-digit gains in China. Skechers stores in China stood at 162 stores. Management believes there is still tremendous opportunity across China to build the brand. Skechers is running numerous campaigns supporting its brand name. These campaigns include the likes of Demi Lovato, Kelly Brook, Ringo Starr and internationally a Korean pop group, Sistar. For kids, it runs multiple animated and live-action commercials, making use of popular themes such as Star Wars. In 2015, the company was named company of the year by Footwear Plus magazine. It also signed new influencers such as Meghan Trainor.
The trend in athleisure and health and fitness is not just great news for the big players such as Nike (NYSE:NKE) and Under Armour (NYSE:UA), but also for smaller players such as Skechers. The market is growing at a rapid pace and companies are capitalizing on this trend both domestically and internationally. Skechers is expanding very rapidly, it is planning to open an additional 340 new stores in 2016. Most of the growth is in international markets, this is why Skechers is aiming to get 50% of total sales out of these markets.
The sluggish retail environment has resulted in declining EV/EBITDA multiples for public AAF companies (Apparel, Accessories & Footwear). Skechers is however growing its sales and EBITDA at a much faster pace than the wider industry.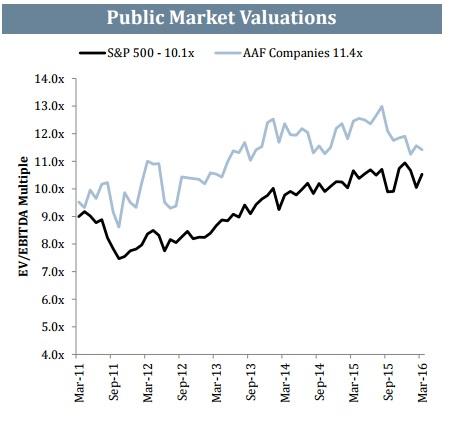 Source: Moss Adams Capital
Financial performance
Skechers has a very strong balance sheet: at December 31,2015, it had $508 million in cash or $3.29 per diluted share. Total inventory grew to $620.2 million, representing an increase of $166.4 million or 36.7%. This might be a red flag for some investors, however as the business is growing at a rapid pace, I am quite comfortable with the rising inventory levels. Long-term debt at December 31, 2015, stood at $84.6 million, compared to $116.5 million at December 31,2014. Considering the company's cash balance, it is essentially debt free.

In millions
Source: company filings
Revenue has been growing with a CAGR of 14.37% in the past 5 years. Revenue growth from 2014-2015 was 32.34% as the international expansion is ramping up.
Valuation
Skechers is trading for attractive multiples and can be considered undervalued on both a relative and absolute basis. Skechers is trading for a forward P/E of 9.6, an EV/EBITDA of 9.6 and a forward EV/EBITDA of 7.9. Considering these metrics, Skechers is significantly undervalued as peer companies are trading for an average EV/EBITDA of 10. The fact that Skechers is trading for a discount becomes even more clear if you look at the revenue growth of the last two years (30%).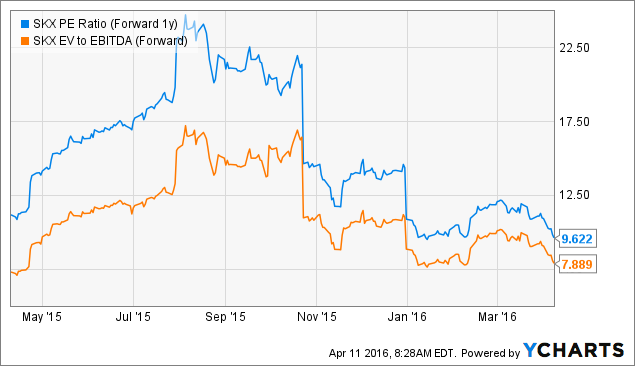 SKX P/E Ratio (Forward 1y) data by YCharts
Below I present my base and bull scenario going forward. Base case is on the assumption of 25% revenue growth, bull case uses a revenue growth of 30%. I use an EBITDA margin of 12.5% for both scenarios. Valuation is based upon an EV/EBITDA multiple of 10 for my base case and a multiple of 12 for my bull case.
| | | |
| --- | --- | --- |
| | Base | Bull |
| EBITDA | 493.6 | 513.3 |
| Multiple | 10 | 12 |
| EV | 4,936 | 6,160 |
| +Cash | 508 | 508 |
| -Debt | 84.6 | 84.6 |
| Total Equity | 5,359 | 6,583 |
| Shares Outstanding | 154.2 | 154.2 |
| Estimated Equity Per Share | 34.8 | 42.7 |
In millions
Conclusion
The sell-off in shares of Skechers has resulted in an undervalued stock. The current stock price is an attractive entry point. My base case results in an upside of 30% and my bull case in an upside of 60%.
Disclosure: I am/we are long SKX.
I wrote this article myself, and it expresses my own opinions. I am not receiving compensation for it (other than from Seeking Alpha). I have no business relationship with any company whose stock is mentioned in this article.