Last week, we witnessed a very weak start for oil. Crude prices started falling but ended the week almost at the highs. In other words, oil rallies almost 13% from the lows.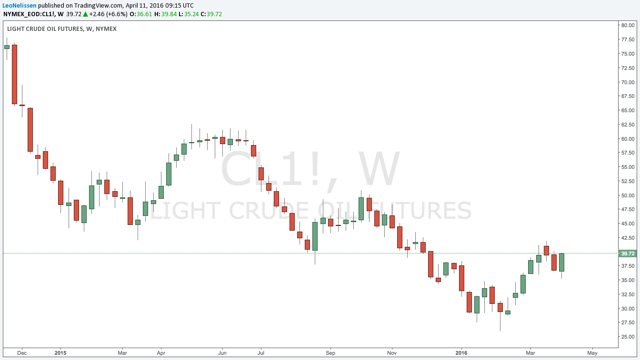 What I find most important when it comes to analyzing oil is the US Dollar. Higher USD means weaker commodities.
Even after the rally I think oil looks like it has a lot of upside potential because the USD is not getting stronger. I expected the USD to gain momentum after the strong ISM manufacturing and ISM non-manufacturing data but it looks like traders disagreed with me.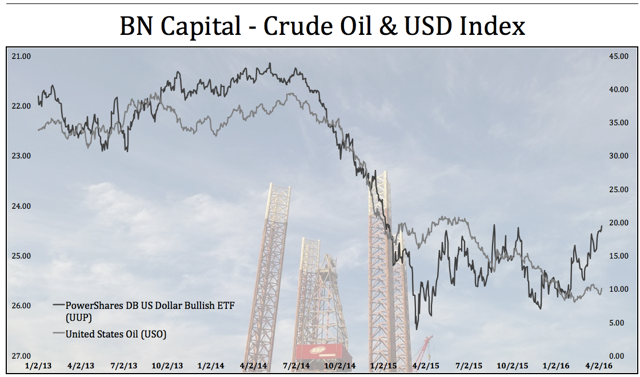 Although I think that this is the most important chart when it comes to trading crude oil we still face some headwinds from rising oil production in Iran and the fact that Russia and OPEC are still not freezing oil productions. Furthermore, the effects of an economic downturn could hit oil prices despite a weaker USD.
I believe that oil prices could go up a few percent from this point until we see a stronger USD or weaker leading indicators. One way to trade oil prices is the United States Oil Fund USO. Or you could trade a ratio spread.
My favorite ratio spread is Helmerich & Payne HP versus Exxon Mobil XOM. The main reason behind it is simple. Helmerich & Payne is a supplier of drilling services and equipment. Exxon is a company that pays for these services in order to drill.
Therefore, Helmerich is way more dependent on oil prices than Exxon since lower prices mean less drilling platforms and almost no investments in new drilling opportunities. Suppliers of equipment and services suffer more in these situations.
On the other hand, if oil prices soar we see that supplier stocks outperform stocks of drilling companies. And that is the main idea behind this trade. I am currently investing in this trade and slowly increasing my exposure.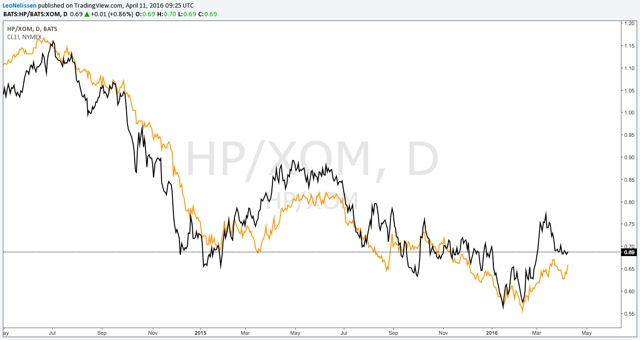 I think that the ratio spread between Helmerich & Exxon (black line) could reach 0.75 within the next weeks.
Disclosure: I am/we are long HP.
I wrote this article myself, and it expresses my own opinions. I am not receiving compensation for it (other than from Seeking Alpha). I have no business relationship with any company whose stock is mentioned in this article.
Additional disclosure: My HP long position is hedged with XOM shorts