The current Markit Manufacturing PMIs for March indicate a slight improvement or at least a stabilization in Europe's manufacturing industry. The eurozone PMI is slightly up by 0.4 points at 51.6. The data suggest manufacturing grew by only around 0.2% in the first quarter. The following overview of European countries' PMIs highlights the key points.
Eurozone 51.6 (2-month high): Output prices fell at the fastest pace in over seven years; new export order growth was at a 14-month low; employment continued to increase, although at a slower rate.
Spain 53.4 (3-month low): Job creation remained solid; weaker growth of output and new orders.
Ireland 54.9 (8-month high): Rise in output, new orders and job creation.
Italy 53.5 (3-month high): Stronger increases in output, new orders and exports; employment rose at a slower pace.
Austria 52.8 (5-month high): Production increased at the strongest rate in over two years; export orders declined; employment stagnated.
Netherlands 53.6 (5-month high): Output growth accelerated; new export orders improved.
Germany 50.7 (2-month high): Employment and input costs continue to fall; Germany's export-oriented manufacturing sector is struggling.
France 49.6 (7-month low): Output returned to growth; a sharper fall in new orders dragged the PMI into contraction (below the neutral 50.0 mark).
Greece 49.0 (2-month high): PMI remains in contraction territory, although a softer downturn; a slight increase in employee numbers.
What most of these countries have in common are decreasing costs, along with a fall in output prices, for some the sharpest decline since October 2009. This was already the situation one month ago, and the ECB acted in its last meeting by aggressively cutting interest rates and increasing QE - as we can see, it hasn't achieved the intended impact yet.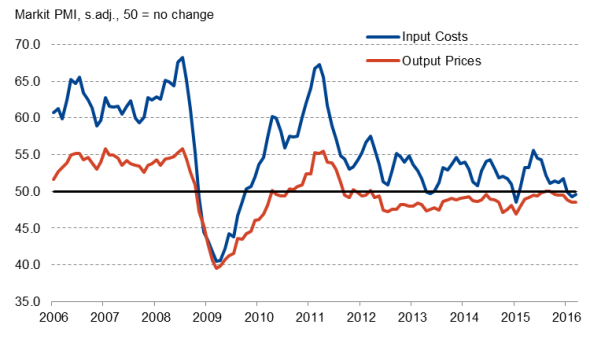 (Chart Source: Markit)
What worries me is the weak overall growth in the core countries, Germany and France. While most other countries (Italy, the Netherlands, Austria and Ireland) expanded, Europe's two biggest economies are struggling with a decline in export orders and domestic demand in the case of France.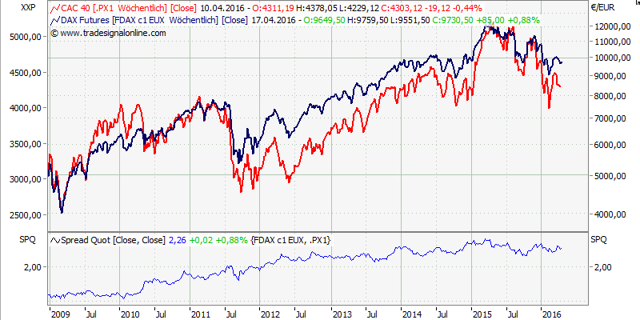 The markets will closely watch Chinese GDP data coming out this Friday. That will give us an indication of whether Europe can expect a rebound in demand from China. Another important factor weighing heavily on European export is the appreciation of the euro. The EUR/USD is approaching a significant resistance level around 1.1450 and has been in an uptrend since the ECB meeting one month ago.
I will look for opportunities to go short German and French manufacturing companies while seeking confirmation in global GDP data and the development of the euro.