Even though four analysts, including Robert W. Baird, have rated DST Systems (NYSE:DST) as a "Buy" last week, and big industry names such as CIBC Asset Management Inc., BRC Investment Management LLC and CenturyLink Investment Management, are acquiring new positions in the company, I do not suggest buying DST Systems right now.
Below are 3 reasons that lead me to my NEUTRAL view on DST Systems.
Faltering Financial Segment - As of February 2015, the financial segment of DST Systems accounts for 51 percent of DST Systems' operating revenues.
However, with the uninspiring results in the last quarter due to the sale of Global Systems, increasing acquisition costs and other performance-related contingent consideration, the biggest revenue generating segment seems to be struggling for steady revenue growth.
In fact, total operating revenues declined to $2.013 billion in 2015 from $2.042 billion in 2014.
Unfortunately, the slow revenue growth is not enough to counter the surging costs related to security, regulatory compliance and network infrastructure utilized across all operating segments.
Look at the graph below to see how its COGS growth rate surged over its revenue growth rate in recent years.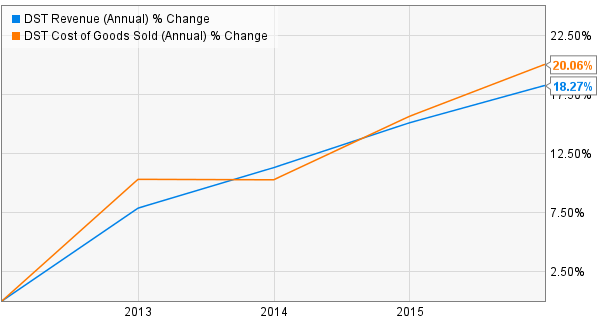 The unimpressive revenue growth is also partly due to the lack of acquisition of new accounts.
Registered shareowner accounts processed at December 31, 2015 were 65.4 million, a decrease of 1.1 million accounts from September 30, 2015 and a decrease of 3.4 million accounts from December 31, 2014. For the year ended December 31, 2015, 2.9 million registered accounts have converted to subaccounts, of which 1.8 million converted to DST's sub-accounting platform.
Subaccounts processed at December 31, 2015 were 31.3 million, an increase of 1.0 million subaccounts from September 30, 2015 and an increase of 2.7 million subaccounts from December 31, 2014. (Remember, 1.8 million subaccounts came by converting from the registered accounts itself. So, that really doesn't show huge growth either.)
Even with the series of acquisitions of Newkirk, ALPS and Lateral Group since 2012, the operating revenue of the Financial Segment has not shown much improvement. In fact, Y-o-Y revenue growth of the Financial Segment has gone down to -2.72% in 2015 from above 4% in 2014. With Europe still under recovery, China struggling with GDP growth and declining demographics, Emerging Market crossing over to the financially-stressed phase and the US suffering from low productivity and low labor participation rate, I don't see huge activity in the financial industry, whether domestic or global, anytime soon.
If you look at the two graphs below, you can see that the financial business has gone down over the last few years.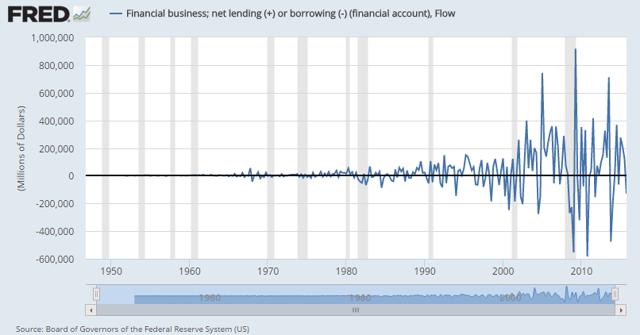 And with that, you can see the percentage change in the real disposable income of Americans has gone down over the years.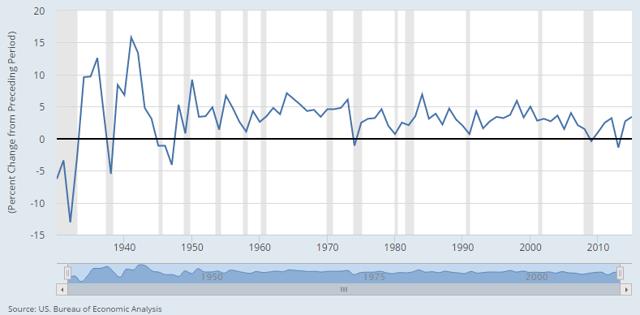 What is to be noted is that in the last few years, starting with Blue Door in 2008 and still continuing strong with Kaufman Rossin Fund Services in 2015, DST Systems has been focusing on the financial industry more and more.
Has that reaped enough benefits in the past? Not much.
Will it do so in future? Still not sure. And therein lies a big problem.
Uneven Cash Flow - An even bigger problem lies in the fact that the company is suffering from ebbing cash flow from operations. It descended to $220 million in 2015 from $395 in 2013.
When a company spends over $110 million in capital expenditures in two consecutive years with a tanking cash flow from operations, it is sure to meet a liquidity crunch sooner or later.
For example, DST Systems' free cash flow to assets has gone down over the years. With lower FCF every year, the current share price will not be sustainable and will inevitably go down, considering the fact that DST Systems' PFCF ratio is 18.4, which is already higher than the industry average of 15.2.
Lower cash flow means lower ability to service debts. Well, although DST Systems' debt has come down from over a billion dollars to $562 million in 2015, the EBIT to interest expense ratio has gone down too.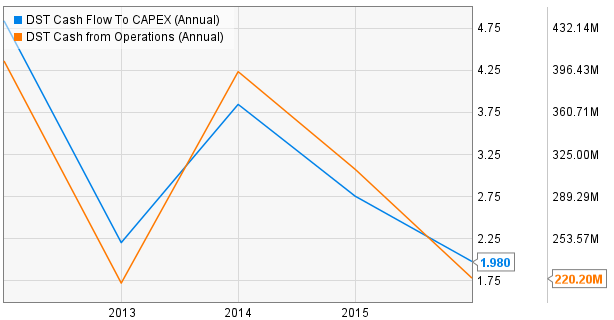 Do note that FCF is a cash-only version of EBIT, and failing to meet your cash interest payments can be disastrous for the company and its shareholders.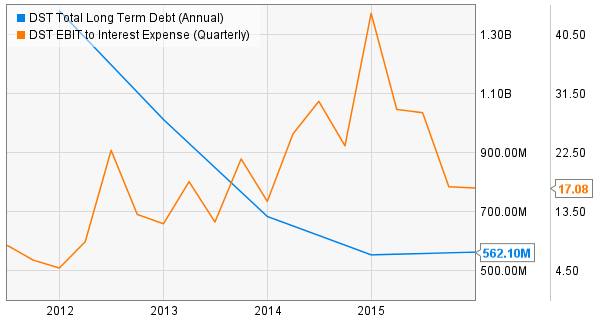 But how has the current ratio gone up to 1.11 last year, even after all the acquisitions? The main source of cash inflow, it seems, is the monetization of investment assets. $430 million and $415 million of investment assets and real estate property have been monetized in 2014 and 2015 respectively.
However, that is not sustainable in the long term. Unless operation is juiced up in the next few years, the company won't have enough firepower to invest in assets or make acquisitions - a serious issue indeed!
Low Dividend - The company paid $5 million less in dividends last year compared to what it did in 2014. In fact, the dividend payout has gone down over the last few years.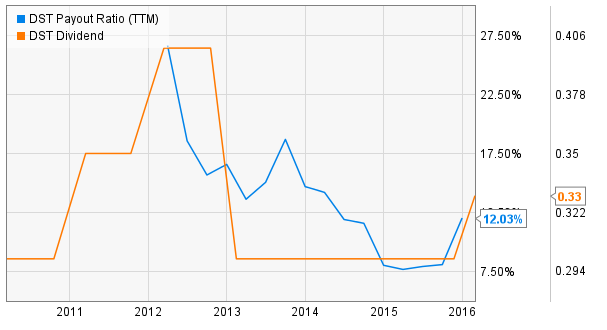 However, the company boasts strong shareholder returns of $1.6 billion since 2010. Looking closely, we will find that there has been a huge number of share buybacks in those years. The number of shares outstanding has consistently gone down to 36.4 million in 2015 from 50 million 2009.

That sure inflated the return on equity than it should have been. On the other hand, the regular share buybacks has kept the price up by pushing up the book value per share whenever it was required. (Nice tactic!)
What surprises me is that while the book value per share has gone up, actual book value has gone down since 2000. In other words, the company has shrunk over time.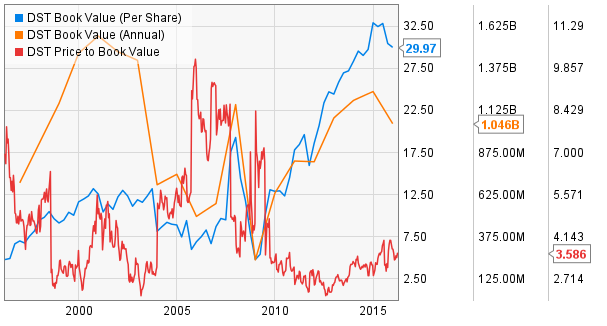 Alpha Conclusion
No, DST Systems does not impress me at all. It might be going through a rough phase and in the long term, it might turn around. But to me, it is going to take much longer than usual. Looking at the weak fundamentals, uncertain business conditions and lack of growth prospects, I will suggest to my fellow investors to not invest their money in DST Systems as of now.
Disclosure: I/we have no positions in any stocks mentioned, and no plans to initiate any positions within the next 72 hours. I wrote this article myself, and it expresses my own opinions. I am not receiving compensation for it (other than from Seeking Alpha). I have no business relationship with any company whose stock is mentioned in this article.
Additional disclosure: This article contains author's opinion and the author is not personally responsible to anyone. Please consult your financial adviser before you take any investment decision.