Transition to an Emerging Market
Poised to soon become an emerging market, Vietnam currently offers many comparative economic advantages for investors, and is in many ways benefiting at the expense of its emerging Asian peers. Vietnam's stock market has also been very resilient amid the emerging market sell-off in 2015, and is deeply discounted compared to other emerging markets. During 2015, Vietnam's stock market outperformed ASEAN stock markets by 24%, and the MSCI Frontier Index by 17%. The VN Index has currently delivered a 1-year return of 7.45%, while the iShares MSCI Emerging Market ETF (NYSEARCA:EEM) has witnessed a 19.5% decline over the same time period. Vietnam is clearly a bright light in Asia, and a clear reason for the bearish sentiment for frontier and emerging markets to be retracted.
Attractive Valuation
Due to the country's foreign ownership limitation removal last September, which is very slowly being implemented on a company-by-company basis, Vietnam is closer to becoming classified as an emerging market. The full removal of the FOL, coupled with a larger more liquid stock market, is one of the last steps for Vietnam to transfer to an emerging market, and finance sector executives in Vietnam are hoping for emerging status by 2017. The country's current discount to emerging Asia consequently presents a strong opportunity for investors wishing to utilize a "buy frontier, sell emerging" investment approach, which offers significant upside on valuation alone, excluding inevitable earnings growth.
Vietnam's Stock Market Discount
| | | | | |
| --- | --- | --- | --- | --- |
| | Thailand | Indonesia | Philippines | Vietnam |
| P/E | 18.9 | 26.4 | 20.6 | 12.0 |
| P/B | 1.8 | 2.4 | 2.6 | 1.7 |
| ROE | 9.3% | 10.8% | 12.9% | 14.1% |
| ROA | 2.3% | 2.7% | 3.0% | 2.5% |
Source: VPBank Securities
On top of this, Vietnam's stock market offers an approximate 4% dividend yield, and its currency only depreciated by 5% in 2015, a far cry from the higher levels experienced in other countries in Asia. Liquidity is my greatest concern with Vietnam's stock market, as investment continues to shift to Vietnam due to strong fundamentals.
Manufacturing Shift: Emphasis on Vietnam's Textile Industry
One of the main catalysts for Vietnam's GDP growth has been the manufacturing shift from China to Vietnam, wooing corporations such as Samsung (OTC:SSNLF), Microsoft (NASDAQ:MSFT), and Intel (NASDAQ:INTC) to shift to Vietnam due to its lower wages and high productivity. In more recent news, Apple (NASDAQ:AAPL) even announced its plan last month to build a $1 billion data center in Hanoi. Vietnam's main appeal for foreign investors has been its manufacturing industry, as seen by nearly 68% of its FDI being for manufacturing projects. This shift is bound to continue, and will increasingly begin to target Vietnam's textile industry, which is credited as one of the strongest beneficiary industries of the TPP, and accounts for approximately 15% of the country's GDP. Vietnam already has a strong benchmark of success in terms of textile exports, and is poised to benefit further if it can eliminate its dependency on imported materials from China, which currently makes it ineligible for tariffs to be removed. Therefore, this FOB model, buying materials and selling finished products, must be replaced. Apart from textile manufacturing, strong opportunity can also be found for plastic manufacturers, automotive distributors, and pharmaceutical manufacturers to name a few. Moreover, domestically-listed industrial park operators are worth noting, and are able to serve large corporations such as Samsung and LG (NYSE:LPL).
Restoration of Previous Thorns
Troubled areas from 2011-2013 have been reconciled:
Inflation: Vietnam's inflation was only 1.7% as of March 2016, a far cry from the higher levels experienced during 2011.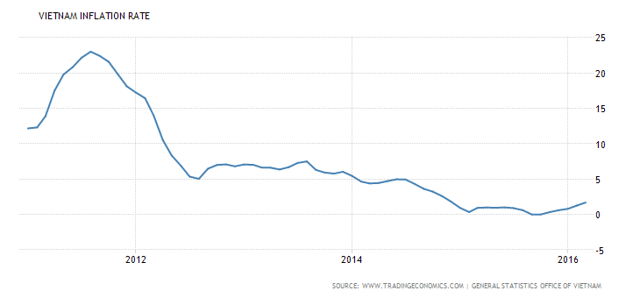 Retail Sales: The country's retail sales growth has averaged at 21.56% since 2002, and recovered from the lows of November 2012, when retail sales growth was -20.73%.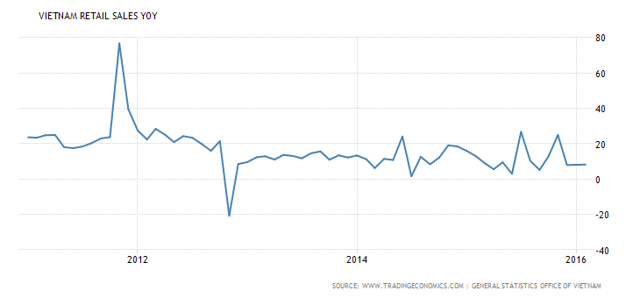 Bad Debt: According to the NFSC, Vietnam's NPLs were only 2.9% during 2015, due to Vietnam's Asset Management Company buying bad debts. This represents a substantial recovery from September 2012, when NPLs reached 17%, and makes Vietnam's banking industry a more favorable environment for investment.
Performance for other Emerging Markets
Other emerging markets have been characterized by poorer performance this year, and have experienced stronger challenges in terms of FX losses, slowed economic growth, and stock market performance.
ETF Performance/Index Performance
Source: Bloomberg as of April the 10th
I included the ETF and index performance, as there have in many cases been large discrepancies, as seen by the ETF underperforming the index for all of these countries. Investors should specifically avoid the Market Vectors Vietnam ETF (NYSEARCA:VNM) at all costs, as seen by this ETF unperformed the VN Index by nearly 17%. On top of this, each of the above-mentioned emerging markets have not delivered strong performance, and investment in the iShares MSCI Thailand ETF (NYSEARCA:THD), iShares MSCI Malaysia ETF (NYSEARCA:EWM), iShares MSCI Indonesia ETF (NYSEARCA:EIDO) is not highly desirable. At best, these ETFS can be considered a trading vehicle if emerging markets bottom out again, similar to what occurred this January.
What About China?
In many ways, Vietnam is growing at the expense of China, as seen by the manufacturing shift that has been taking place, yet to fully discredit China amid its economic slowdown certainly has its limitations. Export-oriented growth cannot last forever, and opportunities can be found, regardless of the country's slowdown.
Wikistrat's report "China's Economy: From Exports to Domestic Consumption" explains how China's economy is reaching a new transition point, as exports begin to flatten and domestic consumption begins to prevail.
Greater domestic consumption is an important tool to keep the economy moving forward. Despite predictions of slower growth, China still needs to expand its economy at a yearly rate of close to 6 percent of GDP in order to create enough jobs to maintain nearly full employment, particularly with the increasing numbers of rural residents moving to urban centers. The Chinese have popularized the phrase "new normal" to explain the transition of the economy from breakneck export-led growth to more stable and conservative growth targets, characterized by greater consumption by domestic consumers and a growth in services. This change is taking place, but will not happen overnight."
Targeting companies that can profit from China's domestic consumption, rather than export growth is the wisest endeavor for investors. Moreover, another strong trend is for companies that have been able to diversify assets through offshore investments. The sell-off for Fosun International (OTCPK:FOSUF) consequently presents a unique opportunity, as the company has been a victim of the sell-off in China's bear market, and has diversified assets globally through its numerous acquisitions abroad.
Low valuation for ETFs can be found, as seen by examining the iShares China Large-Cap (NYSEARCA:FXI) and the SPDR S&P China ETF (NYSEARCA:GXC), having a P/E of 8 and 10 respectively. Consequently, I think that China should be given the strongest consideration for emerging Asia in the future if a further sell-off occurs, while Vietnam can be classified as a clearer and easier to understand win in the short and long term. While China's economy continues to slow down and undergo a new transition, Vietnam will experience a similar rise that China experienced from the continued benefit of its low cost manufacturing capabilities, which may result in GDP growth of 11% for Vietnam by 2025. This growth story is simpler to understand, and in my opinion consequently presents a stronger and more conservative value investment case. Moreover, I think Vietnam also has more short-term upside and potential for investors' confidence to growth, as seen by the flurry of FDI projects that have taken place from the strong sentiment of the TPP.
Preference for Frontier Asia
My strongest preference is for high growth frontier markets, that are able to outperform emerging markets in terms of economic growth. The consequent discount from these countries' frontier status provides ample opportunity for those willing to invest in these countries and hold until they transition to emerging markets. Another frontier market that is in this position is Pakistan, which will be under review for classification as an emerging market this year. Pakistan was previously classified as an emerging market during 2008, at which point its P/E peaked at 13.8. The Global X MSCI Pakistan ETF (NYSEARCA:PAK) offers US investors exposure to Pakistan, and regardless of what decision is made, stands as a solid frontier destination in Asia. Apart from Vietnam and Pakistan, there are a flurry of other frontier markets in Asia which offer strong opportunity in terms of lower valuation and higher growth.
Disclosure: I/we have no positions in any stocks mentioned, and no plans to initiate any positions within the next 72 hours.
I wrote this article myself, and it expresses my own opinions. I am not receiving compensation for it (other than from Seeking Alpha). I have no business relationship with any company whose stock is mentioned in this article.