(click to enlarge)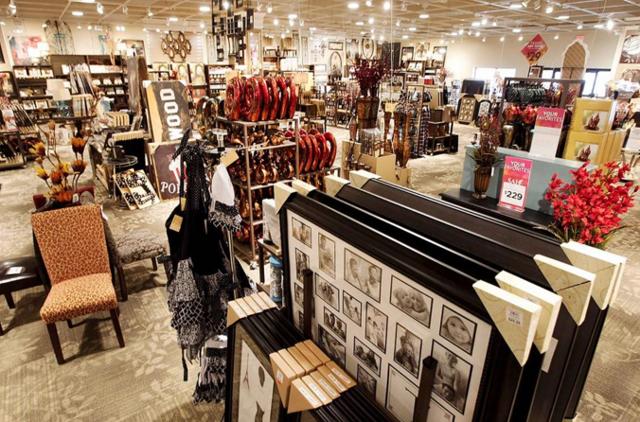 Kirkland's (NASDAQ:KIRK) is a niche retailer that I was bullish on for a long time. The company's impressive combination of store and margin growth had me excited about the future but over time, that story has deteriorated. KIRK is still growing its revenue at double digit rates thanks to footprint expansion but its margin growth story has been officially derailed, a sentiment I expressed last December. While KIRK is still at depressed levels relative to its highs, it did bounce nicely on the Q4 report only to give some of those gains back later. Given all of this, what are we to do with KIRK at $16?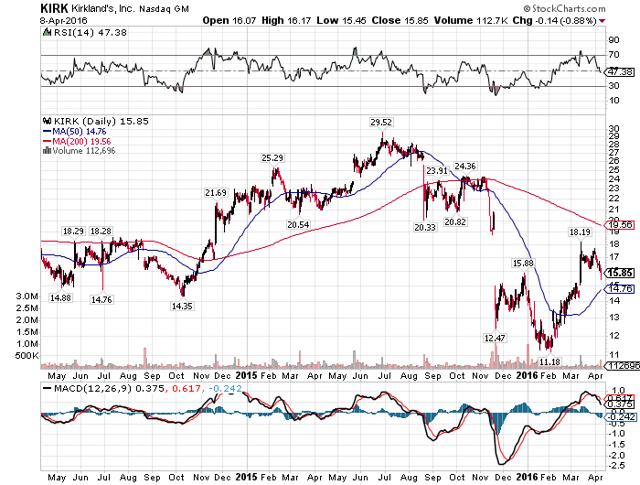 KIRK kept its streak of double digit revenue gains going in Q4 with a +11.4% showing, although virtually all of it was due to footprint expansion. The company's comp sales - which includes the web business - was up 1.3%. That's not a disaster by any means but it is a marked departure from 2014's Q4 which saw a +8.2% reading. KIRK's growth in years prior had been torrid but 2015 was anything but; Q4 was more indication of that.
Much less rosy is the company's margin picture, the single biggest reason why I gave up on KIRK last year. The company's Q4 gross margins fell from 42.9% to 40.5% against last year's number. That's a massive slide in product margins and it is more of the same that we saw from KIRK in 2015. The margin expansion story is why I originally liked KIRK years ago but at this point, we know we have seen the top and that is certainly not a good thing.
The loss of product margins caused operating margins to fall 70bps in the crucial Q4 despite the fact that KIRK experienced some positive leverage on its operating costs. This is also consistent with what we saw from KIRK for the entirety of 2015 and it is a shame that such discipline on the expense side is wasted by chasing sales via lower prices. KIRK's operating margin deterioration is alive and well and judging by the outlook for this year, it doesn't seem things will be getting better anytime soon.
KIRK is calling for 10% to 12% revenue growth as it expands its footprint by a net 6% to 8% and low single digit comps. The spread between top line and footprint growth suggests ~3% or 4% of comp growth, a robust goal if you ask me given KIRK's deteriorating performance of late. Can KIRK hit that level of comp growth? Sure. Will it? That's not something I'm willing to bet on at this point.
However, more important than that, the company also forecast that its margin struggles will not only continue in 2016 but indeed, they may get worse. There is nothing more bearish management could have said in the release and I think it means KIRK is still in trouble.
Gross margin is expected to fall again but KIRK also said that operating expenses will see leverage once again. That's critical as it said operating margin will see between a 'slight contraction to a modest improvement'. I have no idea what the difference between 'slight' and 'modest' is in terms of magnitude but that would suggest the company's operating margins will be roughly flat to me with some wiggle room on each side. If KIRK can figure out a way to hit flat operating margins this year that would go a long way towards building some credibility for management. KIRK has always done a nice job of exercising prudence when it comes to operating expenses but its gross margin guidance concerns me a lot and I'm wondering where the bottom is.
What's interesting to me is that KIRK's EPS estimates are really quite bullish when you look at them considering that its margin growth is likely going to be negative again this year. Analysts have sales growth at 10.6% this year, a number I think we can all agree is very reasonable. But EPS growth is slated to hit almost 14%, implying there is another source of earnings growth. We know margins are going to be flat at best so with what I consider to be a likely (albeit small) headwind from that source, the only other remaining place the growth could come from is the buyback.
KIRK bought back $25 million in shares last year, an enormous amount for a $275 million market cap company and while that level of buying this year would certainly get KIRK over the hump in terms of EPS growth, it cannot sustain that kind of buying forever. KIRK spent its excess cash on paying a special dividend last year so its balance sheet doesn't look quite as good as it did and its FCF is woefully inadequate to finance repurchases. Capex was forecast to come down from the $35 million level it was last year but that would likely mean only another $5 million or so in FCF, hardly enough for a meaningful buyback. The point is that I'm not sure what KIRK can reasonably do with its buyback this year so building in a significant portion of repurchases seems risky.
In addition, let's not forget that KIRK generally makes almost its entire profit for the year in Q4, something I'm not crazy about. That sort of intense seasonality is tough to overcome in case there is some headwind for even a portion of the all-important quarter; the entire year's profit number will be thrown off. I certainly do not like KIRK's seasonality as it introduces undue risk and when the rest of the business is an also-ran at best, it tips the scales away from me wanting to own the stock. Seasonality by itself is certainly not a deal breaker but in concert with other weaknesses, it is important.
At 15.1 times this year's earnings, KIRK isn't cheap or expensive if you believe it will hit its EPS estimates. I obviously think there is some downside risk to it this year but in particular, next year is when analysts are calling for 22% growth. I simply find that hard to believe and that means there is even more risk to owning KIRK as the year progresses and people begin to notice just how high estimates are for next year. While KIRK has an outside shot at $1.07 this year, I think the chances of it hitting $1.31 next year are close to zero. That kind of growth would require significant margin expansion, something KIRK has shown an inability to create of late. In fact, margins are still going the wrong way so betting on a huge turnaround is not something I'm willing to do. If KIRK spikes higher I'll look at shorting it but for now, it is an avoid for me.
Disclosure: I/we have no positions in any stocks mentioned, and no plans to initiate any positions within the next 72 hours.
I wrote this article myself, and it expresses my own opinions. I am not receiving compensation for it (other than from Seeking Alpha). I have no business relationship with any company whose stock is mentioned in this article.