Kroger (NYSE:KR) had a fantastic 2015 as the company achieved positive identical supermarket sales growth ex-fuel in each of its four quarters. The acquisition of Roundy's was certainly the highlight of the year for me, demonstrating the increasing aggressiveness of Kroger's M&A strategy. Kroger has started 2016 with the same spirit, investing in Lucky's Market to increase its organic products offerings. So as Kroger continues to venture into new markets to expand its customer base, should you trust the company's growth story and invest?
In Q4 2015, ID sales without fuel rose by 3.9% and this was Kroger's 49th consecutive quarter of positive identical supermarket sales growth. This is an incredible feat that rubberstamps the success of Kroger's initiatives concerning new products and store formats. As the chart below shows, since 2011, Kroger's same store sales increase ex-fuel has not gone below 3%.
Considering these financial results, it is difficult to not be exceedingly impressed by Kroger's commitment to adding technology and continually revolutionizing the grocery shopping experience for its customers. Going forward, I can only see Kroger achieving even better results as ClickList, the company's online grocery ordering service, expands to multiple markets and Main & Vine, a refreshing grocery store concept, attracts more customers. Kroger looks in great shape to deal with increasing competition in the grocery store industry.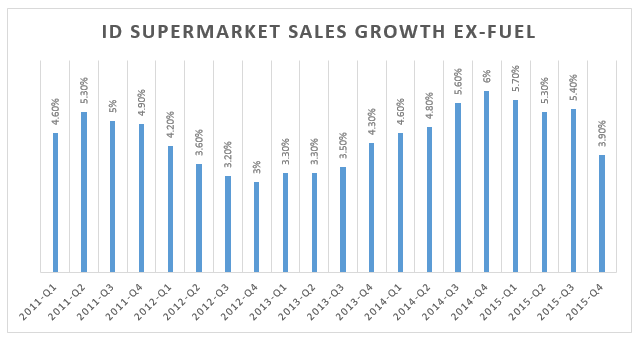 (Source: Kroger's filings)
Of the 130 million housing units in the U.S. more than 31 million are shopping at Kroger, which implies that the company's domestic penetration is around 24%. This can partly be attributed to Kroger's high quality offerings including Murray's Cheese and Boar's Head available at affordable prices that continue to lure in customers despite rather choppy economic conditions. Owing to Kroger's aggressive M&A strategy, I expect expansion through new customer acquisition to be as fast as it was in the last decade.
Kroger shopping: Number of people living in households that shopped at Kroger grocery stores in the last 7 days in the United States (USA) from spring 2008 to spring 2015 (in millions)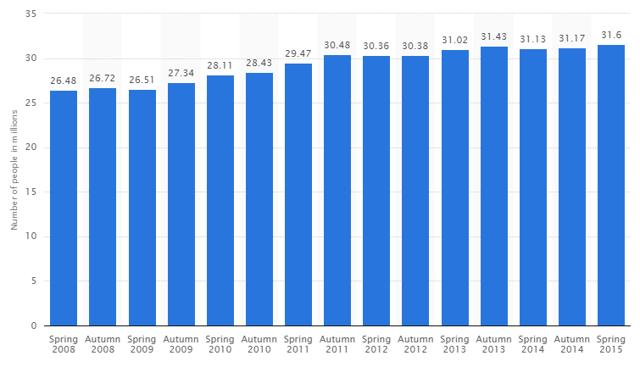 (Source: Statista)
Despite all the ambitious investments, Kroger's financial position remains strong. This can be attributed to the company's solid cash flow generation. It is incredible that Kroger has managed to consistently expand its FCF despite the growth in capital expenditures. Clearly, this isn't a company, which likes to dampen investments that drive long-term growth to paint a rosier FCF picture. Kroger uses FCF to repurchase its stock and return value to its shareholders, in addition to making capital investments.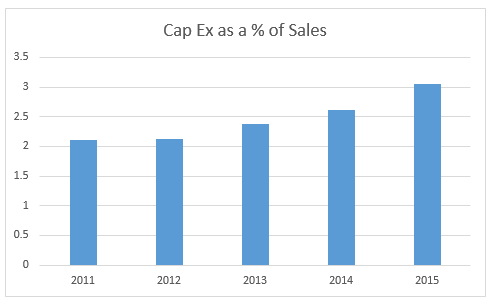 (Source: Morningstar.com)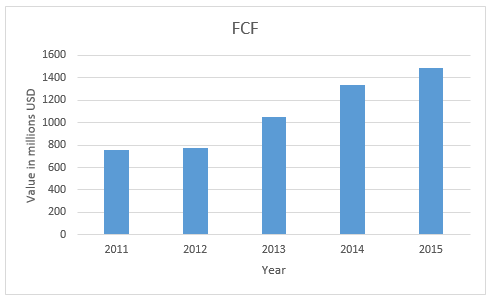 (Source: Morningstar)
Trading for 18.3x TTM earnings, Kroger does not look terribly expensive. Multiplying Kroger's three-year average P/E of 17.87 with analysts' average EPS estimate for the current year, we get a share price of around $40.20, which is where Kroger can be in less than a year. In each of the last four quarters, Kroger has beaten analysts' earnings estimates by at least 3.3%, which is why I strongly believe the company can live up to analysts' high EPS estimates for Jan 17. In that case, Kroger's shares could rise to $44.85 (Current P/E x EPS est. = 17.87 X 2.51).
Conclusion
All in all, Kroger represents a compelling investment opportunity at its current price. Investors shouldn't be deterred by the rather weak comp growth guidance for 2016 because Kroger has a history of delivering comps above guidance. Once Kroger fully absorbs Roundy's operations into its ecosystem, I wouldn't be surprised to see further top line expansion through penetration in the Northern Illinois region. As a result, Kroger is nicely poised to achieve sustainable growth in the long run.
Disclosure: I am/we are long KR.
I wrote this article myself, and it expresses my own opinions. I am not receiving compensation for it (other than from Seeking Alpha). I have no business relationship with any company whose stock is mentioned in this article.