Think back to the last time you invested in a business. Hopefully, you did so because you were able to identify a discrepancy between that business's underlying value and its quoted market value and this disparity was in turn sufficient enough to provide you with an inherent margin of safety.
But apart from the ultimate valuation, what else went into your well-informed decision? Perhaps some qualitative considerations alongside some purely quantitative measures.
For any business, anywhere between three to ten metrics can tell you a whole lot about its underlying economics, where it is at the present, and where it is very likely to go over the short/mid-term. This is what this article is all about and the picture such key performance metrics paint of the Ally Financial (NYSE: ALLY) business.
Personally speaking, the first thing i look to do before considering any business for investment purposes is attempt to prove why it should not be considered for such purposes, if that makes any sense. For a chartered bank the best way to do this is to look at the quality of its assets and if it possesses enough capital to see it through any potential deterioration in its core lending business.
Asset quality & balance sheet ratios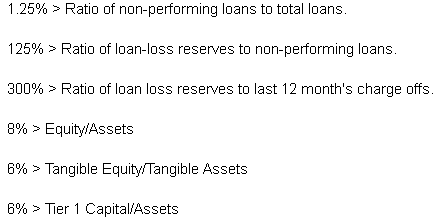 Source: Graham Theodor & Co. Research
The above cheat sheet is a good first step in disproving a financial institution investment. Fortunately, Ally easily clears this initial hurdle by nearly every count:
| Metric | Figure |
| --- | --- |
| Ratio of non-performing loans to total loans | 0.32% |
| Ratio of loan loss reserves to last 12 month's charge offs | 171.10% |
| Equity/Assets | 15.20% |
| Tangible Equity/Tangible Assets | 8.52% |
| Tier 1 capital ratio | 11.06% |
To further de-risk a larger enterprise the likes of Ally which possesses many constantly changing parts, it is necessary to look at other more arcane accounting concepts such as off-balance activities, defined benefit pension obligations, as well as any "other liabilities" found on the balance sheet.
Un-surprisingly, Ally with $158.58 billion in total assets bears a check mark on all three aforementioned accounts - with $2.52 billion in non-consolidated consumer automotive securitization entities, an accumulated other comprehensive loss for the past fiscal year of $89 million as a result of defined benefit pension plan obligations, and $145 million in other liabilities, primarily as a result of derivative contracts in a payable position.
Upon closer inspection such supplementary liabilities pale in comparison to the bank's $14.41 billion of equity capital, neither all combined nor any one alone being able to materially impair its operations.
Profitability ratios
While Ally's earnings over the past half-decade have been spotty to say the least:


Source: Morningstar
Not unlike a typical industrial or consumer goods business, this determinant can quite easily be obfuscated for a bank - only in slightly different ways.
As an example, a bank's core underwriting operations may be profitable on the whole, that is the net interest it earns on the loans it originates exceeds the cost of its funds, as in Ally's case for the past three consecutive years. But several factors can wipe out said net interest margin at any given time, including but not limited to realized/unrealized investment losses, loan charge-offs, investment and cash flow hedges, and others.
All the more reason why the following metrics help insofar as providing a clearer portrait of operations:
ROAA (Return On Average Assets): 0.84%
ROAE (Return On Average Equity): 8.69%
Return on Tangible Equity: -9.56%
NIM (Net Interest Margin): 2.45%
Overall Cost of Funds: 1.05%
Efficiency Ratio: 63.79%
These are decidedly a mixed bag for Ally. Good on an absolute basis in some respects, such as its streamlined organizational structure as evidenced by its low efficiency ratio and poor in other areas like its negative return on tangible common equity in three of the past five years including fiscal 2015.
No doubt a chief reason why the bank is presently valued by the market at a steep 39% discount to its tangible equity of $13.41 billion as I write this.
Other key ratios
Some additional important measures to keep score of for any financial institution include a revenue sensitivity analysis as interest rate risk represents the single most significant exposure to market risk for banks.
Because of this, a asset sensitive bank (a bank whose assets re-price faster than its liabilities) is always preferable to liability sensitive banks (whose liabilities re-price faster than its assets).
Unfortunately, that is just not the case for Ally:

Source: Ally Financial Inc. 2015 Annual Report
Which unless reversed implies some tough times ahead for the bank as rates rise across the board.
Another useful measure of a bank's health i have found to be the famed Texas Ratio. Developed by Gerard Cassidy and others at RBC Capital Markets while trying to analyze bank stocks during the spate of failures that hit the Texas banking industry during the savings and loan crisis of the 1980's.
It is calculated simply by dividing the value of the bank's non-performing loans and real estate owned by its tangible common equity and loan loss reserves. The higher the Texas ratio on a scale of 100, the more severe its credit troubles.
Due to Ally's relatively low $249.65 million of non-current loans and virtually non-existent REO given its core consumer/commercial automotive lending business in comparison to its $13.41 billion in tangible equity capital, its Texas ratio is a very healthy 1.56 indicating only about a 1.5% chance of insolvency.
Disclosure: I/we have no positions in any stocks mentioned, and no plans to initiate any positions within the next 72 hours.
I wrote this article myself, and it expresses my own opinions. I am not receiving compensation for it (other than from Seeking Alpha). I have no business relationship with any company whose stock is mentioned in this article.