After researching trending stocks, Ollie's Bargain Outlet (NASDAQ: OLLI) seems to be one of the hottest in the market today. For those that do not know, Ollie's is a retailer of closeouts, excessive inventory and salvage merchandise. It is a relatively new company on the stock market, having just IPO'd in July 2015. After very strong fourth-quarter results were announced on April 6, shares shot up 11% just a day later. Because of their recent performance, I decided to research the company and observe their financial statements. This article will first show the performance of Ollie's compared to the S&P 500. Then, I will observe and discuss healthy financials on the company's income statement and balance sheet. After all of this, I will state my opinion on a long-term investment with Ollie's Bargain Outlet.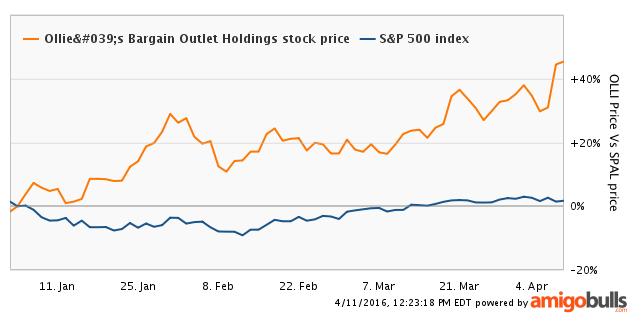 Amigobulls.com
Before considering a long-term investment in Ollie's, I figured it was a good idea to observe how shares perform with their surrounding market. The above graph displays the performance of Ollie's with the S&P 500 since 2016 began. It is very positive to observe this for investors and potential investors, showing growth of over 40% this year compared to the index. You can see that shares of Ollie's really are not too dependable on the performance of the market as a whole. Ollie's Beta of 0.64 supports the low volatility we have witnessed through 2016. Wal-Mart (NYSE:WMT) obviously has a larger share of the market and a much bigger operation, but the two companies are still competitors. They both stress that you can find good things for a cheap price at their stores. Wal-Mart currently has a Beta of 0.51, showing a little less volatility to the market than Ollie's. I believe both of these stores will continue to demonstrate low volatility in comparison to the market. In bad economic times, stores like Ollie's and Wal-Mart should see an increase in customer base because people are not making as much money. Even when economic times are good, a lot of people are willing to take a step down in quality to save a couple dollars. It is important to identify this trend because it tells me as a potential investor that Ollie's will always have a strong customer base when offering "Good Stuff Cheap" (the company's slogan).
Before observing the Q4 announcement that drove trading on April 7, I figured it would be interesting to observe some historical trends on the company's balance sheet. The figures below display total assets, liabilities and stockholder's equity of Ollie's for 2015 shown on a quarterly basis:




Market Watch
The first positive I noticed was that assets seemed to be relatively consistent through 2015 in $900 millions. Also, I noticed that Ollie's was able to maintain a consistent balance of debt and equity throughout the year. They actually slightly decreased their debt from the beginning of the year, which is always very positive to reflect on. Companies that possess high levels of debt are obviously at more risk. Ollie's has shown me that they know how to manage their debt. When considering the basic accounting formula, A = L + SE, we see that the company started the year by financing assets with more debt. It is very positive for potential investors to note that debt - equity decreased from beginning to end in 2015.
Now, to address the positives that were just announced with the Q4 results on April 6. Mark Butler, President and CEO, commented:
"We had another strong quarter and are pleased with the continued momentum of the business. Once again, the strength was not just in one area, but across the entire business. Sales, margins, new store performance, expense control, deal flow and Ollie's Army were all strong in the quarter. We are delivering 'Real Brands! Real Bargains!' and better access to merchandise is leading to even greater deals for our customers. This is making our stores more of a destination for our existing customers and we believe we are attracting new customers every day."
When regarding the company's income statement for Q4, we find that total sales increased by 21.3% to $243.4 million. This lead to 38.1% growth in operating income as well as 33.8% growth in net income. The increased net income of $16.1 million gave diluted earnings-per-share of $0.26. In regards to their store count, Q4 added three new stores. Ollie's now has a total of 203 stores in 17 states across the nation, demonstrating an increase of 15.3% year over year. The strong Q4 results wrapped up the fiscal year on an extremely positive note. For 2015, Ollie's net sales increased 19.5% to $762.4 million. Also, operating income increased 26.7% to $79.6 million and net income increased 33.2% to $35.8 million. As you can see, Ollie's has demonstrated excellent growth in 2015, making it clear to me that they stand in great financial health. (Market Watch)
I believe this is a great opportunity to buy Ollie's and hold shares for the long term. Shares are reasonably priced, and current performance has the company thinking very highly of their growth strategy. At IPO, things did not look so bright for Ollie's. Shares fell from a little over $20 to $15 a share by October. This is as expected during IPO because of the "hype" associated with going public. Ollie's current performance in comparison with the S&P 500 has shown immense growth in just four months. On top of current performance, the company rests on a great financial foundation that can help thrive growth. With revenues and profits increasing, Ollie's has raised the bar high. It sometimes is hard to live up to expectations like their Q4 results, but I believe this company will not let investors down. Buy Ollie's and watch them grow over the next couple years.
Disclosure: I/we have no positions in any stocks mentioned, and no plans to initiate any positions within the next 72 hours.
I wrote this article myself, and it expresses my own opinions. I am not receiving compensation for it (other than from Seeking Alpha). I have no business relationship with any company whose stock is mentioned in this article.