Investors have continually questioned the strength of the global economy, given central banks have maintained easy policy in their respective countries via asset purchases and abnormally low interest rates. We can see this occurring in key geographic areas like Europe and Asia. The United States, however, has been on a different path, now entering a very gradual pace of monetary tightening. According to market pricing, traders are projecting the Fed will tighten about 3 more times this year, whereas investment banks in general are assuming something closer to 2. It is obvious we are going to see some sort of rate hike action over the course of 2016, given that core inflation has picked up and the unemployment gauge utilized remains at very low levels.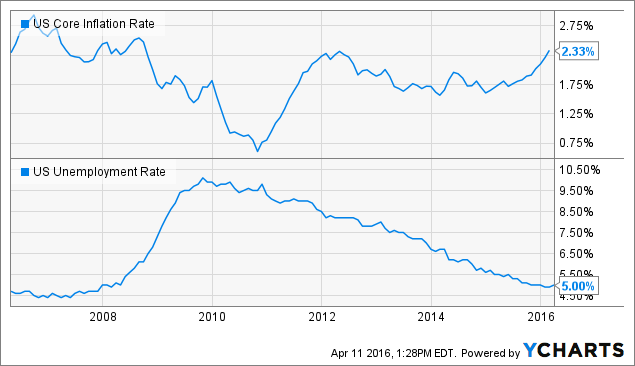 US Core Inflation Rate data by YCharts
To our surprise, we saw a major lack of media coverage on US core inflation; it did, in fact, surpass 2011 levels toward 2.33%, the highest level seen since the housing crisis. We have also seen a slight uptick in unemployment; however, this is unconcerning, given that wages are finally receiving some support as well.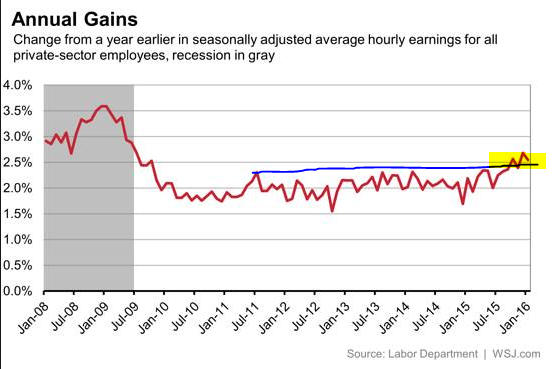 Wages have been seeing higher highs and higher lows since late 2015, which has been unprecedented thin the post-crisis era. Despite economic sentiment remaining relatively pessimistic, the fact that wages are moving higher is very important.
Oil Market
Rating agencies have been concerned about default rates, particularly stemming from the oil & gas sub-sector. We recently saw data that suggested bankruptcy claims have nearly doubled in this area, but contagion appears to be non-existent for other industries. In recent months, we have actually seen stability in credit markets, and steep discounts in bond prices have seemingly evaporated. According to commodity research divisions from various investment banks, it appears the second half of 2016 will see oil prices finally begin incrementally rebounding to more reasonable levels. While the price target range is not set exactly, the consensus appears to be standing somewhere between $50 to $60 per barrel for WTI. This scenario would be beneficial for oil players by and large, and would only force out marginal players specifically operating in offshore exploration and production. Nonetheless, bankruptcy claims should begin normalizing downward, and the sub-sector will be more consolidated.
Junk Bonds
Credit markets are one of the best leading signals for the economy and stock market alike. Usually an inverted yield curve will indicate a downturn, but in fact we are not retrieving that type of data. While we are stepping closer to that picture with each passing year, the fact of the matter is the spread is still greater than 200bp. It may seem small relative to historical standards, but in a world of negative interest rate policy, it is actually quite large.
We also saw the junk bond market sell off viciously for both reasons mentioned above: tightening credit and oil bankruptcies. While many believe that this behavior indicates concern in the broader markets, we actually think it was a healthy removal of froth. Not all bonds are created equal, and the ones that didn't deserve their premiums were slaughtered — they essentially got what they deserved. See Barclays High Yield Bond ETF (NYSEARCA:JNK):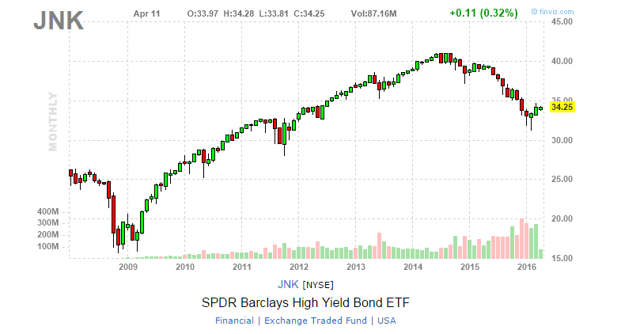 Corporate Profits
Last but not least are corporate profits for the S&P500. Most investors are concerned about the inevitable decline in corporate profits, because revenue growth has become increasingly weaker over the last few years, and the same is true for cost cuts. Obviously, with weaker earnings, this leads to a multiple expansion most investors do not want.
Given that the S&P500 (NYSEARCA:SPY) now trades at roughly 22.6x earnings — well above historical levels — we think there is very little upside to be realized in the index. We think this scenario is chiefly where passive investors will underperform active investors until we see some major outside forces come into play. Fortunately for us, we are on Seeking Alpha, and there's no better place to look for great investment ideas.
Bottom Line
While there are a handful of issues to consider within the US economy, including the expanding debt bubbles (i.e. student and auto), it still appears to be the strongest area globally. Tailwind factors include upward wage pressure, lower oil prices, a more consolidated energy sector, and a significantly less risky junk bond market. 2015 was the year of understanding apparent concerns that markets previously took a blind eye to. Now that we have moved passed this milestone, we think the US is set for a brighter future.
Disclosure: I/we have no positions in any stocks mentioned, and no plans to initiate any positions within the next 72 hours.
I wrote this article myself, and it expresses my own opinions. I am not receiving compensation for it (other than from Seeking Alpha). I have no business relationship with any company whose stock is mentioned in this article.