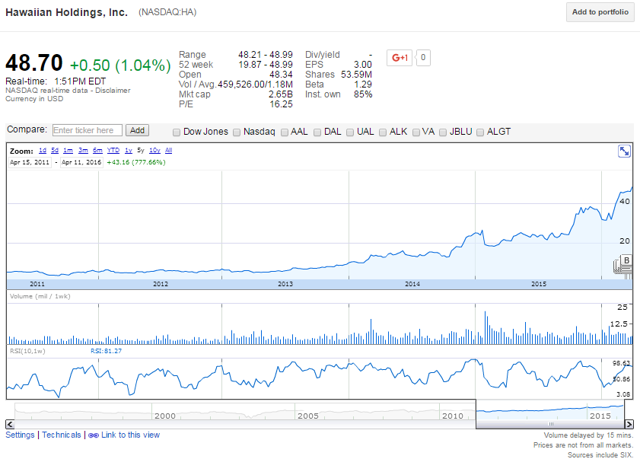 Img 1: Hawaiian Airlines Stock
Hawaiian Airlines (NASDAQ:HA) shareholders have fared tremendously well over the past 5 years as the stock has soared over 777%. I have been bullish on airlines for the past several years and continue to be bullish on many, however, with potential issues ahead, continuing to own or buying Hawaiian airlines at this price may present substantial downside versus upside risk in the short to medium term.

Img 2: HA vs. U.S. Airline Stock Performance
A closer look at Hawaiian versus its U.S. peers shows the airline has outperformed every single one and outperformed the second best, Alaska Airlines by over 370%! Since late 2015 Hawaiian Airlines stock has broke away from the uptrend the rest of its peers have stayed in. The question is what has caused it to do so and does Hawaiian deserve such a steep valuation?
A Premium Valuation For A Low Yield Airline
Hawaiian Airlines focuses primarily on the Hawaii market. This presents some risk to the airline as they are highly susceptible to the ups and downs of the economy. In good times, demand for luxury vacations to more exotic destinations like Hawaii are in demand. Demand for destinations such as Australia which passengers can connect to on Hawaiian from the mainland United States also rise in demand. However as soon as things take a turn for the worse these expensive vacations are among the first things to be cut from consumers budgets.
| | | |
| --- | --- | --- |
| Airline | Operating Margin 15' | Net Margin 15' |
| AAL | 15.14% | 18.57% |
| ALK | 23.19% | 15.15% |
| DAL | 19.17% | 11.12% |
| HA | 17.87% | 7.88% |
| JBLU | 18.95% | 10.55% |
| LUV | 20.77% | 11.00% |
| UA | 13.64% | 19.39% |
| VA | 11.59% | 22.26% |
Table 1: Airline Operating & Net Margins 2015
A look at the margins for the major U.S. airlines in 2015 shows that while Hawaiian Airlines operating margin is around the middle of the pack, when it comes to the net margin Hawaiian Airlines has the worst by a large margin. It should also be noted that this 7.88% net margin was achieved while oil prices saw a steep drop.

Img 3: Airline PE Based On Debt/Equity Ratio
Debt is a concern for many investors these days in the airline industry so my gut instinct told me that Hawaiian must have very little debt and risk to have such a premium valuation, but this is not the case at all. I put together a chart to show the relation between the debt/equity ratio and the PE ratio an airline stock trades at. The trend shows that as debt/equity increases, airlines tend to trade at lower PE multiples. Not so with Hawaiian however, with the airline trading at a multiple that only airlines with less than a third of the debt/equity of Hawaiian trade at.
Note: The stock prices used for Alaska Airlines (NYSE:ALK) and Virgin America (NASDAQ:VA) in the above chart were the prices at the close on April 1 to avoid any distortion from the effect of the acquisition announced the following Monday.
Earnings Growth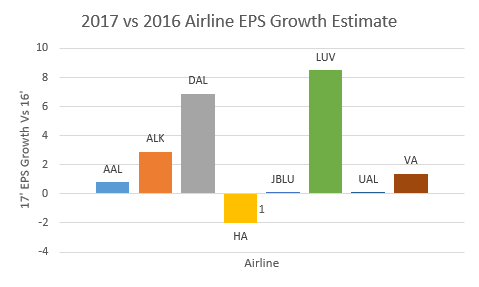 Img 4: 2017 vs. 2016 Projected Airline % EPS Growth
I put together a chart to examine EPS growth among the major U.S. airlines for 2017 vs. 2016, assuming that such a premium valuation might be due to strong expected EPS growth. This is not the case however with Hawaiian being the only airline that analysts project to earn less per share in 2017 versus 2016.
There is also a major fundamental when it comes to Hawaiian Airlines to take into account that goes above and beyond any charts or trends. Several years ago Hawaiian Airlines made a large aircraft order of new A330 aircraft and embarked on a large expansion. In 2011 Hawaiian saw its available seat miles, or ASM's grow 19% due to these new aircraft. 2012 saw 22% growth followed by 14% in 2013. Since then Hawaiian has only grown 1.8% in 2014, 3.8% in 2015 and will grow between 2.5-5.5% this year. The reason that this is of significance is leisure routes like the kind that Hawaiian operate tend to take 2-3 years to reach maturity, meaning after that time there will likely be little to no earnings growth, and the routes will likely deliver steady income from then on. 2013 was the last period that Hawaiian saw major growth and therefore that 2-3 year period is coming to an end now, which explains why EPS growth is forecast to be low/negative for the next year or so. The question then may be, when will EPS growth return to Hawaiian, and an easy way to answer that is to look at their order book.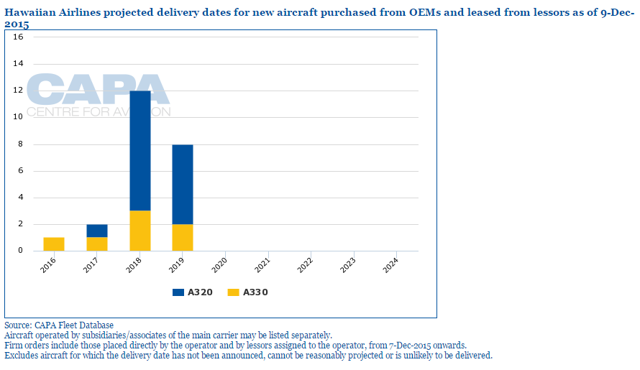 Img 5: Hawaiian Airlines Planned Aircraft Deliveries
So looking at the above delivery schedule, it is easy to see that growth will remain subdued until 2018 when growth will take off big time and again in 2019. This immense expansion will initially be a short term negative for Hawaiian as many new leisure routes lose money for the first 6-18 months or so and then mature over 2-3 years from launch. So based on this, the next major EPS growth should occur around 2020.
Geographic Focus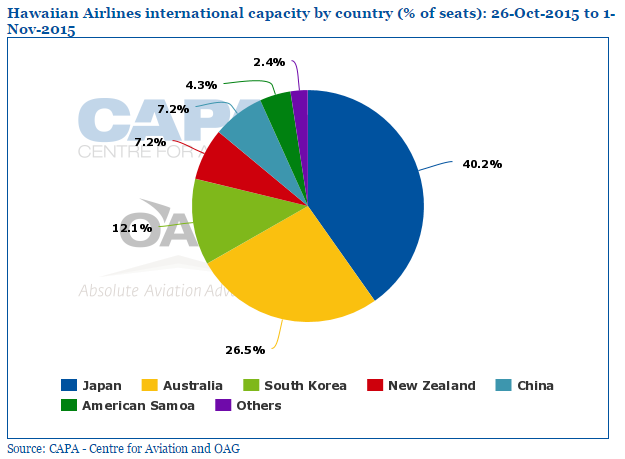 Img 6: Hawaiian Airlines International Markets
While most U.S. airlines have diversified away from Japan in recent years and moved into China and other Asian markets, the Japanese market still makes up 40.2% of Hawaiian Airlines international capacity, primarily due to Hawaii's popularity with Japanese tourists. The downside however from this is the effect of a continued weak Japanese economy and weak yen on Hawaiian Airlines. As the U.S. dollar gains versus the Japanese yen, Japanese tourists are more likely to go somewhere else for vacation to get better value, something that could hurt Hawaiian.
Merger or Acquisition Ahead?
From talking with many investors, it seems that there is a belief among some that Hawaiian will be part of a merger or acquisition in the future. This seems to be the only justification for such a high stock price as many look at the recent Alaska-Virgin America deal and hope for such a deal for Hawaiian. Recent comments by CEO Mark Dunkerley that the airline needs to start looking outside the Hawaii market may be reinforcing this thought.
There has been chatter in the investment community that Hawaiian Airlines could become part of Alaska Airlines at some point in the future. JetBlue has also been mentioned as a potential partner for Hawaiian. Outside of these airlines there is little chance of a merger for Hawaiian Airlines. The remaining U.S. airlines have become too large, and the justice department is unlikely to allow any of them to take over Hawaiian Airlines and reduce competition further.
While a merger is certainly possible, it also means that investors holding Hawaiian at this point are participating in a speculative trade. While it could be very profitable if consolidation does occur, it is also risky and if there is no follow through and the stock falls back to where it should be, investors in Hawaiian could take a large hit.
Long Term Outlook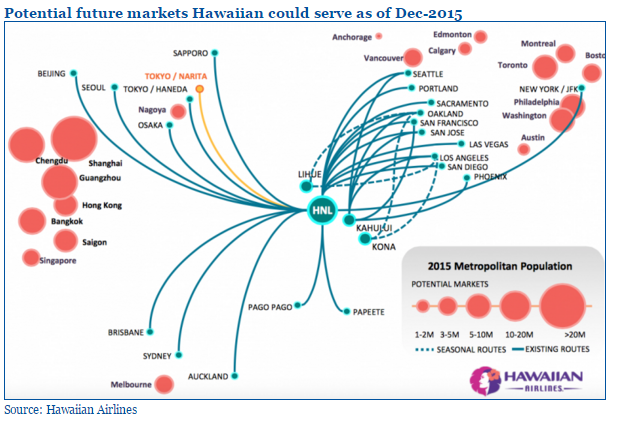 Img 7: Potential Future Hawaiian Airlines Markets
I believe Hawaiian has a bright long term outlook, however I also believe the stock is overextended at this point and could witness a substantial drop in the near term if a merger or similar event does not occur.
Long term many pacific markets like China, are ripe for expansion for Hawaiian airlines. Even strong Hawaii markets like Canada still lack service from Hawaiian airlines. The image above shows the markets Hawaiian could enter and it would likely do very well in many of these markets but there is one big downside to this. As a highly leisure focused airline, any new route Hawaiian launches will take 2-3 years to mature as I stated above, something that limits any real earnings growth in the short term despite the growth opportunities. Hawaiian Airlines will see a number of A321 deliveries in 2018 which should allow the airline to place these aircraft on U.S. routes and take the A330 aircraft and use them on new international routes rather than shorter routes to the United States. Once the airline embarks on this expansion, I expect strong EPS growth however the time frame for this occurring is almost 5 years out from today.
Conclusion
Unless you are willing to speculate on a merger or scenario that sees Hawaiian Airlines substantially transformed, it seems like now is a good time to sell or reduce your position in Hawaiian. The airline stock has soared tremendously well above and beyond where it should be trading based on fundamentals and financials. Large exposure to Japan, weak net margins in times of low oil, along with one of the highest debt to equity ratios and negative EPS growth while trading at a premium make Hawaiian a short term sell in my opinion. As a highly leisure focused airline the company is more prone to financial downturns and such so the airline should if anything be trading at a discount to the other U.S. airlines.
Disclosure: I/we have no positions in any stocks mentioned, but may initiate a short position in HA over the next 72 hours.
I wrote this article myself, and it expresses my own opinions. I am not receiving compensation for it (other than from Seeking Alpha). I have no business relationship with any company whose stock is mentioned in this article.