Frequent readers of my research notes likely have wondered where I've been over the past several weeks as I've been uncharacteristically quiet. The answer to that question is I took a much-deserved vacation, which I spent traveling across Hong Kong and Japan. Of course, international travel brings with it a chance to get another perspective on current investments and often brings new ideas, and readers can look forward to further pieces based off my travel time, including some rather unloved Japanese ADRs.
For now, I'd like to give a few thoughts on my time spent in Macau. I spent two nights late March in the Chinese SAR, and it really gave some insight into the health of the economy there that I would not have gotten otherwise. Most may know I'm long Wynn Resorts (NASDAQ:WYNN). Admittedly I was early in buying an initial starter position, but have gradually worked my cost basis down to $100.00/share after initially dipping my toe in with shares at $142/share. Before this trip, like many Wynn Resorts investors, I had never been to the Macau area in person. In many ways, that fact makes for a significant handicap when it comes to investing. Most of us invest in products we know; owners of Coca-Cola (NYSE:KO) likely have had a Coke in their lifetime. Dabbling in something you don't fully understand can often end poorly, and this was an opportunity to see the primary source of Wynn Resorts' EBITDA in person.
Wynn Palace Progress
Going into the planning of this trip, I intended to stay at the Wynn Palace right near its original planned opening date in mid-March. Unfortunately, we all know that due to construction delays the opening date was pushed out until June, but I'll echo what Steve Wynn reported in the most recent Investor Presentation on the progress of the property. While not allowed inside, I did spend time on the outside of the property and the end is definitely in sight. The image below from Wynn's recent Investor Presentation looks a little dated compared to what I saw, but nonetheless investors should take solace in the fact that this property should meet its expected opening date.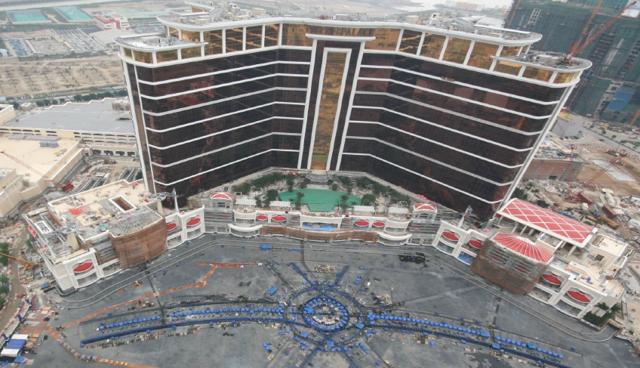 *Image from April 2016 Wynn Resorts Investor Day Presentation
The property looks much further along than the Parisian, an upcoming Las Vegas Sands (NYSE:LVS) property, which Sands was hoping to open early in June, but has now been pushed back to September. The iconic half-scale Eiffel Tower on that property is still under construction, and the exterior grounds and infrastructure leading up to the Parisian itself remain wholly non-existent. I'm not a construction expert and have no insight on the progress within the hotel, but there remains an incredible amount of work to be done over the next several months to meet even that pushed back opening date in my opinion. An opening date that is moved further toward the end of the year might give the Wynn Palace a little more breathing room as the "latest and greatest" on the Cotai Strip.
Even booking three months out, I could not book into the Wynn Macau - the casino was completely booked to full occupancy, and I'll elaborate on why I find that occupancy strength so important later.
I instead had to resign myself to spending my two nights at the Venetian Macau, and coughed up $300/night for the privilege. No free Las Vegas weekend deals at the Aria like I frequently receive from MGM Resorts (NYSE:MGM) to be found here unfortunately.
Table Activity and Macau Traveler Makeup
Images from the casino floors are deeply discouraged here and any hint of picture-taking would usually send casino floor workers running your way where they would actually watch you delete the images that were taken. Luckily image recovery is a thing, and the below is a sneakily taken quick shot from the floor of the Venetian in the early evening, before the place was really bumping: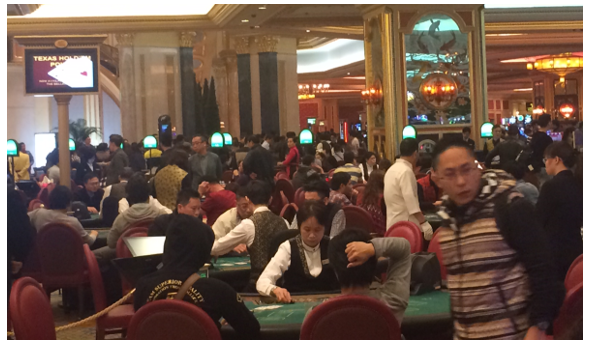 Long story short is Macau is anything but dead. As you can see, tables were incredibly full, and were like this across the entire island. Traffic is only one part of the story, of course, and it matters if these patrons are gambling - the higher the better. I couldn't find a baccarat table on the floor of the Venetian for under 1500 HKD minimum bet ($187 USD), and that situation repeated itself time and again across the casinos I went into, including the Wynn. Recreational gamblers from Las Vegas looking for something comparable to $10/hand Blackjack won't find it on these tables. Speaking with both gamblers and the staff here (playing the tables for "research purposes" of course) in passing conversation, there is overall a sense of optimism that Macau activity is in fact bottoming and casino floor staff informed me there has been a very real, palatable improvement in gambling activity in the past several weeks. Wynn's preliminary earnings release beat of expectations for Macau did not surprise me. While my bankroll doesn't allow me to rub shoulders with VIP gamblers, from what I could tell there was decent, healthy VIP activity. I have no basis for comparison to "peak Macau" and I have no insight on table minimums that were being played, but VIP rooms were far from empty.
The propensity for visitors here to support heavy average table minimums likely isn't news to many; Macau's reputation as a hardcore gambler's paradise is cemented. What was surprising, to me, was the number of families traveling here as well. The Chinese government's guidance and tone on wanting casinos to diversify beyond gambling rang a little strange to me before visiting and I wasn't sure there was an actual market for that type of experience, but there were plenty of visitors from mainland China traveling with young children in tow. Steve Wynn knows what he is doing in this regard better than anyone else in the industry, and I don't have a doubt he can execute on building out non-gambling revenues in Macau just like he has done in Las Vegas where more than 50% of EBITDA is driven from non-gambling operations.
Key Metric For Wynn Palace: Occupancy Rates
I make it to Las Vegas several times a year, and enjoy walking from one end of the Las Vegas strip to the other. Las Vegas has made making it from Mandalay Bay all the way to the Wynn by foot quite easy, with wide sidewalks and pedestrian bridges galore. Roads are wide, supporting the vehicle traffic, and it's a relatively straight shot end to end. As a result, it is perfectly normal for someone to stay at a cheaper hotel just for the bed, spending all their money elsewhere on the Strip. I've always taken occupancy rates with a grain of salt and have found them to not necessarily be indicative of revenue strength.
This ease of foot travel is in direct contrast to Macau. While the Macau Peninsula is "walkable", it isn't as easy. Streets wind and twist making navigating difficult, signage is poor, there are grading problems in the older sections of town, and most Macau drivers seem to care very little for trivial things like the rules of the road. While taxi and bus costs are cheap, it isn't necessarily a quick, direct route from one place to another via this method either.
Cotai, where the Wynn Palace will be located, is worse. Sidewalks are probably a quarter of the width of Las Vegas at best, and even at non-peak times, they are usually packed. Rampant construction and buildout of the area makes what little foot traffic the area can support worse. While you might be able to walk from casinos that are next door to each other (Studio City to the Parisian once opened as an example), most Cotai gamblers that I spoke to stay and gamble in the same place.
In order to be successful, the Wynn Palace needs to attract and keep gamblers on-site. Some of that comes down to non-gambling tangibles (room quality, entertainment options) but also providing a gambling environment that is measures above the competition. Gamblers above all else want to gamble. I have faith in company manage to make that happen. Wynn Macau already has market-leading occupancy rates on the Macau Peninsula due to its solid gambling and non-gambling offerings, which has resulted in some of the highest EBITDA per room statistics on the island. My time in Macau has elevated the importance, in my opinion, of tracking the success of Wynn Palace through occupancy rates and room pricing. Healthy occupancy numbers and above average room rates would likely be highly suggestive of gambling revenue strength going forward in my opinion.
Overall, at $100.00/share, Wynn Resorts has had a substantial run in 2016. Obviously, shares aren't as attractive as they once were, but astute investors likely picked up on Steve Wynn's purchase as a sign of strength, which made for a compelling buy signal. Shares are up nearly 50% from that point, and have nearly doubled from 52 week lows. Profit-taking is to be expected, and a pause is likely before a continued run upwards. Nonetheless, I still see value here. The weakness in Macau was above my initial expectations (as it was for many), but I still see solid value here for investors to buy on a pullback.
Disclosure: I am/we are long WYNN.
I wrote this article myself, and it expresses my own opinions. I am not receiving compensation for it (other than from Seeking Alpha). I have no business relationship with any company whose stock is mentioned in this article.