Stocks have staged an impressive rally since being down double digits percentage wise early in 2016. However, this rally is starting to seem overbought. In addition, some of the same factors that helped trigger the large decline early in the year are still present. Investors who have grown complacent during this rebound are doing so at their own risk.
My regular readers know that I began the New Year with an approximate 30% allocation to cash within my portfolio. I was not sanguine about the market's prospects early in the year ahead of first quarter earnings and other factors including the rising volatility in the high yield credit markets. However, I did incrementally and somewhat aggressively buy the dip the early part of the year provided. By the time the market hits its bottom on February 11th, my cash on had eroded to some 10% of my overall portfolio.
It turned out to be a prescient decision as my portfolio has benefited from doing some bargain shopping in late January and early February. However, over the past couple of weeks I have been raising cash again and my cash allocation is back up to the high teens. I think it pays to be cautious here as although I don't expect the rest of April to be as bad as January; it has the potential to be and I believe the month will see an overall decline in the market when all is said and done. I have this view for myriad reasons.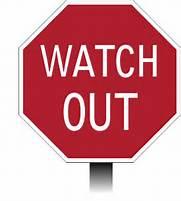 Profit Recession:
Just like in early January, the market is eagerly anticipating quarterly earnings reports. During the fourth of 2015 quarter profits in the S&P 500 declined year-over-year for the third quarter in a row. The first quarter is projected to be even worse and the nine percent decline projected would be the worst quarterly fall-off since the dark days of 2009. Energy, Materials and Financials are expected to post double digit declines in earnings.
In addition, this is the time of the quarter where company's stock buyback programs go on hold. As Goldman Sachs prudently pointed out yesterday; 75% for corporate buybacks will be "dark" until May. Given stock buyback activity has been at record levels over the past year; this will take a significant amount of the demand side out of the equation.
Defaults Rising:
Despite the recent rise in crude prices, small and mid-tier producers will continue to head to major restructurings or bankruptcy in increasing numbers putting pressure on the high yield credit markets. Puerto Rico is already pushing its creditors to take a massive haircut on the island's massive debt, which will not be good for the municipal bond market.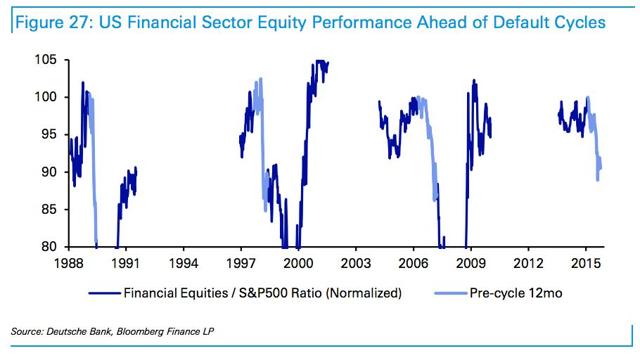 UBS was out yesterday saying any sort of domestic economic slowdown could pop what they are calling the "Junk Bond Bubble". Specifically, the team at the investment bank state "Investors that lend to U.S. junk-rated companies aren't being compensated for the looming credit shakeout that could push defaults to record highs" and "There is a bubble in speculative grade credit. Simply put, clients were not being compensated for the credit risk." Remember the spike in volatility in the high yield or junk bond markets was a major factor behind the huge downturn early this year.
In addition, problems continue to emerge in the Emerging Markets. The World Bank is out this morning stating "As developing countries continue to face strong economic headwinds, demand for lending from the World Bank has risen to levels never seen outside a financial crisis" and that global economic conditions ""have generally deteriorated further since the start of the year." It is forecasting lending needed is now on track to climb to more than $150 billion in support between 2013 and the current fiscal year.
Economic Growth Dismal:
The World Bank is forecasting that global growth will come at less than three percent in 2016 as worldwide economic activity is at levels not seen since 2009. The United States may be the "best house in a bad neighborhood" among developed economies, but that is not saying much and GDP growth is getting off to a tepid start. First quarter growth is now expected to come in at under one percent. The economic slowdown that UBS could cause turmoil in the junk bond markets might already be coming to fruition. Although job growth has remained solid, I would be concerned that Small Business Optimism just hit two year lows given this part of the market creates the vast majority of new jobs.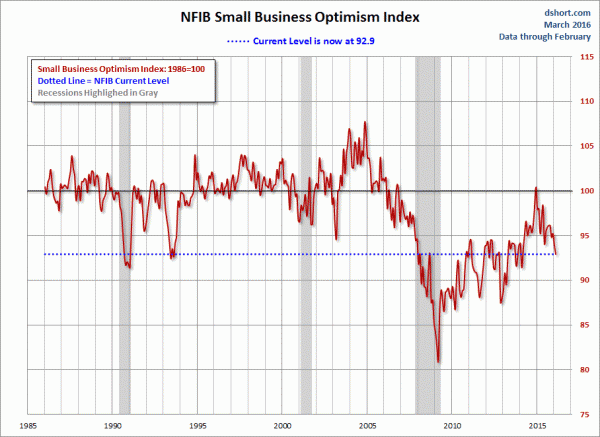 Outlook:
Just because I am not optimistic about the overall market and am raising my cash allocation does not mean I do not see some "pockets of value" within equities. Here are two areas of the market I still like at current levels.
Biotech looks good here after it is slowly clawing its way off its deepest and longest bear markets since the financial crisis. The large cap portion of the sector is just off its lowest valuations in five years. Myriad names provide deep value here.
Drug maker AbbVie (NYSE:ABBV) is a perfect example of this. The stock goes for under 12 times earnings, should see earnings growth of 15% to 20% for each FY2016 & FY2017 and pays an almost four percent dividend yield. I would love to add a few shares to my core holdings should the overall market bring this value holding down a few dollars a share.
I also continue to like the lodging real estate investment trust (REIT) space. A lot of names in the sector are down 25% to 35% from their 52 week highs and the industry is still seeing solid RevPAR (Revenue per available room) growth and occupancy levels continue to increase as well. I own Diamondrock Hospitality (NYSE:DRH), Pebblebrook Hotel Trust (NYSE:PEB) and Xenia Hotels & Resorts (NYSE:XHR) in this space. They are all more than reasonably valued and provide dividend yields north of five percent as well.
My favorite name in the sector continues to be Chatham Lodging Trust (NYSE:CLDT) which I have owned since it was $10 a share in 2012. The stock has doubled since then despite the recent pullback in the space. All the company seems to do is grow its earnings and more importantly its dividend, which it again boosted by 10% earlier this year. The company should continue to produce five to ten percent FFO (Funds from Operations) growth, pays a monthly dividend whose annual yield is 6.5% currently and sells at just eight times forward FFO.
These are two sectors I think will easily outperform the overall market if a storm in April arrives as expected.
Disclosure: I am/we are long ABBV, CLDT, DRH, PEB, XHR.
I wrote this article myself, and it expresses my own opinions. I am not receiving compensation for it (other than from Seeking Alpha). I have no business relationship with any company whose stock is mentioned in this article.