The 2013 drama, "The Wolf of Wall Street," focused on real-life boiler room operator Jordan Belfort, who made a fortune selling (mostly) worthless penny stocks to wealthy clients.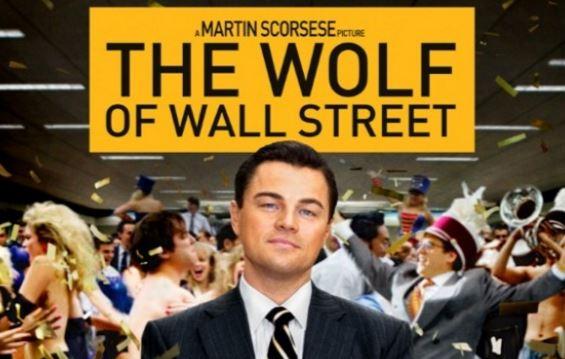 The modern era of pump and dump is often less direct, obvious, or glamorous than the scenes depicted in the Scorsese film.
Typically, there's a bit of macro momentum coupled with some sort of obscure restructuring or other "catalyst event," which can lead a stock on a skyrocket trajectory.
Oftentimes the companies themselves are 100% legitimate businesses, but their prospects and valuations are simply blown out of proportion by misinformed traders, speculators, and retail investors.
Note: I have no direct evidence of malicious intent, but am operating on clear indications of day traders and retail speculators running wild with this firm without understanding any of the core facts. As noted above, in the modern Internet era, there are many cases of "pump-and-dump" type trades, many of which simply occur informally. These are often spurred by obscure macro changes or micro events (such as a restructuring or reverse split), which is often both misunderstood by "innocent" retail investors and also heavily misconstrued by day traders and speculators. EGLE has traded several multiples above any semblance of fair value. As an activist researcher in this sector, I cannot sit idly by and watch retail investors get potentially fleeced. I am NOT personally short EGLE nor do I have any plans to go short before, during, or after this report is published.
Overview
Eagle Bulk (NASDAQ:EGLE) is a dry-bulk pure-play company which narrowly avoided bankruptcy two weeks ago via a last ditch restructuring effort. This restructuring offered the 2L lenders 90% of the pro forma shares, which provided a substantial dilution to non-participating shareholders as shares outstanding rocketed from 38.3M as of 30 March, 2016, to a total of approximately 383M shares today.
Although it was certainly a "victory" that EGLE avoided bankruptcy, the terms of the deal were borderline atrocious to common shareholders, and the stock subsequently plummeted from $0.75/sh to $0.36/sh. Beginning on April 6, a mixture of day traders and sketchy "pumpers" have hijacked the stock, and have recently driven the price as high as $1.00/sh. As of publication, the stock price sits at $0.93.
At $0.80/sh, EGLE sports a market capitalization of over $350M, which is the highest price for EGLE since Mid-August of 2015. The chart below shows the relative movement in market cap with EGLE flat while a basket of other companies is down an average of 71%. The closest comparable to EGLE in terms of age of fleet and balance sheet prospects is Genco Shipping (NYSE:GNK), which is down 91.4% during this time.
Other feasible comps included below are Star Bulk Carriers (NASDAQ:SBLK), Scorpio Bulkers (NYSE:SALT), Diana Shipping (NYSE:DSX), Golden Ocean (NASDAQ:GOGL), and Navios Maritime Holdings (NYSE:NM).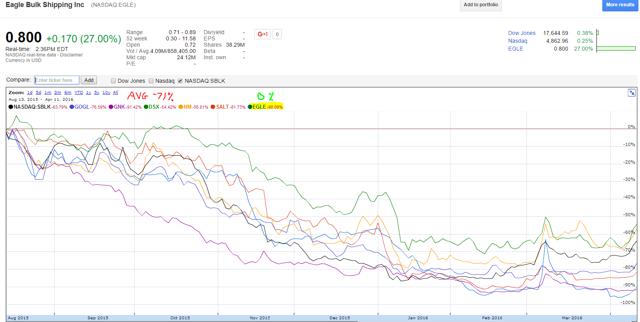 I believe EGLE is only up as a result of misguided retail buying, spurred on by Internet pumps and day traders. Shorting shares under $1/sh is extremely risky, and many brokers don't allow it, but in this case, EGLE is a prime short. I hope this report can potentially save EGLE investors a lot of money before this situation gets really ugly.
Based on current net asset values and market prospects and sanity checked against peer multiples/performance, I believe EGLE is worth a maximum of $0.20/sh, representing immediate downside of 80% from the current price of $0.93/sh.
The Restructure Itself
Eagle Bulk had been floating around in near-bankruptcy limbo since early 2016 after violating several covenants. Restructure dates were pushed back several times until EGLE finally announced a resolution on 30 March, 2016. This resolution provided for $105M in "incremental liquidity," which primarily consists of a new $60M 2L (second-lien secured debt) facility.
In the immediate press release, and also in related SEC filings, the terms were described as a $14M decrease in 1L liquidity covenants, $31M of deferred amortization through 2018, and full access to the preexisting $50M revolver (which had been previously suspended due to covenant violation).
The interest on the 2L debt is enormous (LIBOR+14% - equivalent to roughly 15% today), but it is paid-in-kind through maturity, which will further enhance liquidity. The loan matures on 14 January, 2020, at which point the $60M debt will be worth a minimum of $105M (15% for four years based on 1% LIBOR floor), and potentially could reach as high as $115M (4% blended LIBOR through 2020).
The relevant terms are shown below, with key catalysts highlighted in red:

Here's the kicker - and why EGLE is a fantastic short at $0.80/sh or higher: those new 90% of shares haven't been issued yet. These day traders are playing around with only 10% of the company, but unfortunately many retail investors don't realize this. In May 2016, the company will dump 9x more shares onto the market, likely in conjunction with a 5-1 or 10-1 reverse split.
This agreement requires shareholder approval, but EGLE has already achieved 75% approval for the equity issuance, so the May "meeting" is a pure formality. If the agreement isn't ratified for some magical reason, then EGLE goes bankrupt and the shares go to $0.

For more information on this loan, please consider reading the excellent TradeWinds article, published on 7 April.
The Pumping… Dumping Soon?
Note: This section is all circumstantial. Although the day trading activity is obviously peaking and EGLE's volumes are off the charters, I don't have direct evidence of an actual "pump and dump" campaign. I am simply relaying what I have been observing in the markets and sharing my opinion.
Over the past week, EGLE has been completely hijacked by a network of day traders and speculators. The Twitter feeds, StockTwits posts, and of course the infamous Yahoo Message Boards are exploding with speculation, misinformation, and other absurdities.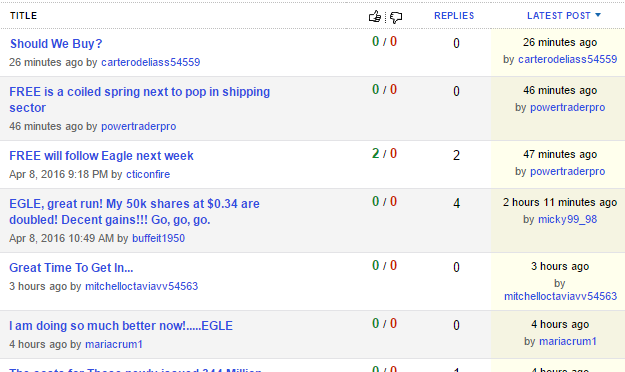 Interesting enough, just prior to the mega run on April 6, "PennyStocksWeekly" ("PSW") reportedly put out a "report" on EGLE. I've tracked dozens of exploding microcaps and PSW among a few other players are usually either directly or indirectly referenced.

Here's a sampling of PSW promotions, taken from its website. Does it seem like credible research?

Seen enough? You can sign up over here, it won't spam and it doesn't "pump and dump."
Value of the Firm
There are two primary methods to value a shipping firm, either via net-asset-value ("NAV"), which is essentially a real-time book value or by cash flow potential. When a sector is losing money, the normalized cash flow valuation can be very difficult to quantify, so a NAV approach is often how lenders tackle this issue.
To determine NAV, investors must have access to the latest fleet valuation data. Shipping firms often carry the vessel assets on their balance sheet based on the purchase price, which can lead to extremely inaccurate "book values."
According to EGLE's 2015 annual report (10-K), the fleet is valued at over $730M. However, live brokerage-backed values share a tremendously different view of the market.

Fleet Makeup & Valuation
Eagle Bulk owns a fleet of 44 semi-modern dry bulk vessels, with nearly 100% exposure to the Supramax sector. Although EGLE only owns one vessel older than 15 years, it also doesn't own any vessels newer than five years. Based on the most recent valuation report by VesselsValue.com, the current fleet is worth $285M. That means the pro forma market capitalization is higher than the entire value of the fleet, and that's before including debt and cash flow losses.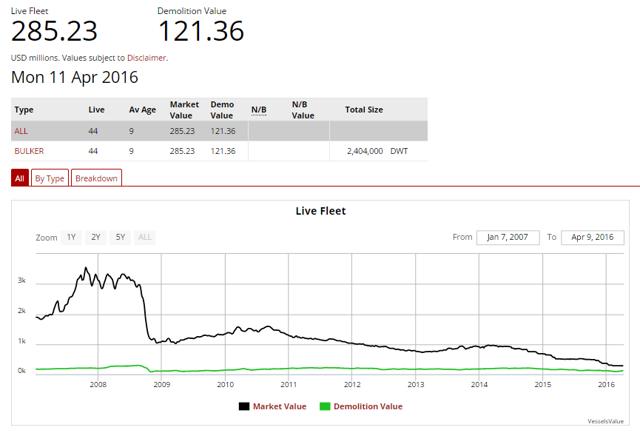 The actual live valuation of the EGLE fleet is currently $285M. This compares to a balance sheet carrying value of $734M as of 31 December, 2015. The shortfall is $449M or over 60%. Most retail investors do not understand the difference between "book value" and NAV and therefore ascribe inaccurate valuations to the shares.
Balance Sheet
Based on the latest annual report, and as partially shown above, as of 31 December, 2015, EGLE had a net debt of approximately $227M. It had current assets of $41M versus $38M in current liabilities.
Following the restructuring efforts, EGLE still has the same net debt ($60M of cash from 2L offset by immediate $60M in debt liability); however, its liquidity is now greatly enhanced. This liquidity fix almost guarantees that EGLE can survive through 2018.

The important caveat is that the $226M in primary debt hasn't gone away. Additionally, the $60M in 2L debt accrues interest "in-kind" at a minimum of 15% per year. By early 2019, this 2L debt load will be a minimum of $90M, plus the $226M in preexisting 1L debt or $326M overall.
Additionally, EGLE is poised to burn cash in this environment. During 2015, which thus far was stronger than 2016 (based on Q1-16 vs. Q1-15), EGLE burnt $44M in operating cash flow. I believe a $50M cash burn is feasible for FY16.
All of this needs to be adjusted directly against EGLE's fleet valuation to reach a current NAV value.
With $227M net debt outstanding as of Q4-15, plus a $13M cash burn for Q1-16, EGLE has $240M of estimated net debt as of 31 March, 2016. With a live fleet valuation of $285M, this leaves a NAV of $45M. With 383M pro forma shares outstanding, the current NAV/sh is just $0.12.
By the end of 2016, the NAV valuation could be very close to $0, compounded by both operating cash burn and also by the rapid escalation of the 2L facility.
In the wildest recovery scenario imaginable, the EGLE fleet could be worth up to $800M by early 2019. Adjusted for the escalation of the 2L facility and continued cash burn, this results in a rough three-year maximum NAV potential of $1.15. Discounted at 15% per year, which is extremely generous considering even the 2L notes are getting a 15% rate, this results in a present value of $0.71/sh.
Even with extreme bullish projections, EGLE's shares are worth a max of $0.71/sh. With baseline valuations, EGLE is worth $0.10-0.20 per share, and with the bearish outcome, EGLE is worth close to $0.
Conclusion - "Price Target"
Based on net asset values offset against cash burn potential, I believe a maximum "baseline fair value" for EGLE is $0.20 per share, representing downside potential of nearly 80% from the current share price. I am not personally short this name, but I believe it's a very attractive proposition.
The downside range is likely around $0.10/sh and the maximum fair value upside equates to a PV of $0.71/sh, still more than 20% of downside.
The Catalyst/s (EGLE is dead in the water by May 2016)
If day traders continue to run wild with EGLE, the party will be officially over in May, when EGLE issues 9x more shares to participating holders and also sets up a reverse split. The equity issuance has already been agreed upon by 75% of holders, so this is a "done deal." The exact specifics of the reverse split remain to be determined.
Additionally, the Q1-16 balance sheet and cash flow data should be released by the end of May. This updated financial statement will shed additional light on just how poor the business situation actually is.
Pair Trade Idea
With EGLE at a $350M market capitalization, and SALT at closer to $200M, this represents a fantastic pair trade idea. Scorpio Bulkers has a larger, ultramodern fleet, and is positioned in virtually the same asset class category.
Scorpio Bulkers has a far better balance sheet following a $63M equity raise and is likely to have better cash flow breakeven levels considering its ecomod fleet.
Despite being positioned far more advantageously, SALT equity trades at a discount to NAV while EGLE trades at early an 8x premium. The price disparity is nothing short of absurdity and represents an enormous pair trade opportunity.
Note: This report is compiled by Mintzmyer Investments LLC and reflects only the opinions of J Mintzmyer as of 11 April, 2016. All investors should conduct their own due diligence and should not use any elements of this report as a basis for an investment decision. J Mintzmyer is not a registered investment adviser.
Disclosure: I am/we are long SALT, NM.
I wrote this article myself, and it expresses my own opinions. I am not receiving compensation for it (other than from Seeking Alpha). I have no business relationship with any company whose stock is mentioned in this article.
Additional disclosure: I am long SALT via common equity and SLTB notes. I am long NM via NM-H.
Editor's Note: This article covers one or more stocks trading at less than $1 per share and/or with less than a $100 million market cap. Please be aware of the risks associated with these stocks.