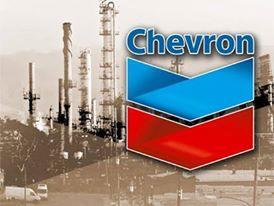 Chevron Corporation (NYSE:CVX) has been posting major gains, ever since oil prices have begun to recover from their decade lows. The company's share price has soared by nearly 17% in the last three months alone. At present, CVX is trading around $96 a share, approaching its highest level in the past five months. Traders are now questioning whether CVX stock is presenting a selling opportunity after the recent rally, or whether holding this stock could result in further price appreciation.
In my view, Chevron is not presenting a selling opportunity for long-term investors. Short-term value investors will earn profits by selling this stock after the recent rally, but I suggest they hold firm with CVX, as this stock is likely to extend its rally even further.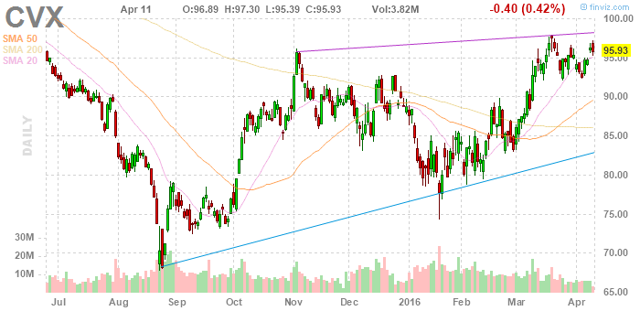 The company's stock price is still trading well below its 52-week high of $112 a share. Recently, Barclays upgraded Chevron's price from $89 to $97 a share, believing this company presents a safe stock on which to ride the rally in oil prices. With the company's business model directly dependent on oil and gas prices, investors should be in for quite a ride.
Oil prices soared by nearly 8% in the last week and are now approaching a 50% gain from their decade-lows in the beginning of this year. Declining U.S production, plans to freeze output levels, and increasing demand should only extend the rally. Oil producers are planning to meet in Doha on April 17 to discuss freezing production levels. Even though Iran has backed out, 13 additional producers are still considering a hold at January levels in order to help stabilize prices.
The Russian Energy Ministry recently confirmed that oil prices in the range of $45-$50 per barrel will be good enough for them to freeze their production levels. Other producers including Venezuela, Saudi Arabia and the Gulf nations are lobbying to stabilize oil at around $50 a barrel for the short-term. In the last week, U.S. oil inventories declined by 4.9 million barrels. The oil-rig count has been declining for the past three consecutive weeks and now stands at its lowest level since November 6, 2009.
Chevron is poised to capitalize on any rally in oil prices. The company's stock price has been soaring for the last three months, even as the company's management has been working to lower its breakeven point. While its cost of production has been pared to the bone and capital investments have been greatly reduced, the company is not compromising on its production volumes. In the past year, it generated production growth of 2% and is expecting to expend further this year. Major capital projects, such as Jack/St. Malo, Tubular Bells and Bibiyana, are continuing to ramp up.
Its strong cash generating potential makes its dividends completely safe. In the past year alone, aggressive and smart management has allowed it to save nearly $9B in expenses and capital investments. In addition, CVX disposed of nearly $6B of assets in the past fiscal year, bringing its two-year total to more than $11 billion, with expectations of increasing its cash further in 2016.
In Conclusion
Oil prices are likely to recover in the coming few months, thanks to falling supplies and increasing demand. According to Bernstein Analysts, global demand for oil is likely to increase at a mean annual rate of 1.4% in the next four years, up from 1.1% yearly growth in the last decade. With the growth in oil prices, we can expect a sharp surge in Chevron's share price. The company's financial performance and cash generation will continue to improve, thanks to continued cost cutting combined with improving oil prices. Thus, selling this stock ahead of the next oil rally is a poor strategy.
Disclosure: I/we have no positions in any stocks mentioned, and no plans to initiate any positions within the next 72 hours.
I wrote this article myself, and it expresses my own opinions. I am not receiving compensation for it (other than from Seeking Alpha). I have no business relationship with any company whose stock is mentioned in this article.