This article was written by Lindsey Yonish and Bernardo Teixeira from the NU Student Value Fund.
Recently Bernardo and I published an article on how Wells Fargo's industry-leading acquisition strategy will likely pave its road ahead. After going over some of the feedback received in that article, we realized that an even more fundamental question than deciding which banks are likely to grow in the future is to determine the features a bank must have in order to flourish in today's regulatory environment. To answer this question, it is necessary to look at the scope of financial regulations and what these regulations require banks to do. Arguably the two most central pieces of legislation that have had an impact on banks as of late are Dodd-Frank and the Basel III framework. Although they are independent of each other, Dodd-Frank and Basel III approach bank regulation in the same way by mandating prudence within the financial industry. More so than ever, banks are now subject to regulations that seek to limit speculative risk-taking and capital adequacy so that systemic bank failures can be prevented. In this article we will briefly summarize some of the most important pieces of regulation in the financial industry, analyze their impact, and finally demonstrate why banks with high quality, stability and simplicity are likely to outperform in this industry.
The current bank regulation environment
Now that the new paradigm of regulations has been established, banks must not only maintain substantial capital cushions to weather runs, but also preserve a more strict composition of capital. Going forward, banks need to have higher-quality capital on hand; this capital is referred to as Tier 1 common equity and is measured by the CET1 ratio. This type of capital is perceived as having more quality than Tier 2 capital because it is inherently more liquid. In simple terms, T2 is mostly comprised of claimed capital, or that which is owed to creditors in the case of insolvency. Another component of regulation is limiting banks' exposures to risky assets. One such measure is the counterparty credit risk surcharge, which imposes a charge on banks if borrowers' credit ratings decline. Of course, all of these measures are intended to increase banks' protection against risk, with the idea that less idiosyncratic risk can collectively prevent systemic failures. The Financial Stability Oversight Council (FSOC), which is comprised of various officials from the Fed, SEC, etc., was created to identify risks to the U.S. financial system and act as they see fit. If a bank is perceived by the council to be "too big to fail" (frequently referred to as just TBTF), it will be required to increase its reserve capital (recall CET1 from above).
Then there is the Federal Deposit Insurance Corp. (FDIC), which now requires banks to provide hypothetical insolvency plans. The information gleaned from these plans is then used by the FDIC in mandating reserve requirements. Passing muster with the FDIC is becoming increasingly difficult: Out of twelve banks under review during the 2015 screening period, only Wells Fargo managed to have its plan accepted. It is largely believed that the regulators were swayed by the relative simplicity of Wells' operations - it does most of its business in the U.S., it has industry-leading performance when it comes to loan loss provisioning and net charge-offs, and its broker-dealer division is relatively small. Building off of this point, a contained broker-dealer business is favored by regulators because of the Volcker Rule, which basically prohibits banks from making speculative investments.
Finally, although carried by independent institutions, interest rates have also moved in tandem with regulations in stymieing banks. Low interest rates tend to damage banks as it can potentially lower their net interest margins. Whether you think rates deserve to be increased or not, there is no question that banks have been negatively impacted by the Feds current interest rate policy. Below, we can see that following the crisis, banks' net interest margins have been crippled since the 09'-10':

Going forward in this "new normal" regulatory environment, flexible interest rate policy should be considered the rule, not the exception. What can banks do to stay afloat until the Fed takes action? Well, it appears that regulations and interest rates are really just two cogs in a self-fulfilling prophecy: lower interest rates, via the discounting mechanism, increase the value of mark-to-market assets on banks' balance sheets. This implies that banks should increase the amount of liquid assets on their balance sheets in order to offset the negative impact of lower NIMs. If anything, this just solidifies the idea that CET1 is the key to decoding banks going forward.
Effects of regulations on bank stocks
In our view, regulations have had the effect of completely changing the way that investors should perceive value. Rather than focusing on "cherry picking" the bank that has the seemingly highest valuation upside potential, investors that stick with high quality and stable names are likely to outperform. In essence, quality and stability are the new value plays when it comes to the banking industry. The best way to measure the perceived long-term safety of a bank is to look at the credit markets, more specifically, the bank's current 5yr CDS price. Different from other financial ratios used to measure the liquidity and stability of a bank, CDS is significantly more standardized, as it is not distorted by bank's operational structure. In the graph below we have plotted credit default swaps of the major U.S. banks vs. their respective leverage and CET1 ratio. Notice that CDS price increases as spread between leverage and CET1 ratio widens, indicating that investors are wary of the impact that regulations will have going forward.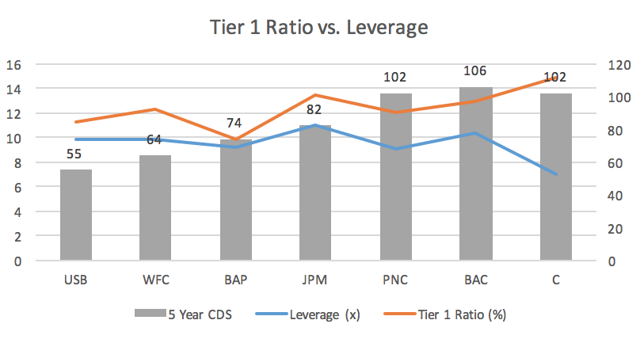 Another good way to measure the potential stability of a bank is to analyze its corporate governance. In our view a bank with good corporate governance is one that uses return on capital metrics to measure corporate incentives (ROE or ROA) and has long term operating goals based on these metrics.
At a time when the market remains uncertain for such a large number of stocks, it is becoming less likely that any one of these stocks will greatly outperform relative to its similarly-priced cohort. Instead, consider the thought that the outliers in this space - Wells Fargo (NYSE:WFC), U.S. Bancorp (NYSE:USB), Canadian Imperial (NYSE:CM) - are being singled out by the market as best-of-class.
Characteristics of investment-worthy bank stocks going forward
With this being said, we would like to share with you a simple method for scoring bank stocks in today's post-regulation era. It involves picking those bank stocks that have both high stability and high returns, as indicated by the following:
Low credit default swap prices (as explained above)
High ROE
ROE nicely complements our hallmark CDS indicator because it tells us if the bank is actually generating returns on its equity.
In addition to high CDS and high ROE, there are two secondary components that, while beneficial, are not exactly crucial in picking a quality bank stock. These two metrics are as follows:
Low dividends relative to earnings
Mainly, our reasoning for favoring low dividends relative to earnings stems from the equation used to calculate the CET1 ratio: CET1 ratio = CET1 capital / Risk-weighted assets.
One way to increase this ratio is to increase CET1 capital which, you guessed it, includes retained earnings. If more of the bank's earnings are being plowed back into operations and investments (e.g., acquisitions) as opposed to paying dividends, not only does the bank satisfy its CET1 requirement, but it is good for generating returns, too. For our screening process, we used a modified version of the payout ratio - dividends to EBITDA - in order to adjust for discrepancies in universe net income.
High asset efficiency
It it is becoming harder for banks to manage costs of their regular operations while trying to fulfill higher capital requirements. This is an especially pertinent problem for bigger, more complex banks, such as those with investment banking and securities trading divisions. In fact, it is likely that these banks are priced very cheaply, given that the sum of their parts is greater than the whole; in this case, asset divestiture is a good option. However, we think that banks with good ROA are managing operations efficiently enough in order to generate substantial returns on their asset base.
Our Findings
Using the characteristics listed above, we put together a weighted scorecard that screened for the bank stocks that best fulfilled our requirements. We consider banks that scored 50% or higher (shown in the table below) to be picks strongly consistent with our thesis.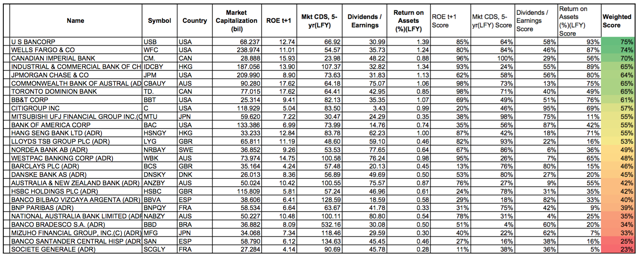 Conclusion
Based on our quality-driven scorecard, we believe that the best financial plays in the market today are USB, WFC and CM. It is no surprise that WFC scores so high: as of late, we have been very bullish on the stock and its future prospects. While in the past WFC was underestimated by investors due to its lack of skin in the IB game, it now deserves to be extolled for the very same reason. Indeed, the same can be said for USB and CM. Overall, the bank sector has received much disdain by investors recently, but if you play your cards right, there are some hidden gems.
Disclosure: I/we have no positions in any stocks mentioned, and no plans to initiate any positions within the next 72 hours.
I wrote this article myself, and it expresses my own opinions. I am not receiving compensation for it (other than from Seeking Alpha). I have no business relationship with any company whose stock is mentioned in this article.