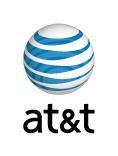 AT&T (NYSE:T) has been the subject of much discussion here on Seeking Alpha. The stock has rallied significantly, trading out of the tight range which it has been in since 2013. As a result, some are now wondering if this is a Sell Signal. The author put a sell rating on the AT&T's stock for largely valuation reasons, suggesting that it was trading at "nosebleed levels" and was priced to perfection.
I wrote a rebuttal to that piece last week where I argued that selling AT&T to lock in short-term profits was shortsighted at best as the stock has plenty of growth catalysts coming online, and soon. In addition, I argued that AT&T was worth holding for a long-term investors, which includes myself.
Though, now the same author has written another article on the topic (see AT&T: No One Can See The Future, . Setting aside for a moment that this article has more of a "hold and don't buy" AT&T message rather than an outright sell rating, it is still unconvincing.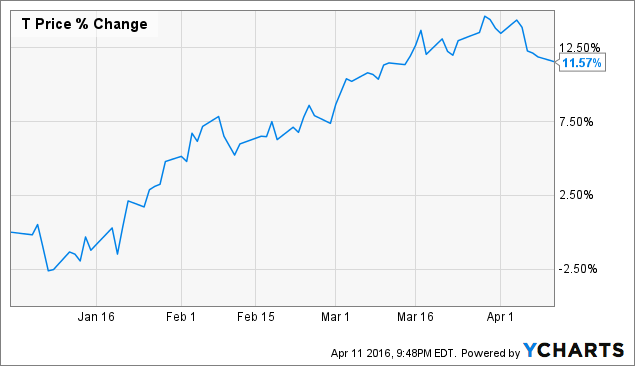 Is AT&T overvalued?
The author of the other piece once again hammers home the point that AT&T is overvalued "on a historic and relative basis." I do not agree.
The metrics cited were the TTM P/E ratio and the price to TTM cash flow ratio. The main comparison is Verizon (NYSE:VZ). On this front, AT&T trails Verizon, trading at a 17x PE ratio and 6.6x cash flow, versus 12x PE and 5.5x cash flow, respectively.
Though, as investors we need to look forward, not backwards. Consensus analyst estimates for AT&T's 2016 EPS are at $2.84, implying a 13.5x PE ratio at current prices. For Verizion, its 2016 EPS estimates is $3.98, implying a 13.0x PE ratio.
As for cash flow, depending on what metric you use, either AT&T is more expensive or Verizon is.
Price to cash flow is 6.0x for AT&T and 5.4x for Verizon. So a point for Verizon. As for price to free cash flow, my go-to metric, AT&T trades at 13.7x versus 18.8x for Verizon. So a point for AT&T.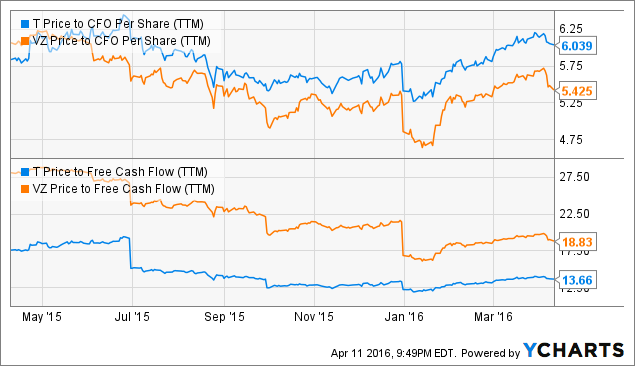 T Price to CFO Per Share (NYSE:TTM) data by YCharts
This suggests that both AT&T and Verizon are trading very close to each in terms of both cash flow and forward earnings -- as it should be given that both companies are extremely similar.
As to if AT&T is overvalued, this depends for each individual investor. Though, in my opinion, AT&T is close to fairly valued.
Using the 13.7x price to free cash flow metric, AT&T is inline with its 10-year average.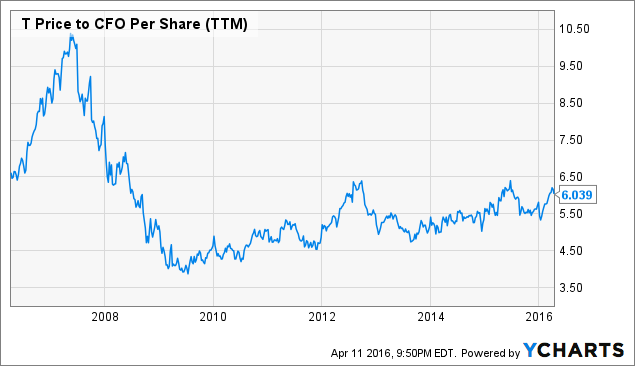 T Price to CFO Per Share (TTM) data by YCharts
Likewise, the 6.0x price to cash flow multiple is actually below where it was it 2013.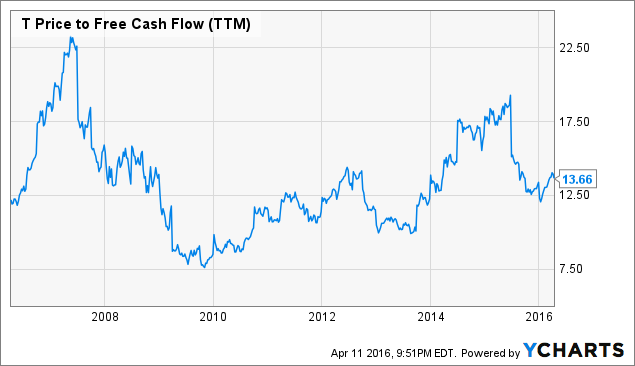 T Price to Free Cash Flow (TTM) data by YCharts
As for the PE ratio, this 13.5x multiple is inline to the long-term trend.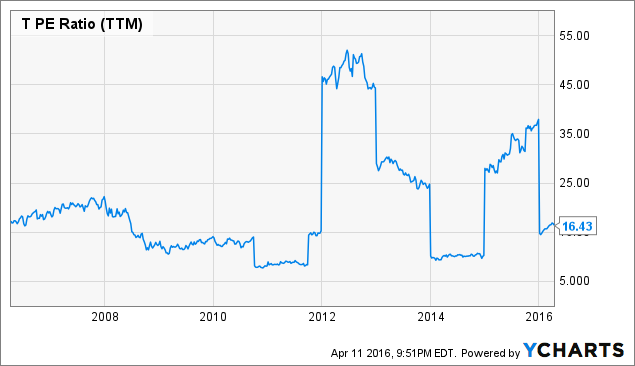 T PE Ratio (TTM) data by YCharts
Even the dividend yield at 5% is inline with the long-term trend.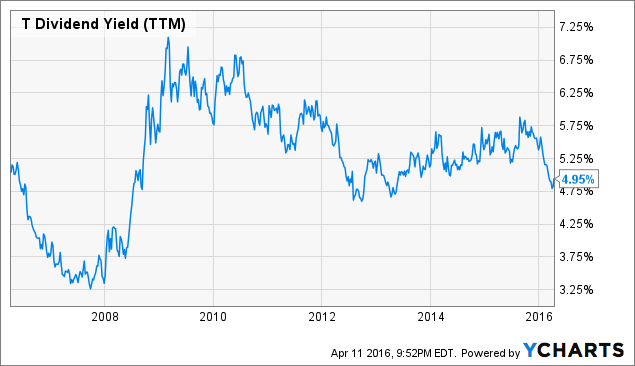 T Dividend Yield (TTM) data by YCharts
Why has AT&T rallied?
I think we can all agree that AT&T's rally was in part sparked by a flight to safety on the part of income investors. Due to the robust 5% dividend yield, AT&T's share price is often inversely related to interest rates. As rates fell earlier in the year, AT&T rallied.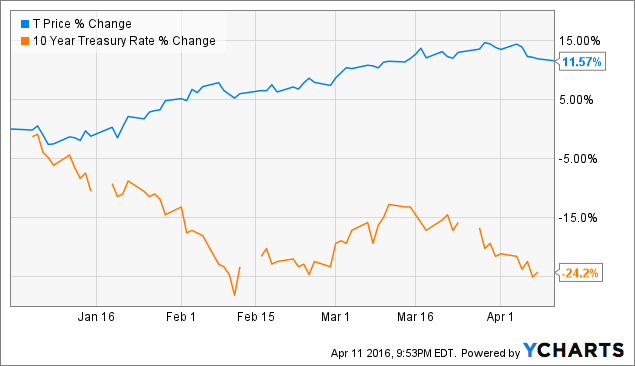 Though, this does not explain the rally completely. AT&T has also benefited from improving fundamentals. Free cash flow grew 30% in 2015 and is slated to grow another 12% in 2016 due to the DTV merger. Remember that the 2015 numbers had only two full quarters of this asset in the fold. In addition, the core wireless business has seen margins explode higher thanks to the end of device subsidies.
Conclusion
AT&T has never been a momentum name and will likely never be one. The 12% rally YTD is a welcome surprise, but hardly a cause for selling. While some investors focus on short term price action, stocks are ultimately valued based on their fundamentals.
On this front, AT&T is inline with its long term average multiples. If anything, the recent rally has moved AT&T from clearly undervalued to fairly valued.
Disclaimer: The opinions in this article are for informational purposes only and should not be construed as a recommendation to buy or sell the stocks mentioned. Please do your own due diligence before making any investment decision.
Disclosure: I am/we are long T.
I wrote this article myself, and it expresses my own opinions. I am not receiving compensation for it (other than from Seeking Alpha). I have no business relationship with any company whose stock is mentioned in this article.