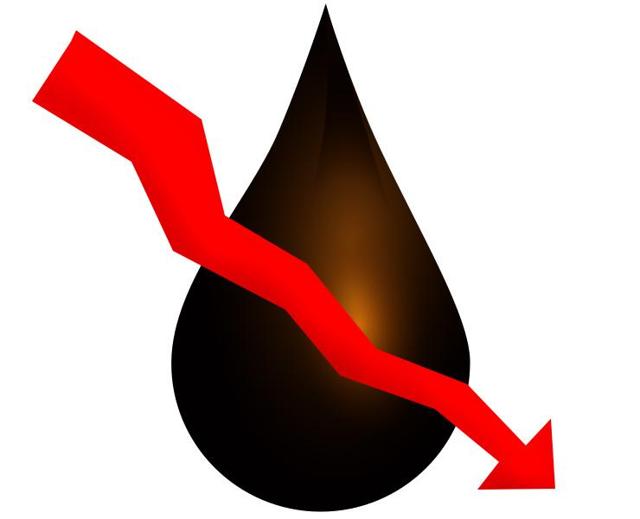 source: Stock Photo
As the meeting between OPEC and non-OPEC oil producers in DOHA approaches, it'll be increasingly risky for those shorting oil using ETFs and ETNs, as the market is pricing in a production deal, even though it's increasingly clear it'll have little if any impact on supply and demand, if an agreement is reached.
Since the fundamentals are being ignored, this is largely a emotion-driven move which will weaken after the hoopla surrounding the meeting is over; that will happen on Monday morning.
If a deal is reached, even without important players like Iran and Libya participating, it'll probably drive up the price of oil early in the week, but quickly reverse direction once the market focuses on reports about it having little short-term impact because of it locking in high production levels.
Assuming a deal isn't reached, the price of oil will pull back sharply, but will probably not do so in a devastating manner for the same reason it won't sustainably soar if a deal is reached. In other words, it really isn't that important even though it's being hyped as some type of breakthrough.
In this article I'm focusing on the risk associated with those shorting oil using an ETF or ETN as their chosen strategy. It appears the market simply won't listen to the lack of significance of DOHA until after the meeting is over and the results and analysis in.
The difficulty in being too dogmatic is it's uncertain when the market will determine the time to take some profits based upon whether or not it feels most of DOHA has been priced in. Once it happens - whether there's an agreement or not - there will be increased volatility and some downward pressure. It could easily happen before DOHA as uncertainty takes hold of investors.
DOHA
I've never considered DOHA having any importance whatsoever outside of an excuse to push up the price of oil and take advantage of that predictable price movement. The closer we get to DOHA the more risk there is on both sides of the trade on a short-term basis because of the timing factor already mentioned concerning taking profits.
Any DOHA deal will be interpreted afterwards as not that important, even if it produces a temporary response from the market that is unwarranted. A deal could drive oil up to as much as $45 per barrel in my view, although it could never stay at that level.
What I expect from DOHA is for the participants to kick the can down the road once again in order to keep the market uncertain as to whether or not there will ever be a freeze. This produces caution and some paralysis among investors. I believe this is the real game being played here, as the overall goal is to try to keep the price of oil supported as much as possible while the market rebalances itself. It's a stop-gap measure to keep the price of oil from plummeting even further and wreaking more damage on the economies of those heavily reliant on oil revenue for their domestic budgets.
There are two things that are important to analyze the value of this meeting. First, many of these producers are at very high levels already. To lock that in is to do nothing more than ensure oversupply until demand catches up. How is that a positive in the near term?
Some dishonest or clueless financial writers have even went so far as to say it could lead to a production cut. There has never been a chance of that happening. It has never been on the table and won't be in the future either.
Second, Iran and Libya have already stated they won't agree to any production freeze. This is more important coming from Iran, because if it doesn't agree to maintain existing production levels, how can anything signed be called a freeze?
In the case of Libya it's important too, as it's civil strife has resulted in production plunging to about 400,000 barrels per day. As it secures its oil, it has the goal of bringing output back to prior levels of about 1.2 million barrels per day. Iran is more important for now, but Libya, further out, will be a negative catalyst if it's able to triple its current production.
As I said though, for now the market has been ignoring these realities, but that may be changing as speculators in oil appear to be getting more bearish.
InterContinentalExchange data on net long oil positions
It looks like the game is quickly changing for those going long oil, as last week data from the InterContinentalExchange (NYSE:ICE) revealed traders with net long positions in Brent slashed them to 355,000 as of April 5.
The data is very clear, and it's obvious to me there is growing belief the oil rally is reaching a ceiling based upon it being based primarily on momentum and not fundamentals; there is simply nothing out there outside of the DOHA meeting to justify the rally, which is why in my opinion, those long oil are increasingly cutting their exposure.
Interestingly, as DOHA approaches, the risk on either side of the trade is increasing, making it difficult to justify maintaining short-term positions until DOHA is over. I believe the short trade over the next few days is more at risk, although as the week goes on that will probably even out.
Shorting oil using DDG, DNO, DUG, SCO, DTO and SZO
ETFs and ETNs have become a favorite way for many investors to short the oil and gas market, with DDG, DNO, DUG, SCO, DTO and SZO being the primary means of doing so. But these are not all the same in exposure and probable effect, and that is reflected in the response of each of them to the changing price of oil.
Some of them are less volatile because they're exposed to oil and gas, while others attempting to be more aggressive with inverse strategies, are extremely volatile and high risk, although the rewards in the short term can be much higher as well. These types shouldn't be held more than a day in most cases, and usually they are held for much shorter durations.
We'll quickly look at Short Oil & Gas ProShares ETF (NYSEARCA:DDG), US Short Oil Fund (NYSEARCA:DNO), UltraShort Oil & Gas ProShares ETF (NYSEARCA:DUG), UltraShort DJ-UBS Crude Oil ProShares ETF (NYSEARCA:SCO), PowerShares DB Crude Oil Double Short ETN (NYSEARCA:DTO) and PowerShares DB Crude Oil Short ETN (NYSEARCA:SZO).
As we go through these, don't assume any of these should be considered safe. What I'm doing is showing that some are simply less risky than others if traders want to try to get some quick gains. For these week all of them are at an increased risk because it's an unknown as to how the market will respond leading up to DOHA.
Short Oil & Gas ProShares ETF and UltraShort Oil & Gas ProShares ETF
With in mind, let's look at Short Oil & Gas ProShares ETF and UltraShort Oil & Gas ProShares ETF. The former is less risky than the latter because UltraShort Oil & Gas is a leverage fund seeking twice the daily performance of the Dow Jones U.S. Oil & Gas Index. Short Oil & Gas ProShares seeks 1X the daily performance of the Dow Jones U.S. Oil & GasSM Index. They both has exposure to oil and gas, while DDG also has some exposure to companies building renewable energy equipment and some producing alternative fuels.
No matter what the type of investment, the more there is an attempt to increase gains based upon volatility, the higher the risk.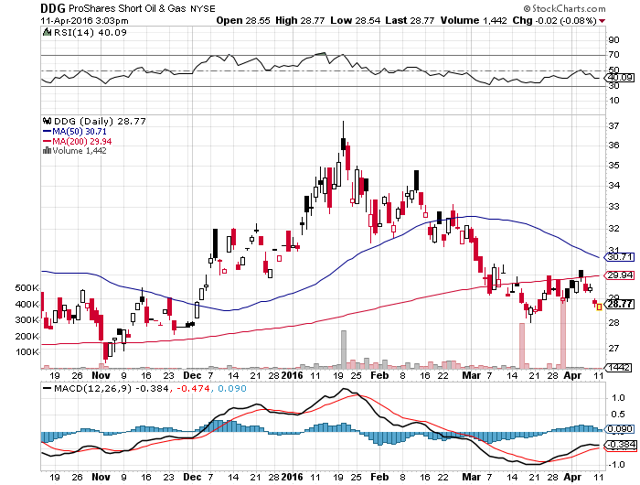 source: StockCharts.com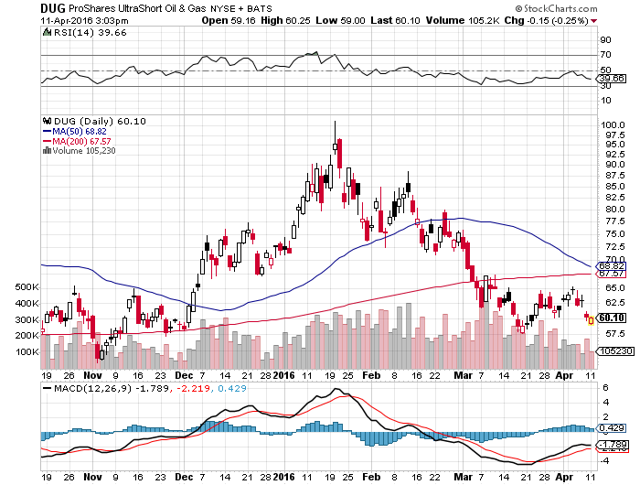 source: StockCharts.com
US Short Oil Fund
The goal of the US Short Oil Fund is to inversely track the performance of the spot price of West Texas Intermediate light oil. If that price drops in price DNO will increase in value. That's just another way of saying whatever direction the US Short Oil Fund goes, DNO will go in the opposite direction.
It invests in short positions primarily targeting WTI light, but also targets other types of crude oil, gasoline, natural gas, and crude byproducts.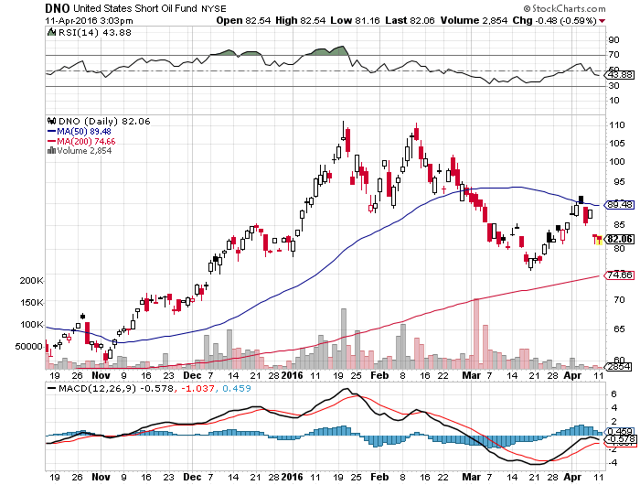 source: StockCharts.com
UltraShort DJ-UBS Crude Oil ProShares ETF
UltraShort DJ-UBS tracks the performance of the Bloomberg WTI Crude Oil Subindex, with the goal of generating twice the inverse of the daily performance of the index. The purpose is to achieve this objective within a one-day period.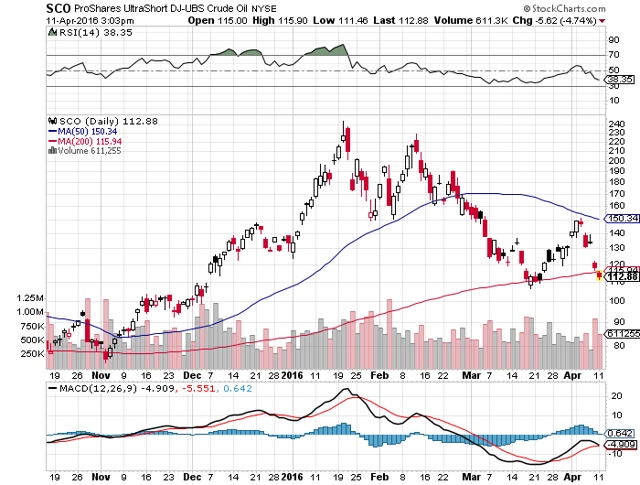 source: StockCharts.com
PowerShares DB Crude Oil Double Short ETN
PowerShares DB Crude Oil Double Short ETN tracks the performance of Deutsche Bank Liquid Commodity index - Optimum Yield Oil Excess Return. The leveraged funds seeks to inversely double the daily return of the Deutsche Bank Liquid Commodity index.
It targets future contracts with exposure to light sweet crude oil.
source: StockCharts.com
PowerShares DB Crude Oil Short ETN
Another ETN is PowerShares DB Crude Oil Short ETN, which tracks the daily performance of Deutsche Bank Liquid Commodity index - Optimum Yield Oil Excess Return. It includes futures contracts targeting WTI light sweet crude.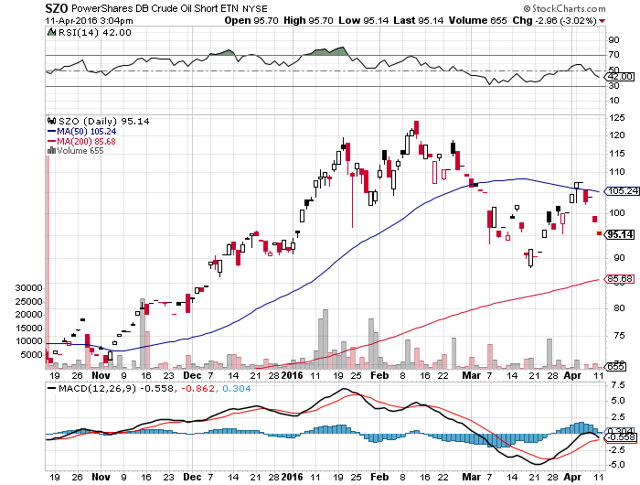 source: StockCharts.com
Conclusion
Even though the oil market should continue to be volatile this week, the short-term trend should be for the market to push up the price of oil as the meeting at DOHA approaches.
The challenge is in regard to the timing of investors taking profits and prematurely pushing down the price of oil. That makes it hard to determine when or if to take a position in these types of investments.
I think the market will continue to support oil, albeit moderately. That's because a lot of the potential impact of DOHA has already been priced in, and there isn't a lot of momentum left to drive the price of oil much higher. It will probably go higher some, but slow down some. It's possible it will jump on Friday as investors jump into the play, but it will probably pull back before the market closes because of uncertainty surrounding the outcome of the meeting. Traders don't want to be caught with a position on the weekend and wake up surprised on Monday morning. Keep in mind I'm talking about those shorting oil, but also those that believe an agreement will support oil.
My thought is shorts could get crunched in the early part of the week, but later on, if there are some profits to be taken, it will happen quickly and it could result in the price of oil falling in the latter part of the week. Some of this will depend upon whether or not some participant in the negotiations makes a public comment that could disrupt the process. That has been happening recently.
With so many conflicting opinions and assertions, there is no way to know whether or not anything will come out of DOHA. I think shorts will get hammered earlier, and assuming profits are taken, that could reverse later in the week.
I know it's tempting to make a contrarian move at this time, but that would probably be more productive and potentially rewarding the nearer to the end of the week we get.
Disclosure: I/we have no positions in any stocks mentioned, and no plans to initiate any positions within the next 72 hours.
I wrote this article myself, and it expresses my own opinions. I am not receiving compensation for it (other than from Seeking Alpha). I have no business relationship with any company whose stock is mentioned in this article.