GoDaddy (NYSE:GDDY) provides cloud oriented products which allow small and midsized businesses to control and improve their online presence. GoDaddy has 13.8 million customers that are small businesses, entrepreneurs, universities, charities and hobbyists and many other individuals. There is a large runway for this business to grow with approximately 60% of small businesses not having a website and the increasing importance of having a dynamic web presence. GoDaddy is projected to grow revenue over 14% over the next two years, but its valuation at 1.9 times projected forward revenue is at a slight premium relative to its peer set, despite being unprofitable. GoDaddy is an attractive business opportunity, which we will outline further, but we urge investors to consider waiting until the valuation looks more attractive and the effects of the follow-on are fully appreciated in the stock price.
GoDaddy provides a comprehensive suite of small business solutions, including marketing and email solutions. GoDaddy has had a core of its revenue within the United States but recently announced its large expansion into the Asian market. We see this as a strong positive given the Asian market is home to one of the most vibrant small business communities within the world. With Internet access and smartphone adoption expanding within the region, it will be increasingly important for businesses to develop strong digital identities to achieve their goals. We also believe the investment to enter new markets will not be terribly large given the existing infrastructure of the GoDaddy platform. Currently only 26% of bookings in 2015 were from international accounts, representing an enormous runway for the company to expand this segment of their business.
GoDaddy recently announced a follow-on offering with a large number of existing shareholders cashing out some of their investment in the business (see capitalization table below). We note however that most investors are still holding a substantial equity stake in the company which is somewhat comforting. However, we feel this offering might place some downward pressure on the stock in the near term. Some of this downward pressure could arise from the shares now being easier to short (Yahoo Finance states roughly 50% of shares were held short prior to the offering). The chart below shows the high short interest in the stock, which will possibly increase now as the cost of shorting declines with a larger float.

GoDaddy Stock Chart CapitalIQ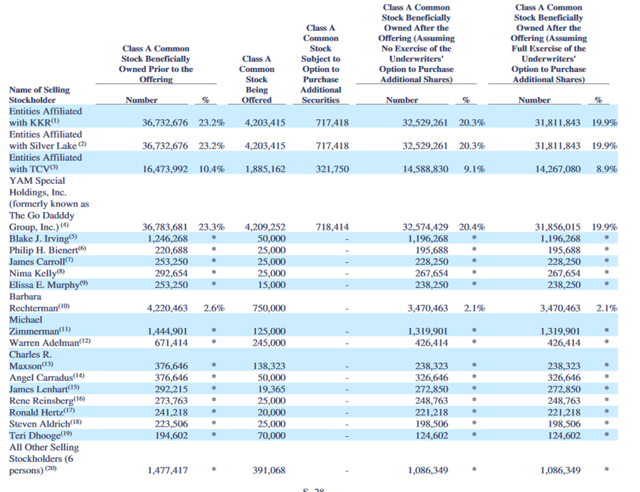 Source: Company Prospectus
In order to value GoDaddy we looked for other domain and hosting providers with a strong presence within the United States. We performed comparable company analysis and found that GoDaddy trades roughly in line with its peers at around two times revenue versus its peer set at 2.4 times revenue. We feel the stock should trade around its current valuation given its lack of profitability versus Web.com (NASDAQ:WEB) and Rackspace (NYSE:RAX), despite having slightly higher top line growth. Thus we would look for a steeper valuation discount to its peer set prior to initiating a long position or the company generating a similar profit profile.

Source: Author Analysis/CapitalIQ
Overall GoDaddy offers investors the ability to invest in the rapid expansion of small businesses and own stock in a company with an 85% customer retention rate. However, given the recent follow-on offering and the in line valuation with the company's peers, we feel investors should wait for a better entry point to purchase shares. This is a great business for investors to keep on their radar in the coming months though, especially on a broader technology sell-off.
Disclosure: I/we have no positions in any stocks mentioned, and no plans to initiate any positions within the next 72 hours.
I wrote this article myself, and it expresses my own opinions. I am not receiving compensation for it (other than from Seeking Alpha). I have no business relationship with any company whose stock is mentioned in this article.