Target (NYSE:TGT) enjoyed a successful fiscal 2015 as it saw healthy traffic throughout the year. Despite the growth in EPS and the top-line, Target's stock hasn't set the world on fire in the last 12 months. Share price is down 4.55%. While in absolute terms, this looks rather depressing, a more encouraging picture emerges if we compare Target's stock performance with that of its industry peers, Wal-Mart (NYSE:WMT) and Sears Holdings Corporation (NASDAQ:SHLD). Both WMT and SHLD have experienced a greater decline in price in the same period.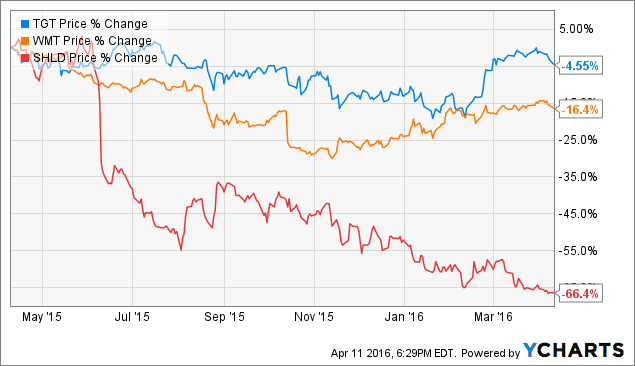 Currently Target is sporting a modest P/E multiple of 15.4X. Not only is this multiple lower than the industry average of 17.2X but also about 9% lower than the company's 5-year average P/E. Thus Target looks cheap on a relative basis. Does that necessarily make Target a good investment at this time? Are there any catalysts that can drive the company's earnings and help it achieve sustainable growth in the long term? I shall try to answer these questions in this article.
Perhaps the simplest, but slightly misleading way to assess a retailer's growth is to look at the number of stores at the end of each year. Target has consistently managed to open new stores in North America in the last decade, despite difficult economic circumstances in certain years. The growth in the retail store count has mellowed in recent years and that doesn't surprise or bother me too much. From this point onwards, Target would be very happy to grow the number of stores by anything close to 0.5% annually. In addition to fulfilling digital orders and increasing sales, Target's stores help the company save on shipping costs.
(Source: Statista)
What really impresses me is that Target has managed to add more stores without actually compromising on average sales per sq. ft. Digital sales growth has certainly played a part, apart from two other factors which I will discuss in the next paragraphs. In Q4 fiscal 2015, Target's digital sales increased by a whopping 34% and it is no coincidence that the company's average sales per sq. ft. rose to $308 in 2015, the highest it has been in the past four years.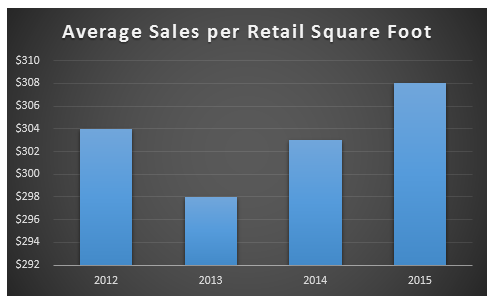 (Source: Target's annual filings)
Since 2013, a year marked by sluggish consumer spending in the U.S., Target has done well to improve the efficiency with which it is generating its revenues. This can be partly attributed to Target's increasing focus on smaller 'customized' stores that offer goods tailored to meet the demands of individual customers. If we compare the composition of Target's stores in 2014 to the composition of its stores in 2015, it is clear that the company is striving to increase the proportion of stores covering less than 50,000 sq. ft. As the charts below show, the number of stores in the 50,000-170,000 sq. ft. and above 170,000 sq. ft. categories actually decreased by 4 and 2, respectively, in FY 2015. On the other hand, Target added 8 new small (less than 50,000 sq. ft.) stores. This is a trend that is likely to continue in coming years and should further help Target expand its average sales per sq. ft.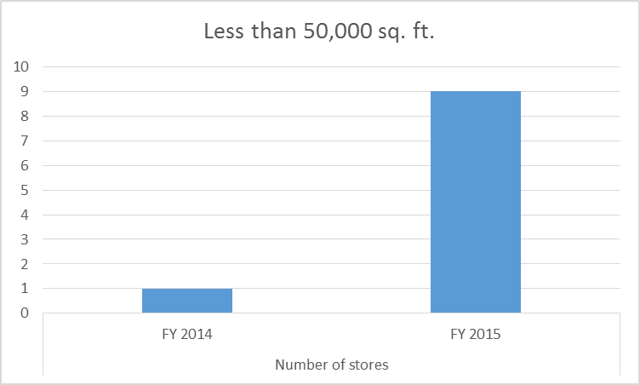 (Source: Target's latest 10-K filing)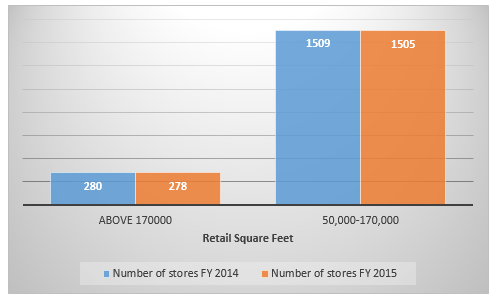 (Source: Target's latest 10-K filing)
Another factor that has been driving Target's average sales per square foot each year is the company's REDcard Rewards loyalty program. Target offers a 5% discount to all customers who use its REDcard to shop at Target.com. REDcard holders on average spend more than regular customers, so it is a good idea to keep track of something called 'REDcard penetration'- percentage of sales being made through REDcards. As is clear from the following chart, Target has been successful increasing REDcard penetration regularly. This is a highly encouraging trend that has helped Target achieve reasonably strong comp sales growth in previous quarters. In 2016, I expect REDcard penetration to be at least 25%, driven in part by the sale of Target's pharmacy business to CVS Health (NYSE:CVS). Beyond 2016, I see this figure growing at a gentle pace. In that case, Target will keep seeing greater store traffic and thereby meaningful comp sales growth.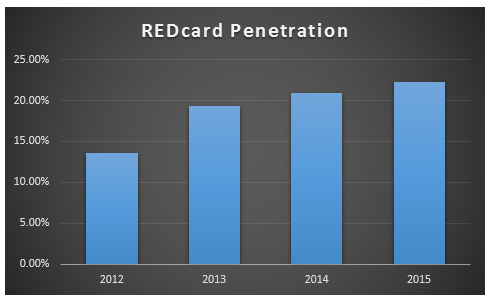 (Source: Target's Annual Filings)
Valuation
To value Target's shares I calculate FCF yield that the company offers on average. Dividing the company's current FCF per share by this yield gives an estimate of the stock's intrinsic value. For those who don't know, FCF yield is simply FCF divided by market capitalization. Here is a history of Target's FCF yield:
| | | | | | | |
| --- | --- | --- | --- | --- | --- | --- |
| | 2011 | 2012 | 2013 | 2014 | 2015 | TTM |
| FCF | 1066 | 2048 | 3067 | 2653 | 4406 | 4406 |
| Market Cap | 34,007 | 40,070 | 36,352 | 47,126 | 43,613 | 47,681 |
| FCF Yield | 3.13% | 5.11% | 8.44% | 5.63% | 10.10% | 9.24% |
(Source: Morningstar)
Target's 3-year average FCF yield is ~8.06%. So what should the share price be in order to retrieve a yield of 8.06%?
FCF per share/FCF yield = 7.18/0.0806 = ~$89.12
This represents an upside potential of ~11.70% from the closing price on April 11, 2016.
Conclusion
All in all, I believe Target is headed in the right direction as it has the correct plans in store to continue expanding its customer base. Moreover, this is a company that is generating nearly $6 for every $100 in sales and can boast a debt to equity ratio of less than one. Hence, Target is nicely poised to keep making consequential investments and returning value to its shareholders. Shares could possess decent upside potential with strong fundamentals outlined above, making Target a BUY for me right now.
Disclosure: I am/we are long TGT.
I wrote this article myself, and it expresses my own opinions. I am not receiving compensation for it (other than from Seeking Alpha). I have no business relationship with any company whose stock is mentioned in this article.