Before the downturn took hold in earnest, the pitch for E&P firms was all about estimated ultimate recoveries, assets and production growth. The ascendency of shale oil development brought in manufacturing mode where efficiency, speed and cost reductions to produce increasingly mattered. The call by OPEC in November 2014 to let the "market" decide prices - and also not curtail production - hastened the U.S. producers' push to extract resources more cost effectively.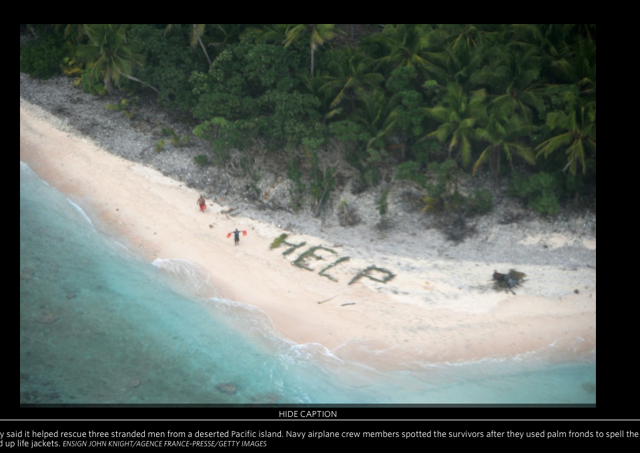 Fast forward to the first quarter of 2016, higher return assets and efficiency are helping many firms' stock prices regain lost ground, like Pioneer Natural Resources (NYSE:PXD), RSP Permian (NYSE:RSPP), Diamondback (NASDAQ:FANG) and Concho (NYSE:CXO). But the "lower for longer" period may drag on. Hence the focus of the balance sheet. Any firm that has one worth touting is doing so. This is to offer investors confidence that they can endure lower prices through 2016 or even longer. Chevron (NYSE:CVX) has recently been citing that virtue more strongly in light of recent credit downgrades for themselves and peers Total (NYSE:TOT), Shell (NYSE:RDS.A) (NYSE:RDS.B) and BP (NYSE:BP). They also expect to support the dividend, a top priority.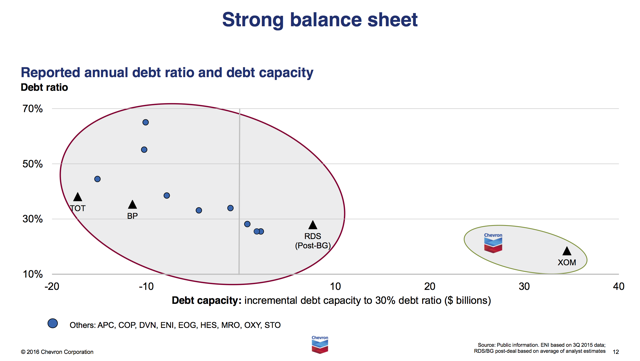 Source: Chevron March presentation, 2016. (Note: I suspect OXY is a dot near Shell.)
While few majors have been able to meet head on the shale production prowess of the stronger independents, few "indies" can offer the balance sheet argument like Chevron. (Occidental Petroleum (NYSE:OXY), a mini-major, or diversified indie, comes close.) In a recent presentation, CEO Watson offers some color on the state of Chevron and its strategies.[i] First, production is expected to grow 0-4% over the next five years from a 2015 level of 2.62 million boe (barrel of oil equivalent) per day. Other strategies and observations are noteworthy, with extra tint added alongside:
1) Shale and tight oil are focal areas to improve returns and selectively grow. Other lower cost legacy asset areas support this goal. By 2018, Chevron will spend 65% of its capital program on shale and tight oil (short-cycle) as well as brownfield opportunities.
Chevron's Permian assets, both in Delaware and Midland Basins, the Marcellus/Utica, the Duvernay in Canada, and the Vaca Muerta in Argentina are targets for Chevron's "short-cycle" push. (See past articles detailing these shale basins.) Chevron has 40% of commercial reserves in the U.S. Incidentally, compared to a Permian projection of 250,000 b/d in my prior article, Chevron could add an extra 100,000 barrels from the Permian assets to 2020.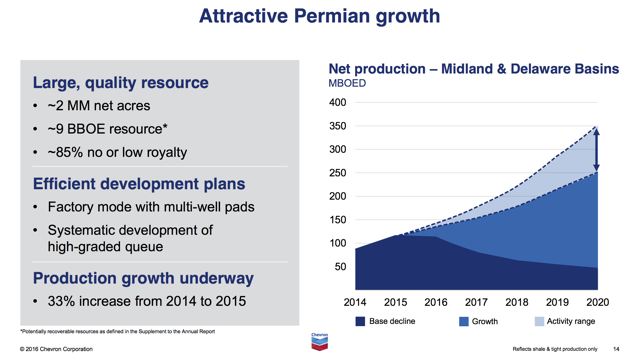 Additionally, U.S. onshore oil production costs are now lower cost than the global majors' by nearly $5 per barrel, according to an analyst at the U.S. Energy Information Administration.
2) Financials:
Chevron expects to increase cash flow from higher volume and higher per barrel margins. They expect the $52 Brent price level to persist through 2017, according to sell side analysts. Capital spending is expected to decline as long-cycle projects are finishing. The debt capacity of the balance sheet can be used to support goals through the downturn.
3) Timing of price recovery is hard to predict with certainty. The chart below offers the latest projection, where better balance is restored in general.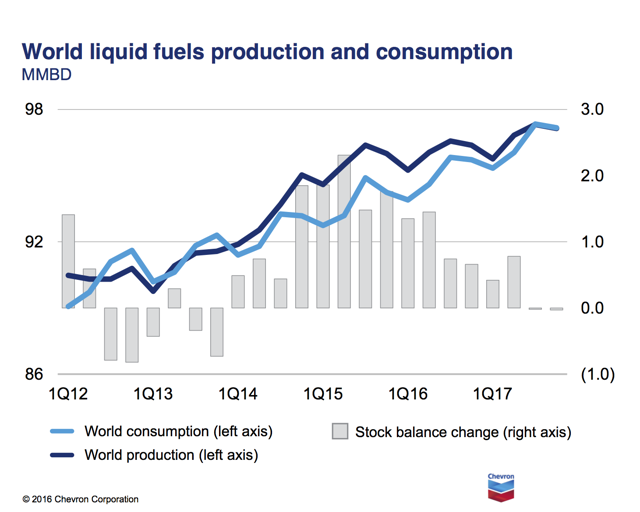 In my numerous conversations with producers of late, Watson echoed the sentiment: that this downturn has lasted longer and been deeper than previous ones. Two forces have collided:
A select few OPEC members began pumping beyond the group's "quota" of 30 million barrels per day (b/d), rising to 33 million by mid-2015[ii], then to 32.5 million[iii] by February 2016. OPEC supplies roughly one-third of global oil supply.
A key rationale for OPEC's move was to curtail the incremental U.S. shale oil and other high-cost supply that cut into their market share. From a low base of 500,000 barrels per day (b/d) in 2009, the U.S. produced over 4.6 million b/d of shale or "tight" oil, nearly 50% of U.S. production by June 2015.[iv]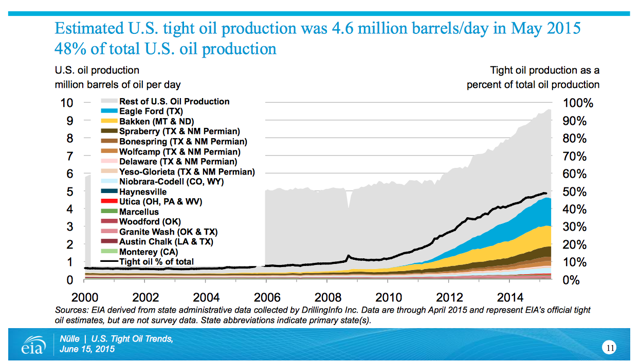 Into the wild
Following price cues, U.S. oil production is declining, from an average of 9.4 million b/d last year, projected to 8.7 million this year, and 500,000 less in 2017.[v] The global glut pared down to 700,000-800,000 barrels per day in March, which was due to supply outages in the Middle East and Latin America, a private equity analyst explained to me when prices reached $40.
A global oversupply hangover of about 1.5 million b/d had limped along for many quarters.[vi] Adding to the glut, Iran's production has come back online from the lifting of sanctions, and they want to produce 4 million b/d from 3.2 million currently.[vii] (Other sources cite 3.3 million plus.) More intricate geopolitical drama lies behind the OPEC oil market tango in the region.
The differentiated strategies of "indies" and majors over the growth of U.S. shale resources is showing some convergence. Cost control, balance sheet health and efficient production are strategies and sources of value. But for investors, the differences matter considerably: buy growth or dividend payors, a matter of investment strategy.
Though the industry is struggling, U.S. shale has made a foothold into global oil supply and is here to stay. The U.S. industry is increasingly becoming lower cost than many other producing regions and the resources are no longer bound by legislation, i.e., the crude export ban lifted and various types of hydrocarbon products are being exported like condensate, LPG, ethane, LNG, etc. Majors such as Chevron and Exxon Mobil (NYSE:XOM) have attributes that offer the best of balance sheet strength with shale assets that independents too have leveraged. Now, it's a combination of fundamentals remaining cooperative, as well as politics. The latter is harder to lasso.
---
[i] Chevron - Events & Presentations (see "Transcript")
[ii] UPDATE 1-OPEC says Indonesia to rejoin oil group after 7-year break
[iii] OPEC Says Crude Production Fell in February
[iv] Wells drilled since start of 2014 provided nearly half of Lower 48 oil production in 2015
[v] Short-Term Energy And Summer Fuels Outlook
[vi] IEA sees global oil glut worsening, OPEC deal unlikely
[vii] OPEC Official Says Some Members May Not Attend Doha Freeze Meeting
Disclosure: I am/we are long RSPP,OXY.
I wrote this article myself, and it expresses my own opinions. I am not receiving compensation for it (other than from Seeking Alpha). I have no business relationship with any company whose stock is mentioned in this article.