Bank of America (NYSE:BAC) has been heavily penalized year to date primarily due to the reduced expectations about Fed rate actions with weaker economic outlook and perceived risks to the energy industry. The stock has fallen by 23% since the beginning of this year while the financial sector ETF (NYSEARCA:XLF) has been only down by 7%, indicating that it has been a high beta stock with a negative return. The question is now whether we will be able see a similar action from BofA when the market bounces back. Despite the current pessimism, I still believe that there is significant upside potential for BofA and it could emerge as an outperformer in the mid-term.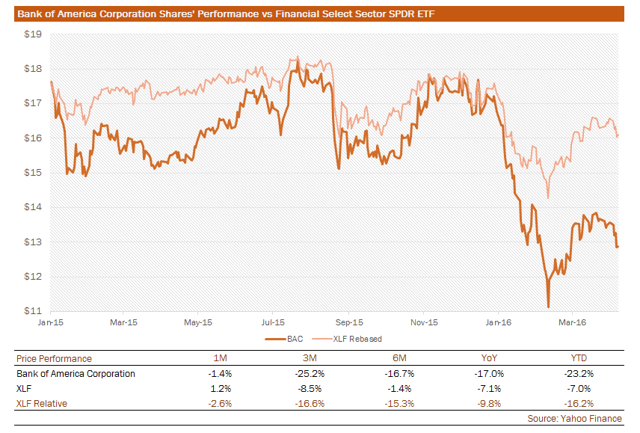 Low interest rates and falling commodity prices are expected to have an impact on the banks' earnings in 1Q'16 as almost all the stocks have faced estimate downgrades through the quarter. We also saw lower earnings projections for BofA as the consensus estimate for 1Q EPS is down to $0.21 from $0.27 a month ago, with $0.15 and $0.30 being lower and higher end of the spectrum. Also, analysts now averagely foresee an FY 2016 EPS of $1.36 which has lowered by 20 cents in three months.
So, is it all gloom and doom? The following is the assets and liabilities of large domestically chartered commercial banks data which was released by the Federal Reserve (see here, page 10). The figures show changes between year-end 2015 and the week ending on March 30, 2016.
Assets and Liabilities of Large Domestically Chartered Commercial Banks (Seasonally adjusted)

YTD Change

Total Assets

2.89%

Total Liabilities

2.35%

Securities in Bank Credit

0.81%

Loans and Leases in Bank Credit

2.48%

Commercial and Industrial Loans

5.46%

Consumer Loans

2.48%

Allowance for Loan and Lease Losses

-0.15%

Cash Assets

9.73%

Deposits

2.18%

Borrowings

1.40%

Residential Real Estate Loans

0.54%

Commercial Real Estate Loans

2.72%

Credit Cards

2.66%

Automobile Loans

1.97%
First of all, regarding the volume growth, large banks in the United States had one of the best quarters in 1Q 2016 with loans and deposits growing by 2.48% and 2.18%, respectively. After a long period of time, we are likely to see banks posting a higher increase in loan books than securities balances. As expected, commercial lending still appears to be the highest growing line in the banking business, on the other hand, the growth in credit cards is encouraging enough to convince us that consumer lending could finally be an area of strength and consistency for banks in 2016.
Secondly, total allowances account for large commercial banks declined in 1Q 2016. This absolutely came as quite a surprise while loan growth has been at a faster pace and concerns around the banks' exposure to the energy sector has risen. This would be attributed to higher than expected recoveries of loans previously charged off or to an increase (decrease) in safe (bad) loans driven by a stronger business climate. Overall, contrary to expectations, banks may post favorable results in volume growth and asset quality that would lead a change in the perception of the banking stocks as well as BofA.
Financial stocks suffered as the Federal Reserve cut rate hike forecast in March with official penciling in lonely two quarter-point hikes in 2016, down from four in December. We also inflation expectations hitting the bottom in this quarter (see here, here and here) and showing signs of a bounce back then. Also, USD LIBOR interest rates were averagely 20 basis point higher compared to linked quarter thanks to the latest rate hike in late December. I definitely do not expect the rate hikes to a number below two as we continue to see an increase in inflation expectations and core price index indicators. The Fed's dovish stance decimated banking stocks in the first quarter, but I believe the current macro environment is not bad for them at all.
The distinguishing feature of BofA comes from its relatively low valuation which makes it an attractive value play. It trades at 0.8x times its 2016E TBV which may look justified considering its relatively low profitability at first, however, in terms of 2016E P/E the stocks trade with 22% discount to its peers at 9.4x. I believe there should be more room towards the upside for BofA.
Ahead of 1Q earnings announcement, my only concern would be the investment banking, brokerage and trading revenues which is very likely to be volatile this year which is the main source of BofA's fee income. With that being said, I consider improving efficiency as the biggest challenge ahead for the management. BofA operates with a high 60s efficiency ratio which is far higher when compared to its peers. This separates it from other lean and mean banks in the industry, however, leaves higher room for improvement, which hopefully we will see later this year and in 2017.
In conclusion, I would like to share my 1Q 2016 EPS estimate for BofA, which is $0.28 putting me close to the top end of expectations range. Moreover, I believe that risks to my estimation are to the upside as I continue to expect BofA to record an FY 2016 EPS of $1.50. After a long period of underperformance BofA is ready for change and is a buy.
Disclosure: I/we have no positions in any stocks mentioned, and no plans to initiate any positions within the next 72 hours.
I wrote this article myself, and it expresses my own opinions. I am not receiving compensation for it (other than from Seeking Alpha). I have no business relationship with any company whose stock is mentioned in this article.