Silver Wheaton (NYSE:SLW) is one of the most peculiar equities on the market, in my opinion, because of its business model as a streaming company. The stock is considered a relative "safe haven" given its strong correlation with precious metals prices, but with the tax headwind in place, I believe investors should stay away until it is resolved.

Remain Cautious In The Near-Term
On the upcoming Q1 earnings report, Silver Wheaton should show decently strong YOY growth. This simply stems from the 16%+ upside in gold and silver prices YTD, along with a strong average increase in production over the past year, seen below. Yet, this is hardly the focus of traders and investors.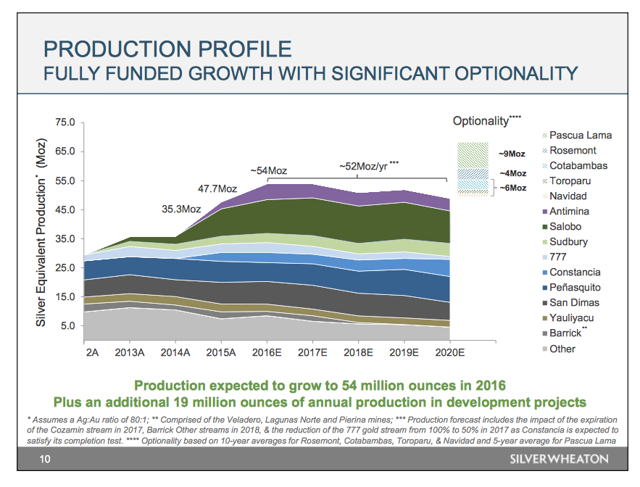 Source: April Investor Presentation
Currently, the Canadian Revenue Agency (NASDAQ:CRA) is trying to make Silver Wheaton pay more taxes for previous years as it relates to the income earned by the company's foreign subsidiaries. There are two separate audits occurring, one for the 2011-2013 tax years that began last July and one for the 2005-2010 years that began in late January. There is currently no timeline on when the CRA will complete its audit.
The audit comes at an interesting time for Silver Wheaton. The company just completed an additional equity offering utilizing a bank syndicate. This offering was done to repay the $900 million credit line SLW took on after purchasing Glecore's (OTCPK:GLCNF, OTCPK:GLNCY) Antimina back in late 2015. Antimina accounts for the largest amount of production from any one mine for Silver Wheaton, producing 13.6 million ounces of silver last year, which is visible in the graph above.
The company has earned $715 million Canadian dollars ($554.05 million USD) in foreign income through its subsidiaries, which SLW believes it should be taxed on a transfer pricing basis. The CRA is saying SLW owes income tax of $201 million Canadian dollars (155.76 million USD). Additionally, there are separate penalties of $72 million Canadian dollars and $81 million Canadian dollars. Thus, the CRA is seeking $353 million Canadian dollars. Unfortunately, this is just the 2005-2010 period. For the 2011-2013 audit, the estimated tax increase would be $310 million Canadian dollars.
To put this amount in perspective, Silver Wheaton generated $832.4 million Canadian dollars in revenue in 2015 and $557 million Canadian dollars in operating cash flow. This means that as a percent of sales, this amount is 79.7% and represents a 149.4% payout of OCF to the CRA, if they are required to do so. This is what makes me immediately bearish on SLW as the total penalty is nearly a year's worth of revenue and nearly 1.5 years' worth of OCF. Essentially, SLW will suffer a significant financial setback.
Can Silver Wheaton Pay The Penalty?
This is an excellent question to ask because shareholders, current and prospective, need to know how far these penalties will set SLW back if enacted.
The company makes roughly $431.9 million USD in OCF each year. They have a $2 billion USD credit facility, are paying back $900 million USD of it, but roughly $600 million USD in outstanding borrowings. Thus, they have $1.4 billion USD available in the credit facility. Along with $103 million USD in cash and the proceeds from their recent equity offering, the company has over $2.4 billion in liquidity, which is more than enough to pay the penalties. Below you can see an image of that liquidity: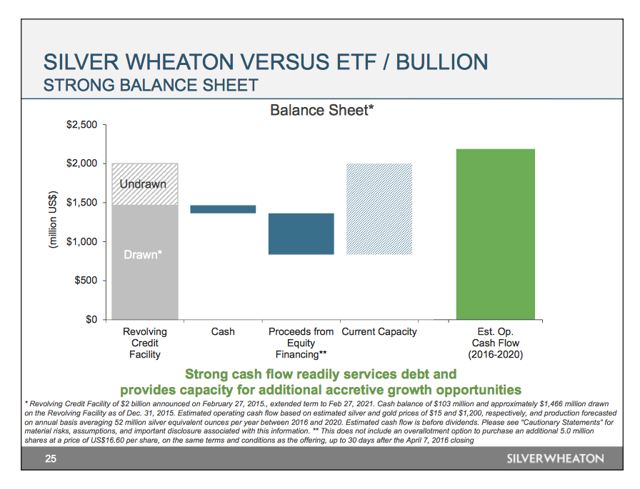 Source: April Investor Presentation
So, yes, SLW will be able to pay these fines if they are imposed in the full amount, but it's going to inhibit growth. Not just project growth or the company's ability to acquire assets from other companies, like the pickup of Antimina from Glencore, or ramp up production to new record levels, but also the dividend will suffer. Recall that the dividend policy is unique in the sense that the 20% of the average of OCF in the LTM is paid out to shareholders. Their yield (1.16%) will inherently suffer as a larger amount of taxes paid will lead to reduced net income, which, in turn, will lead to decreased operating cash flow.
Additionaly, shareholders could see more dilutive equity offerings occur, as the company would ideally not use up its entire credit facility to pay these penalities, nor would it deplete cash assets. Thus, the equity markets could provide the needed funds.
Investor Takeaway
The fact that this type of headwind exists means that investors should avoid the stock.
The real fear that investors should have, here, is that the CRA could increase Silver Wheaton's effective tax rate in the years to come because of this incident. Additionally, the tax years 2014 and 2015 could be looked into and the announcement of such an investigation would certainly pose an additional headwind. This would likely occur in the event that the 2005-2010 penalties are imposed on SLW.
If the company has to pay this and a higher tax rate, potentially, the company's profitability shrinks, its margins deteriorate, and it's a slippery slope from there on. The penalties, which, if imposed, create a significant dent in liquidity and could lead to dilutive offerings, which leads me to be bearish on SLW.
Conclusion
I do not expect for management to discuss the CRA audit on the upcoming Q1 earnings report, but, in the event that they do, they'll likely just reiterate their stance as given in the April investor presentation. I try to focus my bullish pitches on companies that have significant growth prospects, but Silver Wheaton has a massive headwind to growth with this CRA audit. Thus, I believe it is a poor idea to go or remain long in SLW for the time being.
Disclosure: I/we have no positions in any stocks mentioned, and no plans to initiate any positions within the next 72 hours.
I wrote this article myself, and it expresses my own opinions. I am not receiving compensation for it (other than from Seeking Alpha). I have no business relationship with any company whose stock is mentioned in this article.