It's the time of year where I take some time to conduct an annual review of the stocks I own. This is to make sure that each of the companies I own still fall in line with my personal investing guidelines. I will also check to see if they are becoming overvalued or if they are undervalued and represent a buying opportunity.
Last week, I started with T. Rowe Price (NASDAQ:TROW) and will continue with another dividend champion, Target Corporation (NYSE:TGT). I first wrote about the company back in June 2015 as part of one of the Seeking Alpha writing competitions.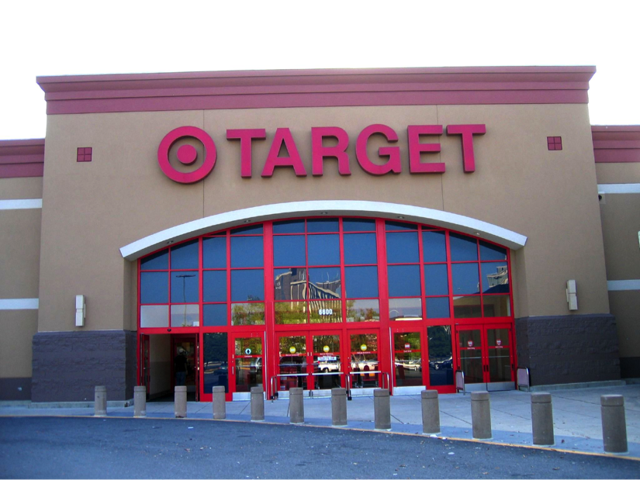 I initially purchased the company back in 2014 during the fallout from the data breach and honestly, lucked out by purchased the company at the bottom. My reasons were simple: I do a lot of my shopping at Target and a lot of my friends and family shop at Target. There was only one person I knew who was shopping less at Target because of the breach and after talking to her about how easy it was to have your data stolen these days, she changed her mind and decided to shop there more. I also never really noticed an impact in the stores I was shopping at. This was a well-established retailer in America with nearly 1,800 stores. I figured this was merely a setback and the company would bounce back and customers would soon forget about it. So far, the investment has paid off and I am up over 40% since my purchase in June 2014.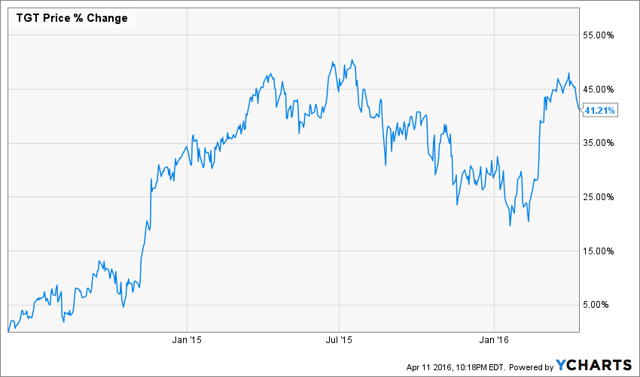 Now with all that being said, everyone knows that past performance is not indicative of future results. Target has had a great run, but is it becoming overvalued? Is it still growing earnings? I'll take a look at the companies FY 2015 results and FY 2016 outlook below.
FY 2015 Results
| | | | | | |
| --- | --- | --- | --- | --- | --- |
| Basic EPS FY 2015 | y/y % Increase | ROE | Dividend FY 2015 | y/y Dividend Increase | Payout Ratio |
| $5.29 | 37% | 24% | $2.16 | 7% | 40% |
Target grew earnings by a very impressive 37% in the last year, aided by the benefits of buying back shares and the benefits of being out of Target Canada. It's worth noting that during the prior year, (February 1st 2014 - January 31 2015) Target took a huge charge as it closed the doors on its failing Target Canada segment. This is one of the reasons that when you look at various graphs and databases, you will see negative earnings for that year.
Target seems to have put that failed business behind it and went to work returning cash to shareholders, buying back nearly 45 million shares at an average price of $77.07. Under their current buyback program, they have repurchased 94.6 million shares of common stock for an average price of $69.57. As of the end of the last year, they have a little over $3 billion left in that buyback plan, so we should be getting an update on the plan here soon. Additionally, the company managed to increase their dividend a respectable 7% and kept the payout ratio right around 40%.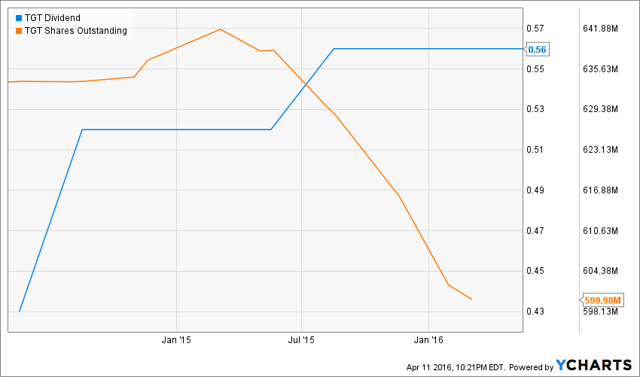 The only thing about Target that makes me nervous is the slow revenue growth. Revenue only increased 1.6% over the previous year, which raises some red flags about future earnings growth. Overall I am very pleased with Target's performance in the last year.
2016 Outlook
For 2016, Target expects EPS to be somewhere in the range of $5.20 to $5.40. Similar to T. Rowe Price, this is immediately a bit concerning. Although Target has had a great run in the last couple years, it seems that their slow revenue growth could catch up to them this year. In fact, according to Yahoo Finance, analysts expect sales to decline by nearly 3% this year. That is probably one of the main reasons why the company is planning on investing $2B to $2.5B annually starting next year to upgrade its supply chain and technology infrastructure. Target has already been focusing a lot on becoming more of a trendy, Millennial-friendly store by increasing its brands and offering lots of discounts through its Cartwheel app. Investing more in digital sales will hopefully provide Target with the growth it needs to continue growing sales and earnings in the future.
The last few years, Target has provided investors with some impressive dividend raises year after year. Last year, the company provided investors with their 48th consecutive dividend increase of around 7%. Although this was well below recent earnings increases of over 20%, this is still much better than many companies. Also, this falls in line with guidance provided by Target back in 2015 where they outlined that dividend growth is expected to be between 5 and 10% for the next few years. Given the slow in earnings growth expected, it seems safe to expect a modest dividend increase in that range. Even though that is slowdown from previous years, it is expected, as companies are not going to be able to increase the dividend at 20% for more than a few years.
Assuming they fall somewhere in the middle of their earnings expectations ($5.30), a dividend increase to $2.32 (7% over the previous year) would put their payout ratio right at 43% for the year, keeping right in line with their 40% goal.
Conclusion
Target is one of the most recognizable brands in America and over the last 48 years has provided dividend growth and consistency through all kinds of markets. The company has recovered nicely after the data breach and 2014 and has remained focused on growing its business here in the United States after shuttering the failed Target Canada endeavor last year. Moving forward, I believe that Target remains a great addition to any dividend growth portfolio. I believe that the stagnant earnings this year will only be a small bump in the road and the company will position itself to profit in the future from the growing trend in digital sales.
What do you think of Target? How will it do for the rest of 2016?
Disclosure: I am/we are long TGT.
I wrote this article myself, and it expresses my own opinions. I am not receiving compensation for it (other than from Seeking Alpha). I have no business relationship with any company whose stock is mentioned in this article.
Additional disclosure: I am not a financial planner or a professional trader. I am not advising you to sell or to buy a stock. Prior to buying or selling a stock mentioned in my article, please do your own diligence and talk to your financial advisor or security professional.