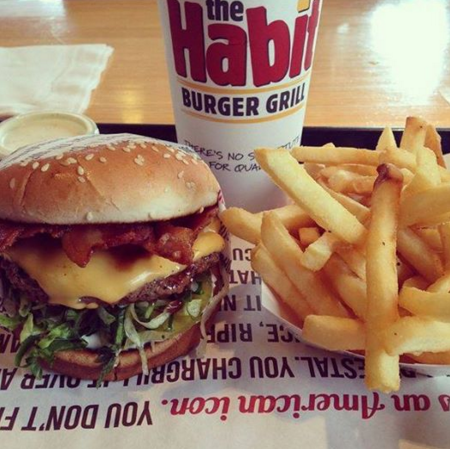 Habit Restaurants (NASDAQ:HABT) went public about a year and a half ago and since that time, it has proven itself to be like just about every other recent restaurant IPO; very high expectations that lead to very poor post-IPO returns. The excitement around HABT's growth trajectory is something to behold as investors have previously bid the stock up to stratospheric levels and back in December, that led me to declare that HABT was still too expensive despite the fact that it was trading near its 52 week lows at the time at $22. The Q4 report has failed to spur buying activity in shares of HABT and as I write this, the stock is making new lows at $17 and change. Is it finally time to buy Habit or is there even more downside still to come?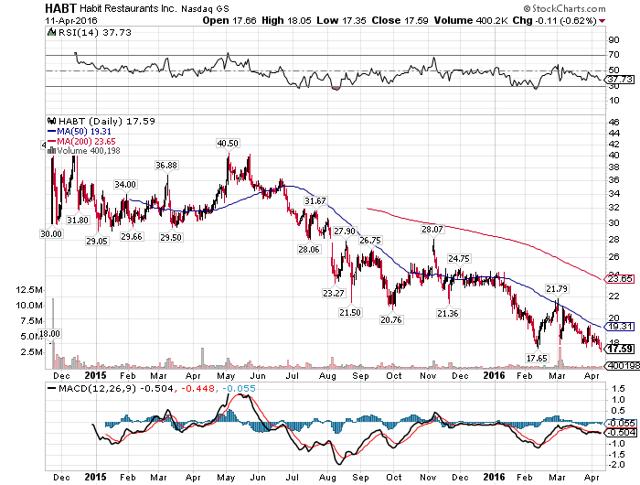 HABT continued its streak of impressive revenue growth as the top line flew higher by 25% during Q4. The strength is due of course to new stores being opened at a rapid rate but the company did also produce another positive comp. HABT has been very good at sending its comps higher and now has 12 consecutive years of positive comp sales numbers under its belt. Q4's +3.3% number was very similar to Q3's number but there is more to this story.
The company's string of comp sales increases is no doubt impressive but what is also without doubt is that the company's growth is slowing at a bad time. Habit's valuation has been ridiculous since it came public - which explains the chart that goes from upper left to bottom right - but at a time when investors have paid a premium for growth, HABT is going the wrong way.
Q4's number of +3.3% compares very unfavorably to the prior year's +13.2% and indeed, the entire year saw a marked slowdown in comps. Last year's +6.2% is very impressive but less so when you compare it to 2014's +10.7%. There can be no doubt that HABT's growth is slowing and as I pointed out in December, traffic is the culprit. Can Habit differentiate itself enough to grow traffic meaningfully again and save its once-great comp sales? Perhaps, but building that in as some sort of eventuality is dangerous for longs.
On the margin side, HABT saw some significant positive leverage on its food and paper costs, gaining 230bps in Q4. Unfortunately, 150bps of that was wasted on higher labor costs. This is a trend we've seen in the quick service restaurant category for a year or more now; lower commodity prices lead to food cost gains but much of the gains are given back on higher labor prices. With HABT's profitability still very low, it cannot afford to give back margin gains like this over the long term. Bulls will say these are just growing pains but I see a chain that is barely profitable on a net basis with a PE that assumes it will grow to the moon someday. Yes, the company's unit-level margins are strong but its corporate costs are excessively high and will be for some time to come.
The really amazing thing about HABT is that even though it is making new lows right now, it is still trading for 55 times this year's earnings estimates. Such is the ludicrous amount shares used to go for at $40; even after being cut in half and more the stock is still unrealistically expensive. I'll concede that HABT has a formula that people like and why shouldn't it; the QSR burger chain idea certainly isn't new and plenty of places utilize the model successfully. But with growth already slowing at under 200 units, how in the world will HABT produce growth with 500 or 1,000? It's painfully obvious to me that HABT isn't special despite the fact that investors seem to think it is.
At $1.75 million per unit, HABT isn't the most expensive restaurant chain on the market but it isn't cheap either. That kind of price would need enormous unit volumes - which HABT doesn't have - or very large net margins. Again, Habit doesn't have that at ~5% net profit. Habit's net profit should grow over time as it leverages corporate expenses but it continues to spend freely there and considering the state of infancy the chain is in right now, I expect this will continue for the foreseeable future. Expanding a restaurant chain is very expensive and Habit shareholders are learning that the hard way.
Last time I visited Habit it was $22 and I said it was way too expensive and at $17, I feel the same way, perhaps with slightly less conviction. Habit is still very expensive right now and certainly too much for me to own it. However, the store base expansion is moving along steadily and investors love that kind of thing. I am still alarmed by the slowing of the company's comp sales because the growth story will be derailed if the slowdown in comps continues and if Habit's guidance for this year is to be believed, that is exactly what is going to happen. I think Habit is a buy around $12 or so but until that happens, cautious investors can move to the sidelines or enterprising ones can consider shorting it. Habit has no upside catalysts from here but plenty of downside ones and that makes me think we'll see Habit continue to produce new lows in 2016.
Disclosure: I/we have no positions in any stocks mentioned, and no plans to initiate any positions within the next 72 hours.
I wrote this article myself, and it expresses my own opinions. I am not receiving compensation for it (other than from Seeking Alpha). I have no business relationship with any company whose stock is mentioned in this article.