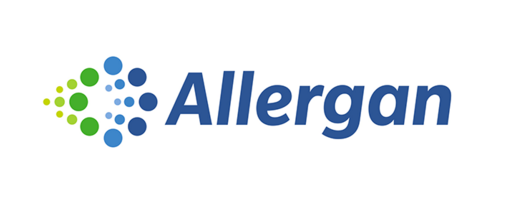 Allergan (NYSE: AGN) is one of the darlings of the pharmaceutical industry, with most research agencies declaring it a "buy" or "outperform." A few recently demoted it to "neutral" after the break up of the merger deal with Pfizer (NYSE: PFE), but practically no research group is declaring it as an "underperform" or "sell." AGN has recently become relatively cheap after the U.S. Treasury's assault on inversions - settling at $228.25 per share as of the end of Monday's trading. The stock is commonly targeted to finish somewhere above $300 in twelve months' time.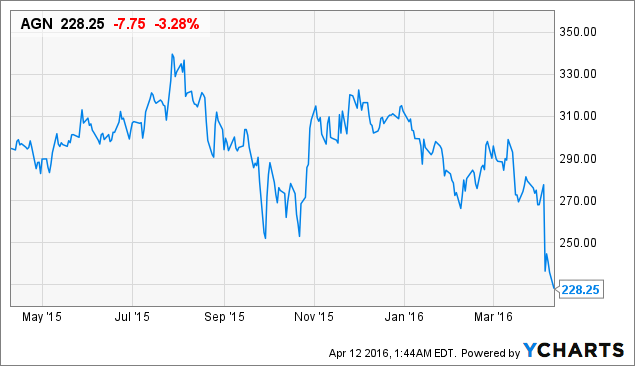 AGN data by YCharts
It wouldn't be shocking to see the $300+ cohort have their expectations vindicated. The company was trading north of $340 in late-July 2015 and is largely recognized as a leader in the generics space. Moreover, it's difficult to fathom that the true value of the company has changed by over 30% in the eight months since, particularly given that PFE wasn't in AGN's picture then and it no longer is now.
Basic earnings analysis would show that AGN is roughly fairly valued. Based on GAAP earnings, median price/earnings of the industry is approximately 15, using a peer group comprised of Merck (NYSE:MRK), Mylan (NASDAQ:MYL), AstraZeneca (NYSE:AZN), GlaxoSmithKline (NYSE:GSK), Gilead (NASDAQ:GILD), Bristol-Myers (NYSE:BMY), Eli Lilly (NYSE:LLY), Abbott Laboratories (NYSE:ABT), PFE, and AbbVie (NYSE:ABBV). Annual 2016 GAAP EPS is currently estimated around 14.32. Let's assume this figure is more accurately closer to 15. (Sell-side researchers often under-predict earnings in order to make their clients look good while simultaneously being close enough to maintain their credibility.) That gives a per share value of $225 (i.e., P/E multiplied by annual EPS), or right in the range of current pricing.
Nonetheless, I do have some reservations as to whether AGN should be intrinsically valued as high as it is. The company is already trading at very inflated multiples that are out of line with the rest of the industry. AGN's trailing P/E stands near 24, EV/EBITDA is near 23 (industry average is just over 13), and EV/Revenue is close to 9 (industry average is just above 4). It's therefore difficult to justify its valuation using other larger cap pharmaceutical peers.
AGN trades at a price-to-book value (P/BV) of 1.30. In theory, in terms of basic screening criteria, low P/BV companies make for compelling ideas given that any investor is fundamentally paying for a company's balance sheet. A firm uses its available assets to drive financial performance, which in turn (ideally) drives the cash flow that equates to the intrinsic value of the business. The book value of a company's assets is therefore commonly assumed to be around the "floor" price of a company, leaving theoretically limited downside in the case of low P/BV assets.
The catch, however, is that in AGN's case, 84% of its assets are in the form of intangibles - or assets that are estimated but technically unknowable in terms of their true financial value. A significant 34.3% comes in the form of goodwill, with 50.0% in terms of other intangible assets. By contrast, GILD, GSK, and PFE have intangible bases of 22%, 41%, and 50% of their total asset figures, respectively. Cash, receivables, inventories, "other current assets," investments, and net PP&E make up a mere 7.9% of AGN's total asset base. This leaves a debt/tangible assets ratio of 3.98, as the company stands currently.
Goodwill, in short, is the value of a company's brand, reputation, customer relationships, among other ingredients that provide useful, yet non-quantifiable benefits to a company's financial performance. Goodwill comes up in merger deals through the premium paid over the company's "fair value" price and essentially serves as an accounting plug to take into account whatever value was paid for in this premium.
Companies with large intangibles/total assets ratios are more subject to valuation write-downs, as goodwill is checked annually by valuation specialists for impairment. Holding the size of the asset base constant, these firms will likely have diminished borrowing capacity and flexibility with their capital structure by lacking the fixed assets to borrow against as collateral. S&P 500 companies tend to have goodwill percentages of approximately 10%-15%, depending on the business cycle and recent merger activity. During economic downturns, when companies are forced to write down the value of their intangible assets, firms with higher percentages are among those hit the hardest.
AGN's Intrinsic Value
To value AGN intrinsically through discounted cash flow, I took recent filing data from the close of the 2015 fiscal year and used assumptions to project out the next ten years for the company. With growth companies, this is always a difficult procedure. DCF is most reliable for stable, mature companies that involve the fewest amount of assumptions. But at the same time, I would argue that valuation is the least useful for mature companies. When everybody else can also fairly accurately determine the intrinsic value of the business with a reasonable degree of resolution, there is likely to be an investment opportunity on the basis of value. Assumptions (and other info that could affect the valuation) include the following:
I took revenue estimates from 2016 and 2017, and assumed a sales growth trend that diminishes by 10% each year after 2017 through 2025 (i.e., the end of the projection period). For example, if growth is assumed at a 6% rate one year, I assumed 5.4% for the next.
I assumed EBITDA remained a constant 39.4% of sales throughout the projection period.
AGN's depreciation currently represents 50% of sales, which is quite high. I assumed a linear decrease to a more normal 30% by 2025.
I have capital expenditures as 3% of sales in perpetuity.
Change in working capital (i.e., current assets excluding cash minus current liabilities excluding debt coming due within one year) is set at no change going forward. I also assume no additional long-term change in other operating assets/liabilities.
PFE's failed merger with AGN opens the door for Teva Pharmaceutical's (NYSE: TEVA) acquisition of AGN's generics business. Per the terms of the agreement, AGN will receive $33.75 billion in cash and a 10% stake in TEVA (roughly valued at $5.4 billion at the time of this writing). For this analysis, the deal is assumed to close.
Using these assumptions and the latest filing data, in addition to a perpetual growth rate of 2% (i.e., something around real GDP growth), if discounted at a weighted average cost of capital of 12%, the company would be valued at approximately $87 billion. Using a WACC of 10%, this gives an approximation of $109 billion. If the perpetual growth is bumped to 2.5%, these values stand at $89 billion and $112 billion, respectively.
Even using the most liberal assumptions - constant 6.7% revenue growth during the projection period, WACC of 10%, and perpetual growth rate of 2.5%, this gets us to just short of $127 billion.
In the current market, with AGN's market cap of $93 billion, book value of debt at $43 billion, and a cash balance of just slightly over $1 billion, under the basic enterprise value formula (enterprise value = market cap + debt - cash), this gives AGN an enterprise value of $135 billion. Based on my own analysis, using what I would consider fairly moderate assumptions, AGN could be valued 20%-55% too high. And still a bit too high under some of the most liberal assumptions.
Now one might argue that numbers and assumptions may not always match the narrative, and that is true. AGN is known for its strength in the generics and biosimilars niche, which is precisely what attracted Pfizer to the company in the first place (independent of tax benefits) as a means of boosting PFE's Global Established Products segment. Perhaps the value of its brand, reputation, customers, and other non-tangible assets are genuinely represented in its robust intangible base.
For the $135 billion projection to play out, we would need to assume that the TEVA deal will close, a huge 12.7% revenue growth rate for the next ten years (i.e., expecting it to multiply by a factor of 3.4 of 2025), have EBITDA remain a constant 40% of sales, and keep capex at 3% of sales. (This assumes a WACC of 12% and perpetual growth rate of 2.0%.) This, in turn, requires free cash flow as a percentage of sales to stand at a constant 35% over this projection period.
Is this doable? It's a tall task. Of course, AGN is a company very much in flux. It would have been acquired by PFE if not for the new Treasury Department regulation. Its shareholders are expected to benefit from the TEVA deal. And it seems fairly valued via the basic earnings analysis covered earlier.
AGN's supporters could definitely be correct in their $300+ per share arguments, either in the short term or long term. But for me, AGN represents too much risk due to the unknowns, and I'm not finding the value to give the green light to the idea. AGN in the high $220s could be a missed opportunity, but I need more evidence to believe it's one worth taking a shot on. AGN is one of the more interesting companies in the healthcare sector today, and it will be interesting to see how its story and intentions going forward play out over these next few quarters.
Disclosure: I am/we are long PFE.
I wrote this article myself, and it expresses my own opinions. I am not receiving compensation for it (other than from Seeking Alpha). I have no business relationship with any company whose stock is mentioned in this article.