The market woke up to exciting news that Alibaba (NYSE:BABA) had finally become serious in Southeast Asia with its $500 million controlling stake in Lazada (LZDA). This is a market with 620 million in population with e-commerce that is expected to grow at 37.6% CAGR from $7 billion in 2013 to $34.5 billion in 2018. It is not that Alibaba had not tried to conquer Southeast Asia on its own, but the market is so fragmented that it cannot gain a strong foothold.
In this article, we will look at the potential of Southeast Asia as a market and the reasons behind its relative underdevelopment when compared to China. Then we would see how Alibaba can contribute to bring about higher market share in the region.
Growing Middle Class
When we refer to Southeast Asia, we are generally referring to the 10 countries that grouped themselves under the Association of South East Asian Nations (ASEAN) which is also collectively known as ASEAN Economic Community (AEC). The economically significant countries under the AEC are what we will focus on in this article. They are mostly the founding countries of ASEAN and include:
Singapore
Malaysia
Thailand
Vietnam
Philippines
Indonesia
They are collectively known as the ASEAN 6.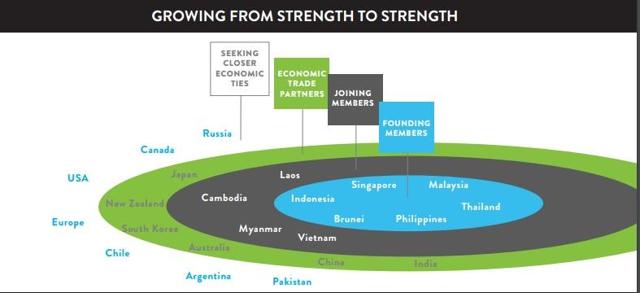 Source: Nielsen
According to studies done by Nielsen, the AEC middle class is expected to grow from 190 million in 2012 to 400 million in 2020. For these consumers, 42% are willing to spend their discretionary income on new clothes which is right in the domain of e-commerce websites.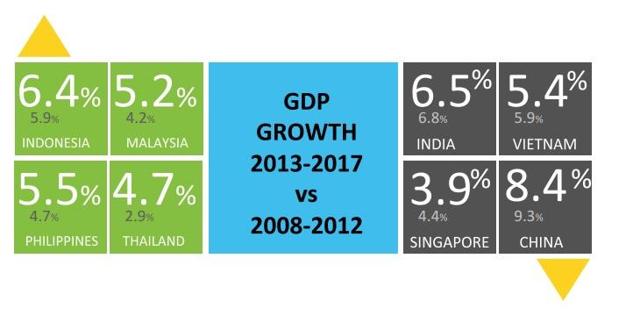 Source: Nielsen
Best of all, the strong entry into Southeast Asia allows Alibaba to tap into a growing economy just as China is experiencing slowing growth.
Lazada - Significant in a Fragmented Market
The Asean 6 e-commerce scene is highly fragmented, according to a recent study by Bain. As a whole, there is no single retail platform that is preferred by more than 20% of consumers. In Singapore, there are no less than 12 e-commerce sites that serve 90% of the market.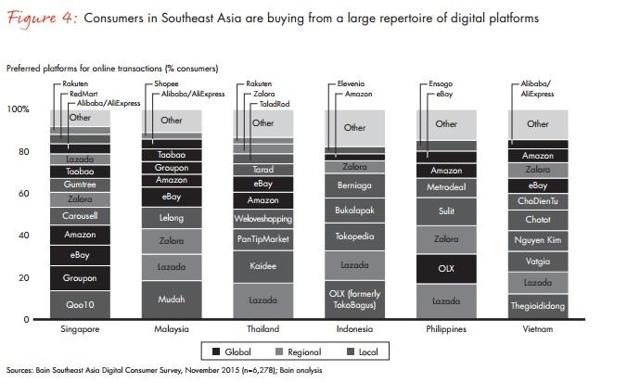 Source: Bain
As you can see on the chart above, Alibaba has some presence with its Alibaba/AliExpress and Taobao brand in Singapore and Malaysia only. In the remaining four major AEC countries, its presence is insignificant. Average consumers there are more likely to buy from Amazon (NASDAQ:AMZN) and eBay (NASDAQ:EBAY) than Alibaba.
This is a market where regional and local e-commerce retailers have good holding power as they are able to respond faster to the unique tastes of their local markets. For example, Indonesians are early adopters and impulse buyers. Consumers from Vietnam and Philippines are more willing to purchase if free gifts are given.
Alibaba had not been successful in capturing the hearts and minds of these consumers with its own efforts. This is until it had purchased Lazada. With the exception of Singapore, Lazada is the top 2 player in remaining five countries. Lazada had strong Net Promoter Score ratings by Bain in countries like Thailand, Philippines and Vietnam. This means that it has more supporters than detractors promoting its products on social media. This word of mouth campaign is Lazada's valuable asset.
Issues With Asean 6 E-Commerce
Management consulting firm AT Kearney estimated Singapore had 4-5% of e-commerce penetration rates, but the remaining five countries such as Malaysia, Thailand, Philippines, Indonesia and Vietnam had less than 1% of its population buying online. In contrast, China had 7.2% of its population buying online.
During its survey, it found that these are the following issues that are limiting e-commerce adoption for consumers in these countries:
Lack of affordable and reliable Internet infrastructure
Lack of acceptance for e-payment
Poor logistic infrastructure
Out of these three issues, Alibaba cannot do anything about the first issue of Internet infrastructure. The good news is that these governments are aware of their limitations and are taking steps to implement better Internet infrastructure.
Alibaba's Competitive Advantages
For e-payment, with the exception of Singapore, only 2%-11% of these ASEAN 6 countries use e-payment which is crucial to the scalability of e-commerce. One of the main concerns of consumers is the distrust over payment security. They are fearful that their payments could be hacked by criminals online.
Alipay, the e-payment arm of Alibaba, can change this distrust by promoting its superior cyber security features. This would include explaining its 3-D Secure layer of security for Visa and MasterCard to encourage them to disclose their credit card numbers. In addition, it can create promotions for consumers in ASEAN 6 to purchase Huawei's smartphone which comes with a biometric technology feature designed for Alipay. Mobile payments also leapfrog the problem of the underbanked in ASEAN, which is acute in countries like Vietnam, Philippines and Indonesia.
Lastly, e-commerce is hampered by weak logistic arrangements such as warehouses that are not ready for e-commerce and inefficient last mile delivery. Lazada had plans to double its warehouses from 10 currently to 20 over the next 3-4 years. Now that it has such strong financial support from Alibaba, it can accelerate its plans and complete it within the year.
For last mile delivery, Alibaba had acquired 14.51 percent of SingPost in early July 2015. SingPost transformed itself from a traditional post office to a last mile delivery solution specialist as its traditional business declined. It had been experimenting with cutting edge technologies such as drones to deliver its product with some success in Singapore with strong government support.
Its challenge is to expand this service to other parts of ASEAN and it has experience with delivering overseas parcels in these countries. This means that it has a strong network of couriers and partners which it can rely on to support Alibaba's expansion.
Conclusion
The Lazada acquisition is clearly a planned step in Alibaba's corporate plan to gain dominance in the lucrative ASEAN market. As long as ASEAN countries continue to upgrade their Internet infrastructure, there is a strong chance that Alibaba will be successful.
As long as Alibaba creates the conditions for trust in the e-payment market and sort out the logistical challenges, it has a good chance of being the first major retailer to garner 20% of the $34.5 billion market by 2018. Assuming the latest profit margin of 36.18%, Alibaba can add another $2.496 billion of profit in 2018. This is assuming that Alibaba would take the 1.5 years to consolidate the working synergies of its subsidiaries to provide these market solutions.
This would be helpful for smaller local e-commerce retailers such as Singapore wine retailer Bottles Of Joy, as their products would gain higher acceptance and it would be easier to arrange for delivery as the logistic infrastructure matures. In other words, Alibaba's entry is a win for both its shareholders and also other retailers in ASEAN. Alibaba is expanding the pie for everyone involved in it.
Supporting Documents
Disclosure: I/we have no positions in any stocks mentioned, and no plans to initiate any positions within the next 72 hours.
I wrote this article myself, and it expresses my own opinions. I am not receiving compensation for it (other than from Seeking Alpha). I have no business relationship with any company whose stock is mentioned in this article.