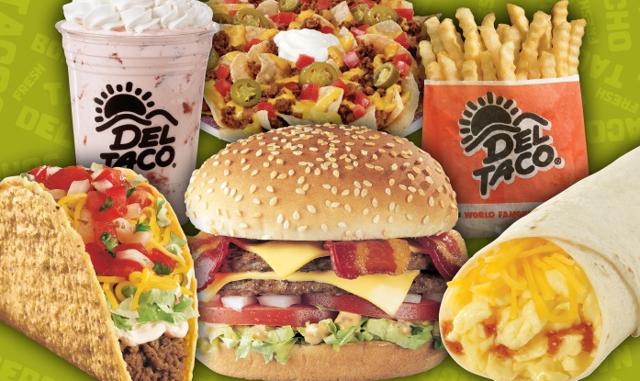 When Del Taco (NASDAQ:TACO) merged and went public last year, the company's shares were on fire. After the first trades in the $10 area, the stock eventually hit $17 before crashing back down to earth. When I first covered TACO back in August of last year, shares were still $16 and I called it an overpriced, also-ran chain. But after the stock made its lows in January of this year, I changed my sentiment and said TACO offered long-term value at $10. Unfortunately, shares have bounced around and, after the Q4 report, have continued a protracted downtrend to just $9. Is the long-term growth story deteriorating or is this a buying opportunity?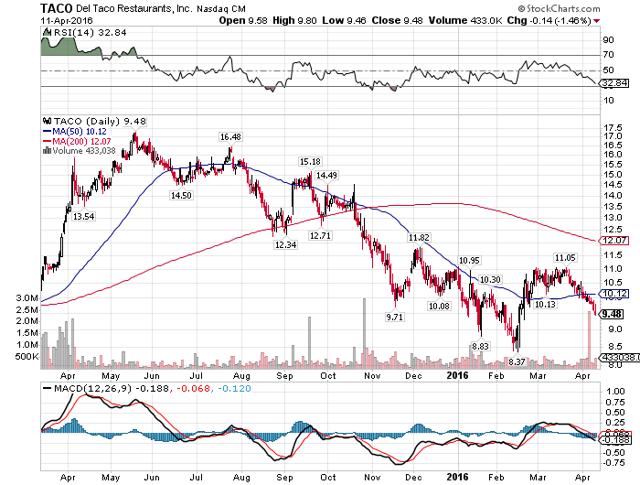 TACO's Q4 was actually stronger than expected as the company's comp came in at +5.8%. Unfortunately, the entire gain was due to check growth due to not only higher spending but menu pricing as well, as traffic came in slightly negative. I always look at traffic as the primary indicator of demand for a restaurant chain as it is far more sustainable than pricing gains, and TACO is on the wrong side. While the 10 bps loss in traffic isn't a big deal, the fact that it was negative at all is certainly not a good thing. I was hoping TACO would produce a positive traffic number in Q4 but that did not happen; traffic will be of the utmost importance in 2016. Pricing gains cannot last forever so eventually you need more people coming in the door; if that doesn't happen, the bull case for TACO is derailed. Transaction growth was present at +1.6% for the full year but Q4's slowdown is certainly worth watching.
TACO saw a nice 90 bps gain in unit-level margins in Q4, but apart from the obvious benefit of higher margins, the composition of the gain is interesting and important. Recent changes in the landscape for hourly workers and their wages have caused labor costs at virtually every large restaurant chain to move up, including heavyweight players like Panera (NASDAQ:PNRA). The inescapable rise in wages has crimped margins even at a time when commodity costs were coming down and affording some additional margin there. TACO, however, gained its leverage in Q4 from lower labor costs and very slightly higher food/paper costs. The company's 90 bps gain in Q4 on its labor costs is impressive, and as this is a recurring cost that will never go away, it is important which direction it takes. If TACO can keep its labor costs down, it has a very nice shot at perpetually higher margins and that's very bullish.
Guidance for this year was fairly strong at +3.5% comp growth at the midpoint and 20% unit-level margins. That is on par with last year's unit-level margin number and it is due to the increased costs related to California's new minimum wage levels, a $7.2 million cost to Del Taco this year. That is a significant amount for a small chain and it is negatively impacting operating margins this year. If TACO can find a way to minimize the impact we could see margins rise again but for now, flat margins will have to suffice. Food costs could also come lower this year as commodities largely continue to struggle but time will tell.
Very importantly, TACO also authorized a $25 million buyback during the report, something that came out of nowhere. Companies that have been public for a year don't normally begin buying back stock, but TACO's financial position has improved since it came pubic and management obviously believes shares are cheap. At the current share price, that authorization is good for almost 7% of the float, an enormous buyback to be sure and in particular, for a first effort. No timetable was given for the repurchases, but at $9, I'm thinking management is chomping at the bit to retire shares. This could prove to be the biggest single source of earnings growth for TACO this year.
Analysts have TACO at 54 cents this year and 61 cents next year, certainly reachable numbers. But TACO is priced as though it is a mature chain at 17.6 times this year's earnings despite the fact that it is still fairly aggressively expanding its footprint. In addition, its stores that have been open for more than 18 months continue to produce low to mid-single digit comp increases with 20% unit-level margins. TACO's productivity continues to get stronger and the store base is expanding so I don't understand the pessimism.
At $9 and change, I think TACO still represents good value fundamentally, but we now also have the kicker of the $25 million buyback. Should TACO implement this buyback fairly rapidly, we could see a meaningful boost to EPS this year that could get us closer to 60 cents and higher next year. TACO needs a shot in the arm to boost sentiment because the business is performing admirably; investors are simply too pessimistic. To be fair, TACO isn't going to double from here anytime soon, but I do think a run at the low to mid-teens is in the cards. TACO isn't getting any respect from investors right now and that is imprudent as it continues to build respectable comp sales growth and its high unit-level margins are strong. The buyback is icing on the cake so I'm in; TACO is going higher.
Disclosure: I am/we are long TACO.
I wrote this article myself, and it expresses my own opinions. I am not receiving compensation for it (other than from Seeking Alpha). I have no business relationship with any company whose stock is mentioned in this article.