On March 21st, Chile's environmental regulator, SMA, ordered the definitive closure of some of the wells used by Canadian miner Kinross Gold's (NYSE:KGC) Maricunga gold mine, located in the northern Atacama region, due to what the head of the agency called "irreparable environmental damage."
This decision comes after the regulator started an investigation in May of 2015 that proved that the company's actions had dried up 70ha of wetlands located in the Laguna del Negro Francisco and Laguna Santa Rosa lake complex, SMA said in a press release. SMA head Cristián Franz said that the company will not be allowed to continue extracting water from the wells in the Pantanillo area, as a result of the "irreparable environmental damage caused in the lake complex."
Kinross responded in a statement that "it is committed to responsible environmental management" and that Maricunga "has taken numerous measures and performed various studies over the years to understand the causes of the current situation and mitigate, as appropriate and permitted, any impacts of its water use." The company claimed that the Atacama region has suffered from a protracted drought for many years, resulting in a drop in groundwater levels across the region that is unrelated to Maricunga's operations. It also said that Maricunga continues to operate normally "but relies solely on water from Pantanillo wells to support its operations."
While we think the effect of this news is relatively minor for Kinross as its Maricunga operations are one of the company's highest cost operations and we think the mine represents very little in terms of the company's overall valuation, it could significantly affect Exeter Resources (NYSEMKT:XRA) and its flagship Caspiche project.
For that reason, we contacted the company to hear their take of the situation and we came away with the opinion that while the increased sensitivity of water issues will have an effect, it is relatively minor because of the following reasons.
Maricunga's water resource is located in a different region
While the Maricunga mine and Caspiche are fairly close (15 km away) their water resources are located in a completely different area.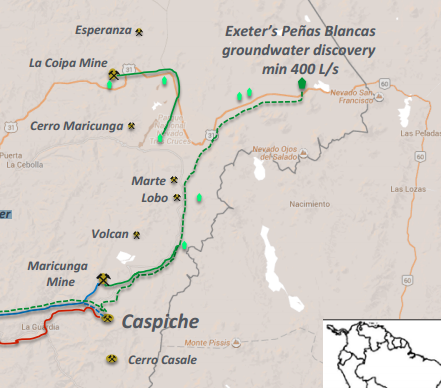 Source: Exeter Corporate Presentation
As investors can see above, Kinross's water resources are located fairly close to Maricunga (southeast of Volcan) while Exeter's Penas Blancas is much further out as it is more than 50km away. Additionally, Kinross's water resources come from lowlands that have much lower water recharge rates, while Exeter's water comes from extremely high reservoirs in the mountains where there is very little in terms of wildlife or human population.
For these reasons, we do not think that a parallel can be drawn between the two water resources and the decision of the Chilean environmental regulator to shut down Kinross's water supply.
Chile's economy is dependent on mining
Mining is a pillar of the Chilean economy and without water, there can be no mining. Chile's growth as an economy depends on miners having the confidence to build multibillion-dollar projects, and that requires a good relationship with the government and its regulators. While it may be easy for investors to paint the government anti-mining because of the recent water issues Kinross is facing, we hardly think that the government is going to destroy one of its most important economic sectors by rejecting water and project approvals.
More than likely, we believe this is probably a company specific issue between Kinross and the regulator and it really shouldn't have too much an effect on Exeter.
The gold price will allow for more water options
Finally, we want to remind investors that there are many different water options outside of piping well or reservoir water to the mine, with the most feasible being desalinization - an option that Lundin mining is already employing at its Candelaria mine. While we're not saying that Exeter will need to go this route, it certainly is an option if water rights are problematic.
The key here though is the gold price. At $1100 or $1200, we think desalinization is not a viable economic option, but if gold prices improve, then it becomes a much more serious option. Investors need to remember that the Caspiche deposit is extremely large and hosts over 10 million ounces of gold, so with a rising gold price, the few hundred million dollars it may cost to go with the desalinization route may make a lot more sense especially if the cost burden is shared with another miner with interests in the water because of a close-by mine (think Barrick Gold (NYSE:ABX) and Cerro Casale).
The point here is that not only does the large low-grade Caspiche deposit become more attractive with a higher gold price, but there are many more water options if well/ground water is not feasible.
Conclusion for investors
While the issues that Kinross is facing with the Chilean environmental regulator are not a positive development, we think that it should be a minor concern for investors in Exeter Resources. After all Exeter's water resources are located fairly far away, are in an uninhabited area, and we think this is a Kinross-specific issue that should not affect the rest of the Chilean mining industry. Even if it does have an effect, we think that a higher gold price will create many more feasible water options for a project as large as Caspiche, so having difficulty with water rights certainly isn't the only way the company could obtain water.
Disclosure: I/we have no positions in any stocks mentioned, but may initiate a long position in XRA over the next 72 hours.
I wrote this article myself, and it expresses my own opinions. I am not receiving compensation for it (other than from Seeking Alpha). I have no business relationship with any company whose stock is mentioned in this article.
Editor's Note: This article covers one or more stocks trading at less than $1 per share and/or with less than a $100 million market cap. Please be aware of the risks associated with these stocks.