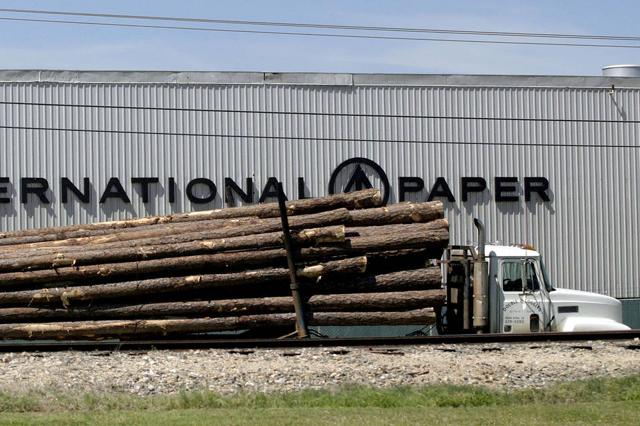 Shareholders of International Paper (NYSE:IP) have had a lot to take in recent times as the company looks to reinvent itself. With the majority of the restructuring due to complete in the next few months we believe now could be a great time to be invested in the company. Especially with the shares down by 28.6 percent in the last twelve months.
We believe the grand plan for International Paper to transform itself into a core packaging company is a great move and makes the company an attractive buy at the current price. The company started its restructuring by spinning off its distribution business and merging it with the distribution company Unisource Worldwide. This formed a publicly listed company by the name of Veritiv (NYSE:VRTV), which meant International Paper was given $400 million in cash and a 51 percent stake to distribute to shareholders on a pro rata basis.
How has Veritiv performed?
Its performance has been a little mixed so far, but things could be improving now if sell-side analysts are anything to go by. They are expecting earnings to grow by 22 percent per annum in the next five years. In our opinion, this projected level of growth may be a little on the high side considering the softness in the sector, but we would still expect a decent level from it.
Veritiv managed to capture around 55 percent of its forecasted synergies in the range of $150-$225 million in FY 2015. Although it doesn't expect to be able to capture synergies at the same pace this year, it still expects to continue the great work it has been doing. Which will help it grow its EBITDA from $135 million in FY 2015 to $185-$195 million in the current fiscal year according to management. This should be good news to International Paper shareholders that still hold their Veritiv shares.
The future of International Paper looks bright.
Back to International Paper. Another divestiture is on the horizon after the company signed a deal with Xiamen Bridge Hexing Equity Investment Partnership Enterprise for its corrugated packaging business in Asia. This deal is on a smaller level at approximately $150 million, but freeing itself of the held-for-sale asset portfolio is another step in the right direction. Management saw little reason in manufacturing in China and South East Asia when all the raw materials are imported.
We believe management's focus on its high margin industrial packaging business will benefit the company and its shareholders greatly in the future. The industrial packaging segment produces some of the best margins in the entire industry. Whilst it does have reasonably high levels of debt at present, the debt is very manageable for the company, as proven by its 3.4 times interest earned ratio. As it generates strong levels of free cash flow we'd like to think there is room for the company to make some strategic acquisitions that provide a good IRR and help boost the industrial packaging segment and the company's overall margins.
Although e-commerce makes up just a small part of its industrial packaging business at present, it is growing rapidly. As more and more retailers start to look at the omnichannel strategy we expect to see this growth continue to accelerate.
The share repurchases continue.
In the last fiscal year the company bought back $500 million of shares. We like buybacks if they're done well. There are far too many companies out there which have been buying back shares at too high a price, only to see the share price drop. This is a waste of the company's cash and of little benefit to shareholders. International Paper's management understands this, and with $900 million left on authorisation, has advised it will buyback shares if and when the share price drops below its intrinsic value.
It is worth investing in International Paper for the dividend alone.
At present the company has a dividend yield of 4.3 percent and has been growing it at a strong rate for a number of years. This could make the shares a great buy on this alone. As you can see on the chart below, the company has been growing its dividend year-over-year in the teens for a number of years now.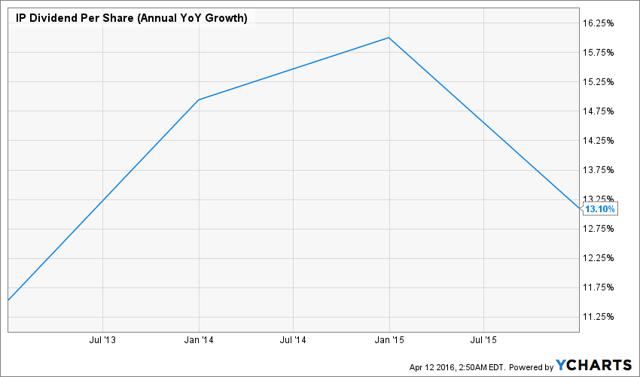 We wouldn't expect to see this trend stop any time soon, with management seemingly very keen to keep its shareholders happy.
This yield would be enough for many income investors, but the good news is that we also see share price gains ahead as well. The sell-off in the last twelve months has brought the share price down by over 28 percent. Of course, the company's restructuring makes it a very different company to what it was in previous years, but we still see good returns ahead.
For the full year we are anticipating the company producing $3.30 of earnings per share. As expected this is a reasonable decline from a year earlier, but the share price reflects this. Although the packaging and containers industry has an average price to earnings ratio of 20, we feel something in the region of 15 is fair for the company's shares. This means we have a target price of $49.50, which would provide a return of 23 percent from the last trade price.
We feel management are doing a fine job restructuring the company and expect to see good returns in the future on top of its great dividend. Best of luck with your investments!
Disclosure: I am/we are long IP.
I wrote this article myself, and it expresses my own opinions. I am not receiving compensation for it (other than from Seeking Alpha). I have no business relationship with any company whose stock is mentioned in this article.